Aplikasi IOT Mengendalikan Ruang Pelatihan dengan Sensor Suhu DHT-11, Kelembaban, Suara dan Gas MQ-2
Keywords:
Monitoring and Controlling, Arduino Uno R3, DHT-11, Humidity, Sound and Gas MQ-2
Abstract
Work tools, routers, switches and others that are used for training the trainees and store important data of the institution. If the temperature of the workspace is hot, it can cause damage to the hardware in the workspace, and the gas emission limit is higher then it can cause damage to the workspace. How to make a compilation of handling temperature suction outside the food limit can be done responsively. At this time the workspace administrator must fix the temperature in the workspace in stable conditions. This will not be effective and efficient, the Administrator must always be in the workspace. IoT Application for Monitoring and Controlling Web-based Workspaces by using the DHT-11 temperature sensor, humidity, sound and MQ-2 gas can be a solution to connect the condenser in the workspace so that it can work in a conducive manner, and can minimize excessive heat for each participant training in the workspace. In the event of a change in the temperature, humidity, sound and gas changes in the workspace, the system will send notifications to the user via e-mail and automate the process of igniting additional vehicles so as to make the room more stable. With this monitoring system the user is expected to be able to easily supervise the workspace. Thus the temperature, humidity, sound and gas of the workspace will regulate its stability and remain in full control of the Administrator without having to constantly be in the workspace. The Language Program used in developing this system is the Arduino Uno R3 English Program that uses C Language and for its visual display uses the PHP Language Program and MySQL database.
References
[1] Arduino. 2018. Getting Started with Arduino and Genuino UNO. Tersedia di: https://www.arduino.cc/en/Guide/ArduinoUno. [Accessed 17 Mei 2018].
[2] Jimmi Sitepu. 2018. Sensor Asap MQ2 dengan Arduino, Karakteristik dan Prinsip Kerja Sebagai Deteksi Asap. Tersedia di: https://mikroavr.com/sensor-asap-mq2-arduino/. [Accessed 30 Desember 2018].
[3] Siswanto, Gunawan PU, Windu G., 2018. Pengamanan Ruangan Dengan DFRDuino Uno R3, Sensor MC-38, PIR, Notifikasi SMS, Twitter. JURNAL RESTI (Rekayasa Sistem dan Teknologi Informasi) Vol. 2 No. 3 (2018), pp. 697 – 707 ISSN : 2580-0760 (media online). Tersedia di: https://doi.org/10.29207/resti.v2i3.592. [Accessed 8 Januari 2019]
[4] Siswanto, Gata, Windu, dan Tanjung, Ronny, 2017. Kendali Ruang Server Menggunakan Sensor Suhu DHT 22, Gerak PIR dengan Notifikasi Email, Sisfotek 2017, ISSN: 2597-3584 (media online), pp.134-142.
[5] M. Anif, Siswanto, dan Pria Utama, Gunawan, 2017. Monitoring Ruangan Jarak Jauh Menggunakan Mikrokontroler Dfrduino, Sensor Passive Infrared dan Buzzer, Sisfotek 2017, ISSN 2597-3584 (media online), pp. 143-152.
[6] Fahlevy, Reza. 2014. Sensor Otomatis Pada Pagar Dengan Efek Suara Berbasis Mikrokontroler AT89S51. Jurnal Pelita Informatika Budi Darma Vol.III, Nomor: 3, Desember 2014, pp. 69-75. ISSN : 2301-9425 Tersedia di: https://drive.google.com/file/d/0B3veF_xJ1onYN2E4aG55MDVlUFk/view. [Accessed 8 Januari 2019]
[7] Hakim, L. 2017. Deteksi Kebocoran Gas LPG Menggunakan Detektor Arduino dengan Algoritma Fuzzy Logic Mandani. Jurnal Resti Vol.1 No:2. Vol. 1 No. 2 (2017), pp. 114 -121 ISSN Media Elektronik : 2580-0760. Tersedia di: http://jurnal.iaii.or.id/index.php/RESTI/article/view/35. [Accessed 8 Juli 2019]
[8] Rachman, F.Z. 2018. Sistem Pemantau Gas di Tempat Pembuangan Sampah Akhir Berbasis Internet of Things. Jurnal Teknologi dan Sistem Komputer. vol. 6, no. 3, Jul. 2018. doi: 10.14710/jtsiskom.6.3.2018. pp.100-105. E-ISSN: 2338-0403. Tersedia di: https://www.researchgate.net/publication/326917427_Sistem_Pemantau_Gas_di_Tempat_Pembuangan_Sampah_Akhir_Berbasis_Internet_of_Things. [Accessed 8 Juli 2019]
[9] Asri, Ervan et al. 2018. Pemanfaatan Teknologi Arduino untuk Deteksi Api (Fire Detector). SISFOTEK Vol.2 No.1. Padang 4-5 september 2018, E-ISSN: 2597-3584.Tersedia di: http://seminar.iaii.or.id/index.php/SISFOTEK/article/view/60. [Accessed 8 Juli 2019]
[10] Rifa'i, A.F (2016). "SISTEM PENDETEKSI DAN MONITORING KEBOCORAN GAS (LIQUEFIED PETROLUM GAS) BERBASIS INTERNET OF THINGS". Jurnal Informatika Sunan Kalijaga (JISKa), Vol. 1, No. 1, MEI, 2016, pp. 5–13. ISSN 2527-5836. Tersedia di: http://ejournal.uinsuka.ac.id/saintek/JISKA/article/view/1090. [Accessed 8 Juli 2019].
[11] Jacquline M.S.W & Lengkong, O. 2018. Sistem Monitoring Dan Notifikasi Kualitas Udara Dalam Ruangan Dengan Platform IoT. Cogito Smart Journal Vol.4 No.1 JUNE 2018, pp.94-103. ISSN: 2541-2221/e-ISSN: 2477-8079. Tersedia di: http://cogito.unklab.ac.id/index.php/cogito/article/view/105 [Accessed 8 Juli 2019
[12] Marwani, L. 2017. Penggunaan Sensor DHT11 sebagai Indikator Suhu dan Kelembaban pada Baby Incubator. Jurnal Mutiara Elektromedik Vol.1. No 1 November 2017, pp.40-45.Tersedia di: http://e-journal.sari-mutiara.ac.id/index.php/Elektromedik/article/view/14240. [Accessed 8 Juli 2019].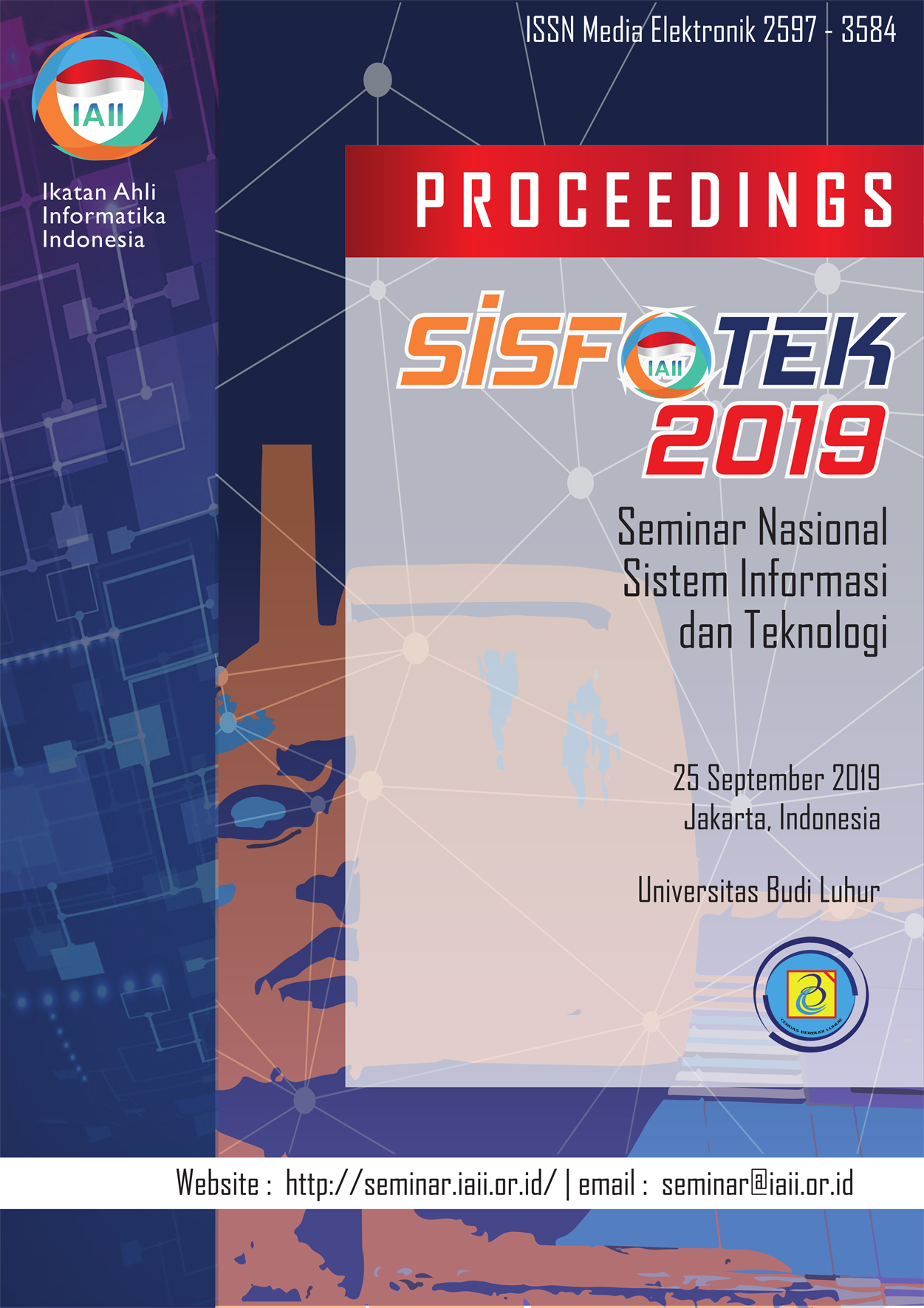 Downloads
How to Cite
Sarmani, S., & Siswanto, S. (2019). Aplikasi IOT Mengendalikan Ruang Pelatihan dengan Sensor Suhu DHT-11, Kelembaban, Suara dan Gas MQ-2. Prosiding SISFOTEK, 3(1), 67 - 73. Retrieved from http://seminar.iaii.or.id/index.php/SISFOTEK/article/view/105
Section
5. Teknologi & Komputer
License
http://creativecommons.org/licenses/by/4.0