Data Mining Klasterisasi dengan Algoritme K-Means untuk Pengelompokkan Provinsi Berdasarkan Konsumsi Bahan Bakar Minyak Nasional
Keywords:
Data Mining, Clasterisation, K-Means, Davies Bouldin Index, BBM
Abstract
Petroleum is one of the natural resources that play an important role in human life, mainly used as the fuel needed by all levels of society. The distribution of fuel oil (BBM) in Indonesia is carried out by the Downstream Oil and Gas Regulatory Agency (BPH Migas). With the availability of data on fuel consumption in each province, it can be seen that the pattern of fuel consumption in Indonesia is beneficial for regulators in the management of fuel distribution. To find out the pattern of national fuel consumption, we need a model of grouping regions in Indonesia based on the level of fuel consumption in each province. This study analyzes data on national fuel consumption throughout Indonesia using the Data Mining Clustering technique, and the Euclidean Distance measurement method. The final results of this study indicate that the K-Means algorithm can group provinces based on national fuel consumption levels into three clusters with their respective specifications. Modeling results were evaluated using the Davies Bouldin Index (DBI) instrument, with a value of 0.32. The results of testing using DBI approaching 0 indicate that the clusters formed are relatively very good and ideal.
References
[1] G. Abdurrahman, "Clustering Data Ujian Tengah Semester ( UTS ) Data Mining," J. Sist. Teknol. Inf. Indones., vol. 1, no. 2, pp. 71–79, 2016.
[2] N. Rohmawati, S. Defiyanti, and M. Jajuli, "Implementasi Algoritma K-Means Dalam Pengklasteran Mahasiswa Pelamar Beasiswa," J. Ilm. Teknol. Inf. Terap., vol. I, no. 2, pp. 62–68, 2015.
[3] O. Riveranda et al., "K-Means Analysis Klasterisasi Kasus HIV / AIDS di Indonesia," no. September 2016, pp. 2–6, 2017.
[4] W. M. P. Dhuhita, "Clustering Menggunakan Metode K-Means untuk Menentukan Status Gizi Balita," J. Inform., vol. 15, no. 2, pp. 160–174, 2016.
[5] A. K. Wardhani, "Implementasi Algoritma K-Means untuk Pengelompokkan Penyakit Pasien pada Puskesmas Kajen Pekalongan," J. Transform., vol. 14, no. 1, pp. 30–37, 2016.
[6] M. Hariyanto and R. T. Shita, "Penyakit DBD Menggunakan Metode Algoritma K-Means dan Metode," vol. 1, no. 1, pp. 117–122, 2018.
[7] M. A. Wahyu, "Penerapan Metode K-Means Clustering Untuk Mengelompokan Potensi Produksi Buah – Buahan di Provinsi Daerah Istimewa Yogyakarta," 2017.
[8] R. R. Putra and C. Wadisman, "Implementasi Data Mining Pemilihan Pelanggan Potensial Menggunakan Algoritma K-Means," vol. 1, no. 1, pp. 72–77, 2018.
[9] A. F. Khairati, A. A. Adlina, G. F. Hertono, and B. D. Handari, "Kajian Indeks Validitas pada Algoritma K-Means Enhanced dan K-Means MMCA," Pros. Semin. Nas. Mat., vol. 2, pp. 161–170, 2019.
[10] R. D. Ramadhani, D. J. Ak, and J. D. I. Panjaitan, "Evaluasi K-Means dan K-Medoids pada Dataset Kecil," no. September, pp. 20–24, 2017.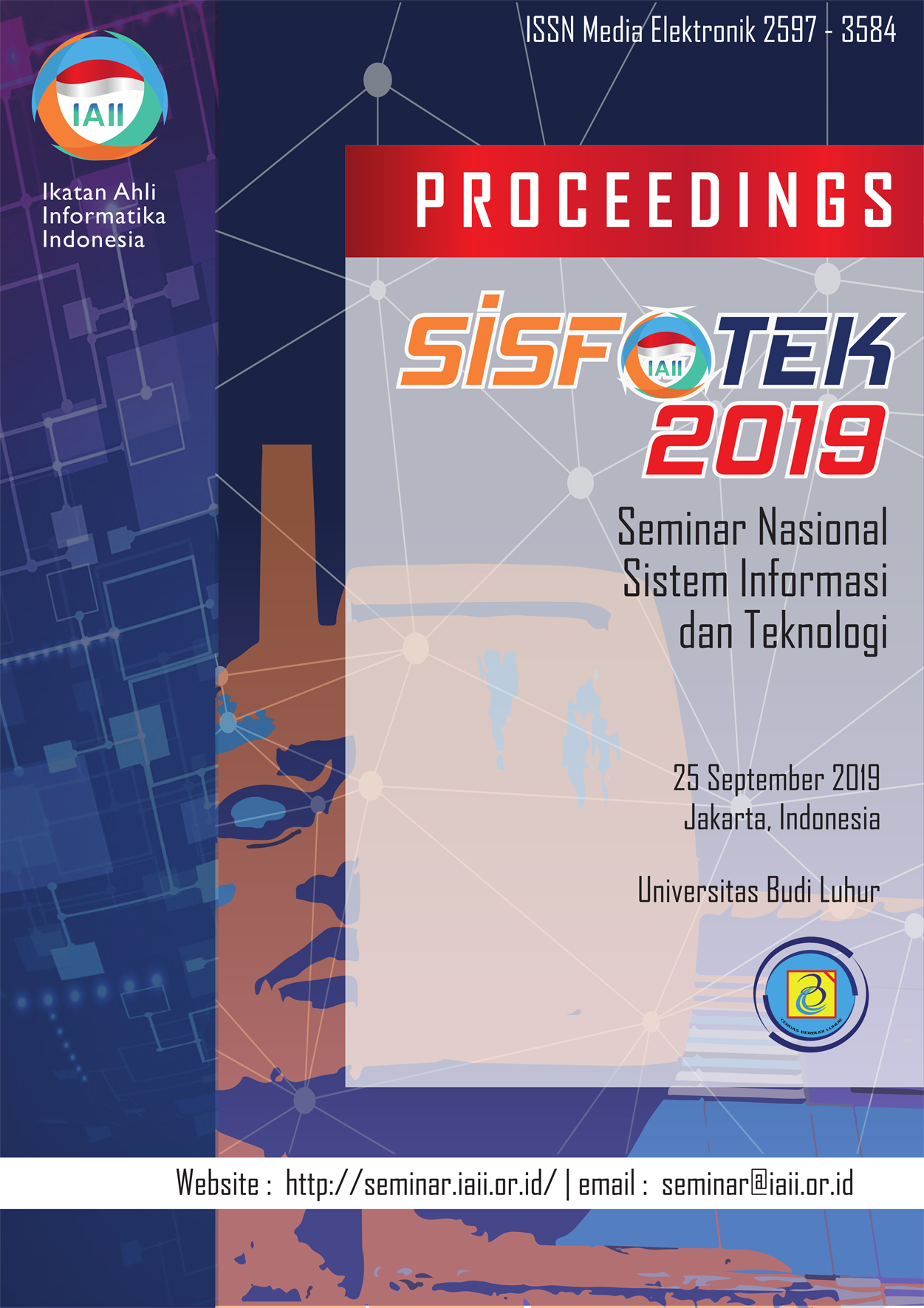 Downloads
How to Cite
Wibowo, A., & Mahartika, I. R. (2019). Data Mining Klasterisasi dengan Algoritme K-Means untuk Pengelompokkan Provinsi Berdasarkan Konsumsi Bahan Bakar Minyak Nasional. Prosiding SISFOTEK, 3(1), 87 - 91. Retrieved from http://seminar.iaii.or.id/index.php/SISFOTEK/article/view/108
Section
3. Data dan Diseminasi Informasi
License
http://creativecommons.org/licenses/by/4.0