Pengujian Kualitas Knowledge Management System untuk Unit Layanan Sertifikasi Algoritma
Keywords:
Algorithm Certification Service, Knowledge Sharing, Knowledge Management System
Abstract
Unit of Information Technology Algorithm Certification Services Universitas Budi Luhur is one of the work units that handle algorithm ` present the knowledge in the certification service unit algorithm is slow and static, so that in dealing with a problem tends to depend only on one person who controls a particular job, plus a term that does not necessarily cause the knowledge possessed by an employee to be poorly managed and it is feared that it will disappear because the knowledge is only stored in the brain and has not been properly documented. Therefore, there needs to be an application that can manage the knowledge possessed by each employee so that it can be shared with other employees (knowledge sharing) related to algorithm certification services. In this study, the authors developed a knowledge management system model that is in accordance with the conditions of the algorithm certification service using the Tiwana model framework, the development of knowledge management system using the Becerra-Fernandez development framework, the formation of knowledge using the SECI Nonaka model, testing the system prototype using the Forum method Group Discussion (FGD) and the ISO 9126 method, and the scoring method of the system testing results using a Likert measurement scale. From the results of this analysis will be obtained a knowledge management system model and later will be developed a prototype knowledge management system.
References
[1] Becerra-Fernandez, Irma, Gonzales, et.al, Rajiv, (2004). "Knowledge Management: Challenges, Solutions and Technologies".
[2] Hoed, B.H, (1995). "Diskusi Kelompok Terfokus", Fakultas Sastra Universitas Indonesia, Jakarta.
[3] Litosseliti, L, (2003). "Using Focus Group Discussion in Research".
[4] Chua, Bee Bee and Dyson., (2004), "Applying the ISO 9126 model to the evaluation og an e-learning system", ASCLITE Conference Proceeding, pp 184-190.
[5] Sugiyono, (2012)."Metodologi Penelitian Kuantitatif, Kualitatif dan R & D".Bandung: Alfabet
[6] Betram, D. (2007)."Likert Scales Are The Meaning Life, in http://poincare.matf.bg.ac.rs/~kristina/topic-dane-likert.pdf
[7] Agus Umar Hamdani (2011). "Pengembangan Model Knowledge Management System Pada Biro Umum dan Sumber Daya Manusia Yayasan Pendidikan Budi Luhur".
[8] Muhammad Ainur Rony (2010). "Pengembangan Knowledge Management System Untuk Proses Pelaporan EPSBED Pada Perguruan Tinggi: Studi Kasus Universitas Budi Luhur Jakarta".
[9] Ahmad Syarif (2012). "Prototipe Sistem E-Learning Berbasis Knowledge Management: Studi Kasus Paud komunitas Menara".
[10] Samidi (2008). "Pengembangan model knowledge management pada IT-Helpdesk: studi kasus pada PT. Pasifik Satelit Nusantara".
[11] Marini (2016). "Prototipe Knowledge Management System Informasi Akademik Studi Kasus : Kelas Eksekutif Budi Luhur.".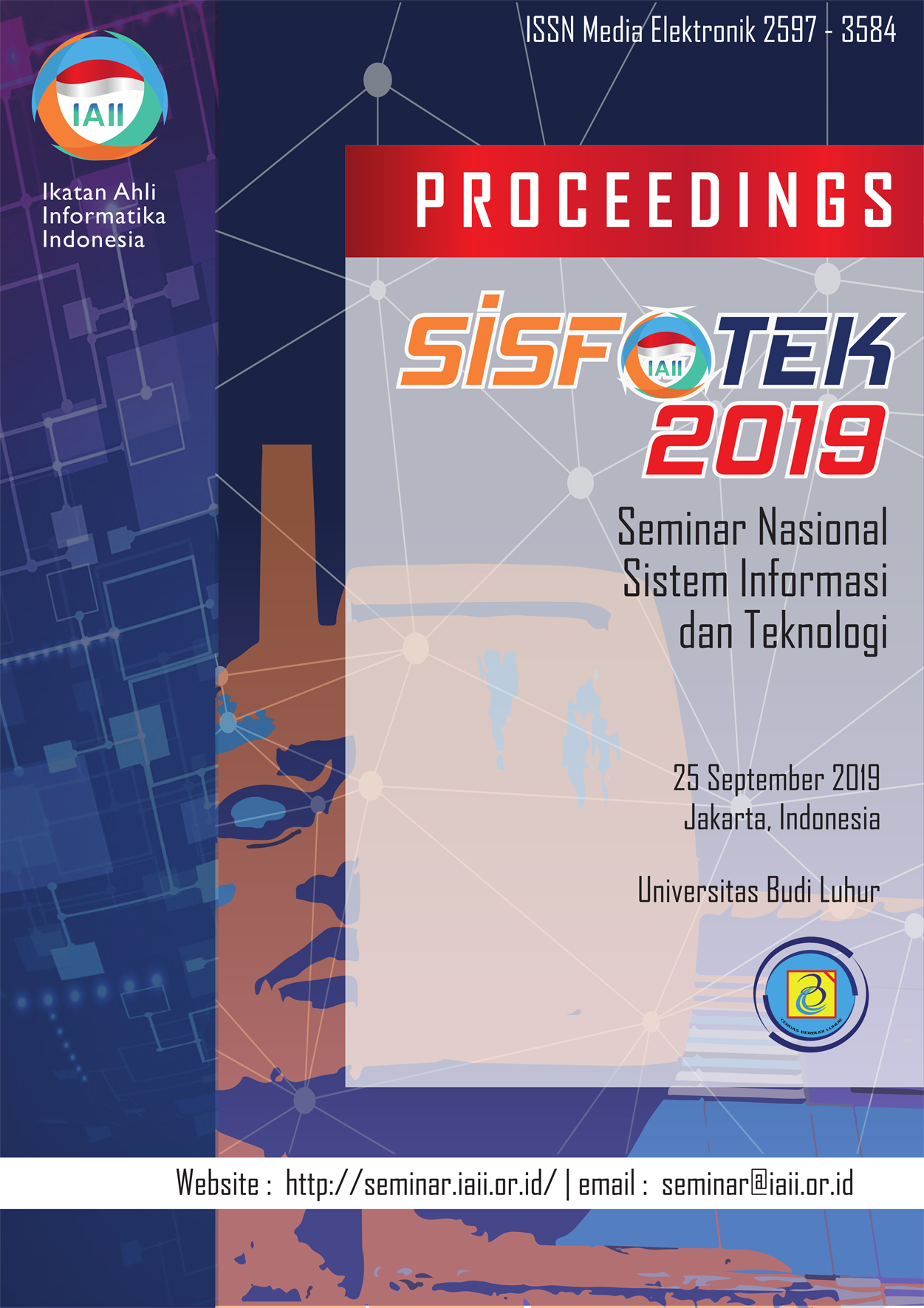 Downloads
How to Cite
Widhyanty, W., & Wulandari, R. (2019). Pengujian Kualitas Knowledge Management System untuk Unit Layanan Sertifikasi Algoritma. Prosiding SISFOTEK, 3(1), 108 - 113. Retrieved from http://seminar.iaii.or.id/index.php/SISFOTEK/article/view/111
Section
2. Rekayasa Sistem Informasi
License
http://creativecommons.org/licenses/by/4.0