Analisis Kesuksesan Knowledge Sharing System Manajemen Proyek dengan Menggunakan Model ISO 9126
Keywords:
Knowledge Sharing System, FGD, UML, ISO 9126, SECI, FAST
Abstract
Knowledge sharing is an important step in knowledge management because it can enable organizations to utilize the most valuable assets of employees to share knowledge with others. Without effective knowledge sharing, organizations may not be able to integrate knowledge, skills and abilities to achieve work innovation. Thus, how to encourage employees to conduct knowledge sharing is an important research problem in knowledge management. There are differences in knowledge in each individual contained in PT. Tri Nindya Utama, who created the knowledge, caused a difference in the knowledge conveyed. This is because the culture of sharing between employees is not going well so that the knowledge possessed by employees becomes less developed. Busy work from each of these employees also hinders the knowledge sharing process, especially when employees are sent out of service. Knowledge creation is done with the SECI model (Socialization, Externalization, Combination and Internalization). System development methods with the Framework for the Application of Systems Technique (FAST) and modeled using the Unified Modeling Language (UML) analysis system. Validation testing uses Focus Group Discussion (FGD). Software testing techniques using ISO 9126. Therefore, handling clients often becomes slow. With this knowledge sharing system, employees can use the system well, and also accelerate service to clients because each individual will have the same knowledge.. Knowledge management is done by creating knowledge, sharing knowledge and applying knowledge.
References
[1] Carlisle, Y. 2001. Strategic thinking and knowledge management, Managing Knowledge. : an essential reader. Sage Publications Ltd, pp. 122–138.
[2] Ali, H.M. and Ahmad, N.H. 2006. Knowledge Management in Malaysian Banks: A new paradigm, Journal of Knowledge Management Practice 7
[3] Barachini, I.F. and Rajiv. 2010. Knowledge Management : System and Processes, M.E Sharpe, London.
[4] Shabrina, Vina, dan Anigta Silvianita. 2015. Factors Analysis on Knowledge Sharing at Telkom Economic and Business School (TEBS) Telkom University Bandung, Procedia – Social and Behavioral Science.
[5] Maran, A.M. 2012. A Study on the Usage of Material Aesthetics in Car Design, International Journal of Technology and Knowledge Management.
[6] Dipohusodo, 1996. Manajemen proyek konstruksi. Jilid 2. Jakarta.
[7] Husein, A. 2009. Manajemen Proyek. Edisi Revisi. Yogyakarta.
[8] Nonaka, I., Ryoko, dan Noboru. 2000. SECI, Ba and Leadership: a Unified Model of Dynamic Knowledge Creation. Long Range Planning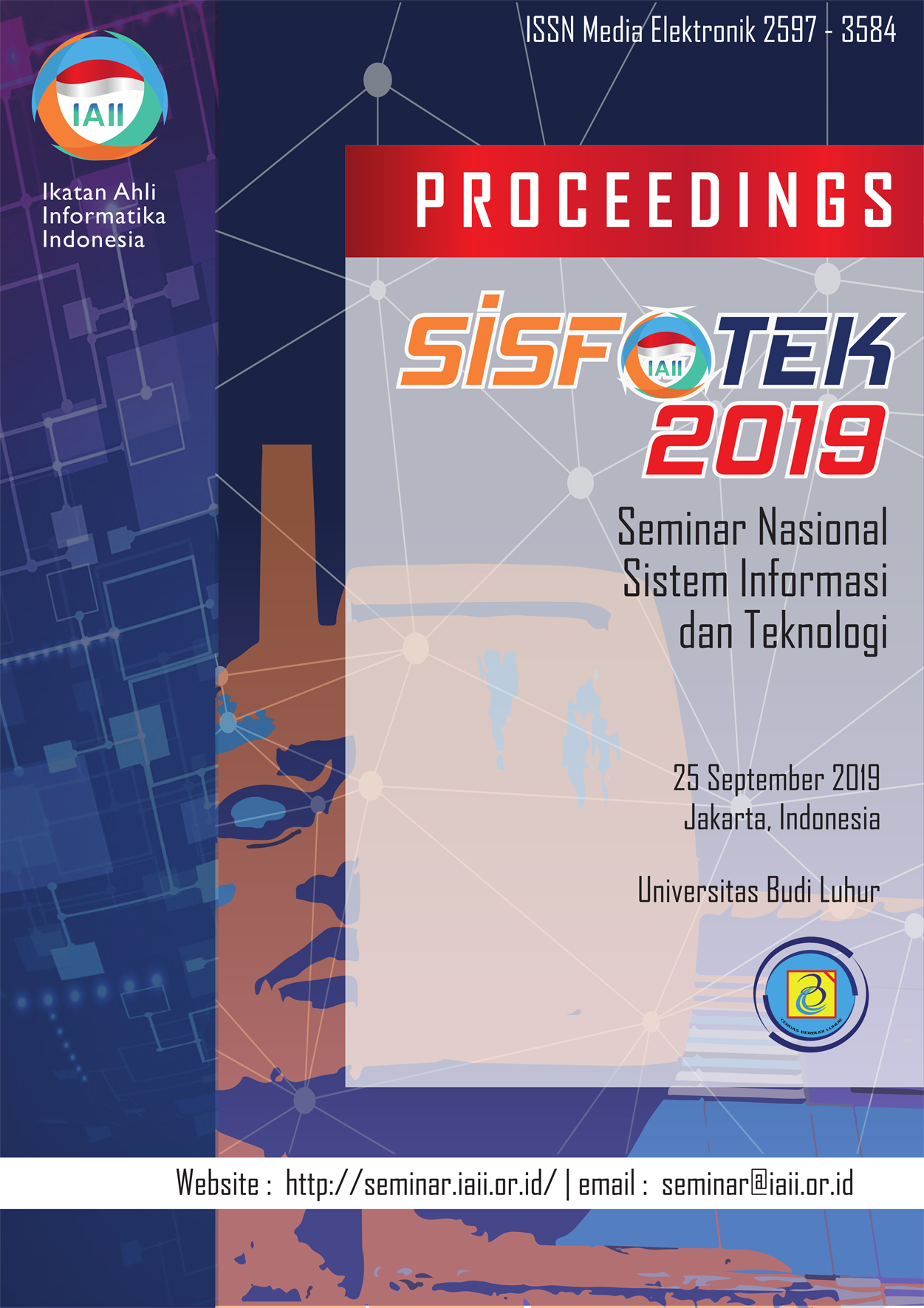 Downloads
How to Cite
Wulandari, R., & Widhyanty, W. (2019). Analisis Kesuksesan Knowledge Sharing System Manajemen Proyek dengan Menggunakan Model ISO 9126. Prosiding SISFOTEK, 3(1), 114 - 121. Retrieved from http://seminar.iaii.or.id/index.php/SISFOTEK/article/view/112
Section
3. Data dan Diseminasi Informasi
License
http://creativecommons.org/licenses/by/4.0