LINTAS-LC 1.1: Model dan Simulasi Jalur Lingkar Cileunyi Menggunakan SimEvents MATLAB
Keywords:
Traffic, Transportation, Congestion, Simulation, Matlab-Simevents
Abstract
The smooth flow of traffic is one of the parameters of controlled transportation system management. As the population grows, traffic becomes more congested and causes congestion in various locations. One of the locations of congestion of national concern is the Cinunuk road that connects the Cibiru Roundabout to Cileunyi (BCC). The BCC is located in the Cibiru and Cileunyi sub-districts, the border of the City and Regency of Bandung. The congestion starts at the Cibiru roundabout and continues along the Cinunuk highway to the one-way intersection for each lane. BCC is the only Non-Toll road that connects traffic in northern West Java to the south and east coast via the city of Bandung. This condition results in high flow of vehicles that pass through the lane so that congestion occurs every day from morning to night. One alternative solution to unravel this congestion problem is to build a new alternative path known as the Cileunyi Circle (LC). This article discusses the study of traffic situations at BCC locations with LC alternatives through mathematical modeling methods and simulations. The application used for simulation is MATLAB-SimEvents on the basis of the queue model.
References
[1] Jabar News .com, 2019. Bunderan Cibiru Kawasan Macet, Ini Tips Supaya Terhindari Macet [Online] (updated 13 Februari 2019) https://jabarnews.com [diakses 2 September 2019]
[2] HA Halim 2017 Tiga usulan pemerintah kabupaten bogor untuk mengurangi beban di jalur puncak [Online] http://www.pikiran-rakyat.com [diakses September 2019]
[3] Pikiran-rakyat.com 2014 Upaya Pelebaran Jalan Terkendala Sulitnya Pembebasan Lahan [Online] http://www.pikiran-rakyat.com [diakses September 2019]
[4] YLKI 2011 pembatasan kendaraan, efektifkah atasi kemacetan? [Online] http://ylki.or.id [diakses September 2019]
[5] S Ravel 2016 kemacetan liburan, rekayasa lalu lintas tak efektif [Online] http://sains.kompas.com [diakses September 2019]
[6] S Pembaruan 2010 pengguna jalan biang kemacetan [Online] http://sp.beritasatu.com [diakses September 2019]
[7] EA Retaduari 2017 Ini Aneka Penyebab Macet Parah di Jakarta Senin Pagi Ini Detik News [Online] https://news.detik.com [diakses September 2019]
[8] A Prakasa 2017 Jadi Biang Macet, Terminal Legendaris di Bandung Bakal Dibongkar Liputan 6 [Online] http://regional.liputan6.com [diakses September 2019]
[9] SuryaMalang 2018 Inilah Sejumlah Penyebab Terjadinya Keruwetan Lalu Lintas di Sekitar Pasar Induk Gadang Kota Malang suryamalang.com http://suryamalang.tribunnews.com [diakses September 2019]
[10] Radar Cirebon 2017 Bubar Sekolah, Macet Makin Parah RadarCirebon.com [online] http://www.radarcirebon.com [diakses September 2019]
[11] C Rahayu 2017 Lampu Rusak Hanya Kuning, Perempatan Matraman Macet Total Detik News https://news.detik.com [diakses September 2019]
[12] I Setiawan 2016 Kemacetan di Perlintasan KA Kramat Sentiong Detik News [Online] https://news.detik.com [diakses September 2018].
[13] A Ramadhan 2018 Lalu Lintas di Jalan Letjen Soeprapto Macet akibat Banjir KOMPAS.com [online] http://
megapolitan.kompas.com [diakses September 2019].
[14] Rachman, T., 2015. Kerugian Akibat Macet di Jakarta Capai Rp 65 Triliun per Tahun REPUBLIKA [online] http://nasional.
republika.co.id [diakses September 2019]
[15] Detik News 2013 Sulitnya Menaklukkan Kebakaran Di Jakarta: Aksi Pemadam Kebakaran Sering Terhambat Kemacetan Detik News [Online] https://news.detik.com [Accessed Februari 2018].
[16] Patroli Cyber .com, 2018. Anang Susanto, "Kita Dukung Wacana Jalan Lingkar Cileunyi" [Online] (updated 15 Maret 2018) patrolicyber.com [online diakses 7 Juli 2019]
[17] Harahap, E., et.al., 2018. LINTAS: Sistem Simulasi Lalu Lintas Menggunakan SimEvents MATLAB. Jurnal Ilmiah Informatika dan Komputer Politeknik Piksi Ganesha Bandung 10(1), pp.8-15.
[18] Harahap, E., et.al., 2018. Improving Road Traffic Management by A Model-Based Simulation. In: IEEE International Conference on Science and Technology (ICST 2018). Yogyakarta Indonesia, 7-8 August 2018. Available at: http://ieeexplore.com.
[19] Harahap, E., et.al., 2019. LINTAS-BD 1.1 Model dan Simulasi Lalu Lintas Kota Bandung. ETHOS: Jurnal Penelitian dan Pengabdian 7(2).
[20] Harahap, E., et.al., 2019. Modeling and simulation of queue waiting time at traffic light intersection. Journal of Physics Conference Series 1188(1). pp.012001(1-11). Available at: http://iopscience.iop.org.
[21] SimEvents Mathworks, 2019. Model and simulate discrete-event systems running on MATLAB-Simulink. [Online] https://www.mathworks.com/products/simevents.html [accessed at 4 September 2019]
[22] Bolch, G., et.al., 2006. Queueing Networks and Markov Chains. 2nd John Wiley & Sons Inc N Jersey USA.
[23] Chee-Hock, N., & Boon-Hee, S., 2008. Queueing Modelling Fundamentals. 2nd John Wiley & Sons Ltd.
[24] Harahap, E., et.al., 2016. A Model-Based Simulator for Content Delivery Network using SimEvents MATLAB-Simulink. International Series on Interdisciplinary Science and Technology (INSIST), International Journal 1(1). pp.30-34.
[25] E Harahap et al 2013 Router-based Request Redirection Management for Next Generation Content Distribution Network GLOBECOM 2013 Workshop - GC13 WS - MENS 2013 Atlanta USA
[30] E Harahap, W Sakamoto, and H Nishi 2010 Failure prediction method for network management system by using Bayesian network and shared database in The 8th Asia-Pacific Symposium on Information and Telecommunication Technologies (APSITT) Kota Kinabalu Malaysia
[31] E Harahap et al 2014 A router-based management system for prediction of network congestion IEEE 13th International Workshop on Advanced Motion Control (AMC) p398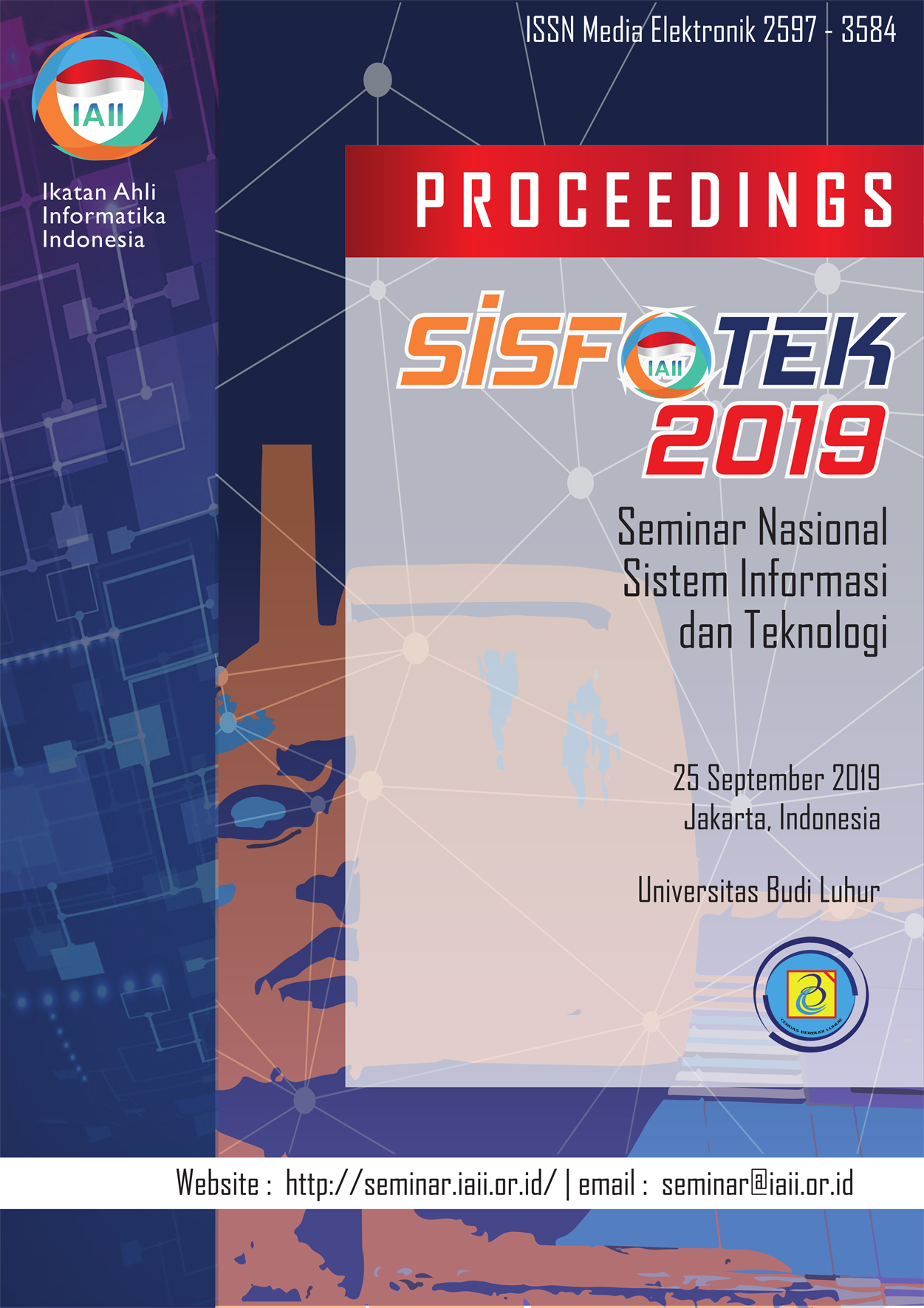 Downloads
How to Cite
Harahap, E., Badruzzaman, F. H., & Darmawan, D. (2019). LINTAS-LC 1.1: Model dan Simulasi Jalur Lingkar Cileunyi Menggunakan SimEvents MATLAB. Prosiding SISFOTEK, 3(1), 166 - 170. Retrieved from http://seminar.iaii.or.id/index.php/SISFOTEK/article/view/121
Section
3. Data dan Diseminasi Informasi
License
http://creativecommons.org/licenses/by/4.0