Implementasi Dan Analisis Pemantauan Jaringan Menggunakan Aplikasi Observium Di PT. XYZ
Keywords:
monitoring, network, traffic, application, observium
Abstract
Nowadays, technological development from time to time has a quick process, one of them is network technology. Many company agencies H use network technology for operational support in company, one of the companies that use network technology is PT XYZ. Network technology that is increasing is directly proportional to the increasing complexity of a network, it requires a network monitoring application that is able to provide the required information quickly and easily accessible whenever and wherever. One application used is Observium because the monitoring application could monitor network system and network device performance, and identify problem as early as possible in order to the problem can be resolved as a quickly and accurately. The utilization of Observium is make it easier for network administrators to carry out network monitoring work at PT. XYZ. Usage test result Observium monitoring can provide data about up/down port, eventlog, memory used, CPU usage, storage, and traffic in realtime. Results monitoring within one month, PT XYZ more sends data than receives data.
References
[1] Alfaini, Kurniawan I. F., 2016. Implementasi Pemantauan Jaringan Menggunakan Aplikasi Zabbix Dengan Standar Model Manajemen FCAPS. Jurnal Manajemen Informatika, 6 (1), pp.52-61..
[2] Ohara, Gheyb Jhuana. 2005. Aplikasi Sistem Monitoring Berbasis Web Untuk Open Cluster. Tugas Akhir. Sekolah Tinggi Teknologi Telkom. Bandung.
[3] Kusuma, F. I, 2015. Perancangan Sistem Monitoring Perangkat Jaringan Berbasis SNMP. [Online] (Update 2015)
Tersedia di: https://www.academia.edu/36066945/PERANCANGAN_SISTEM_MONITORING. [Accessed 20 Juli 2019]
[4] Limpratono, F, Yudi., Sotyohadi., Setiawan, H., 2010. Pengembangan Aplikasi Protocol SNMP Untuk Manajemen Dan Monitoring Peralatan Jaringan Intranet. Jurnal Elektro ELTEK, 1 (1).
[5] Nugroho, M., Affandi A., Rahardjo D, Suprajitno, 2014. Rancang Bangun Aplikasi Monitoring Jaringan Menggunakan SNMP (Simple Network Management Protocol) dengan Sistem Peringatan Dini dan Mapping Jaringan. Jurnal Teknik Pomits, 3 (1), pp.A35-A39.
[6] Pradikta, R, Affandi, A, Setijadi, E, 2013. Rancang Bangun Aplikasi Monitoring Jaringan Deangan Menggunakan Simple Network Management Protocol. Jurnal Teknik Pomits, 2 (1), pp.A-155.
[7] Prasetyo, E., 2013. Data Mining : Konsep Dan Aplikasi Menggunakan Matlab. 1st ed. Yogyakarta: Andi Publisher.
[8] Pratama, M. R, Munadi, R, Hafidudin, 2017. Implementation And Analysis of Monitoring System Using Simple Network Management Protocol (SNMP) on A, N, O Buiding at Telkom University Networks. E-Proceeding of Engineering, 4 (2), pp.2092-2099.
[9] Wahyu, A, 2016. Observium Sebagai Network dan Server Monitoring. [Online] (Update 28 Sep 2016)
Tersedia di : https://www.academia.edu/28754900/Observium_Sebagai_Network_dan_Server_Monitoring. [Accessed 17 Juli 2019]
[10] Wijonarko, D., 2014. Zabbix Network Monitoring Sebagai Perangkat Monitoring Jaringan Di SKPD Kota Malang. Jurnal ELTEK, 12 (1), pp.27-28.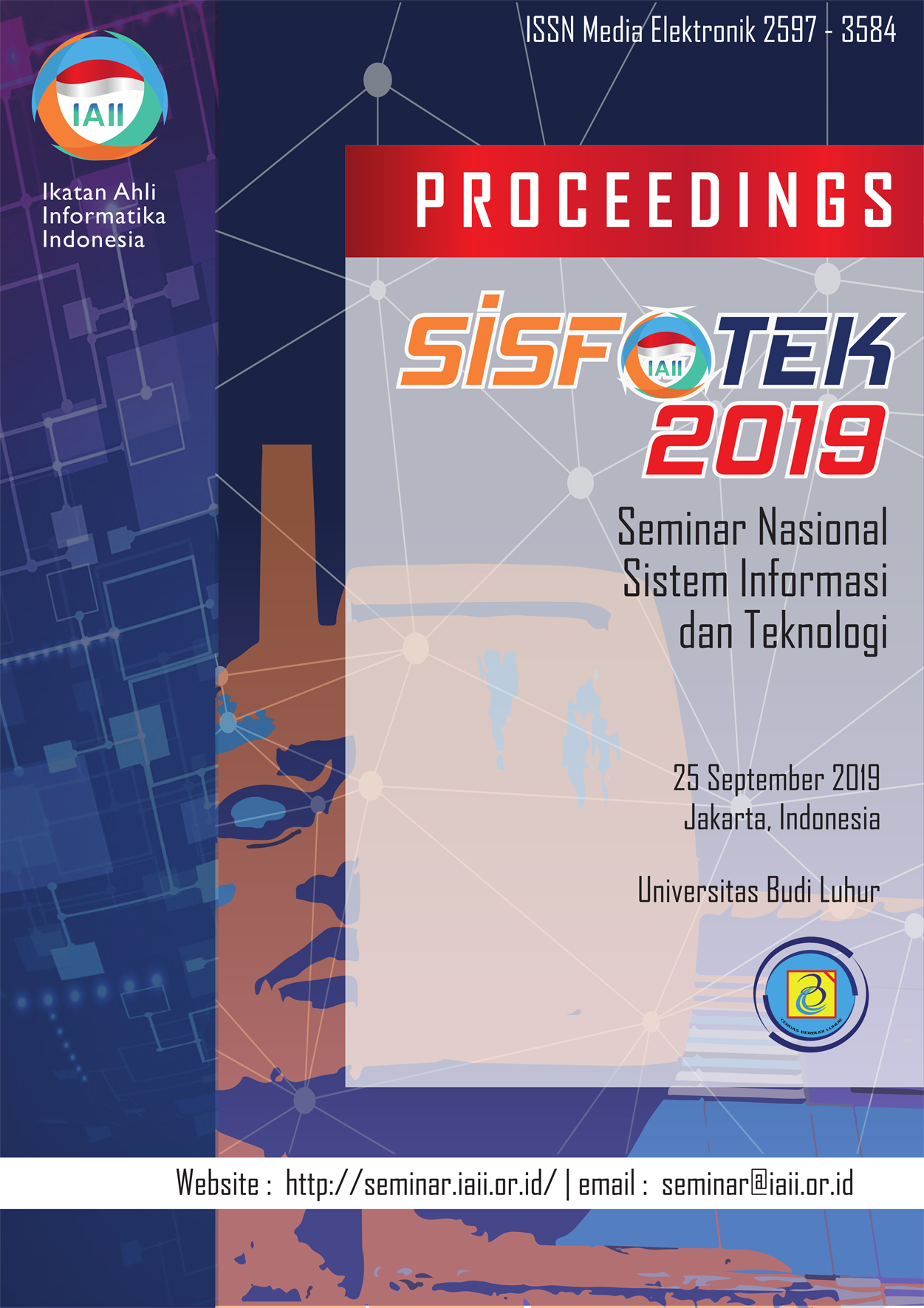 Downloads
How to Cite
Sarah, S. (2019). Implementasi Dan Analisis Pemantauan Jaringan Menggunakan Aplikasi Observium Di PT. XYZ. Prosiding SISFOTEK, 3(1), 171 - 176. Retrieved from http://seminar.iaii.or.id/index.php/SISFOTEK/article/view/122
Section
5. Teknologi & Komputer
License
http://creativecommons.org/licenses/by/4.0