Sistem Pendukung Keputusan Penilaian Kinerja Guru untuk Rekomendasi Guru Tetap Berbasis Balanced Scorecard dengan Pendekatan Analytic Network Process
Marimin Marimin

Institut Pertanian Bogor

Zaqi Kurniawan

Universitas Budi Luhur

Rusdah Rusdah

Universitas Budi Luhur
Abstract
Teacher Performance Assessment guarantees a quality learning process at all levels of education. Educational supervision will be carried out with the aim to improve the quality of teaching / teacher so that the competitiveness of students studying at the school will increase towards a better direction. Supervision assessment is a class visit technique to obtain data about the actual situation regarding the ability and skills of teachers in teaching and mastery of class. To determine the teacher's performance, one approach can be done using the Balanced Source card. The determination of teacher performance is then processed using Analytic Network Process-based modeling to improve teacher evaluation criteria that are still low. With the help of Super Decision software, a decision support system was created in determining teacher performance. The results of this study are the recommendations of permanent teachers in Junior High Schools, High Schools, Vocational Schools Yadika 12 Depok based on performance to be objective and make more efficient decisions.
References
[1] Martinis Yamin dan Maisah. (2010). Standarisasi Kinerja Guru. Jakarta: Gaung Persada (GP Press).
[2] E. Mulyasa. 2005. Menjadi Guru Profesional. Bandung: PT. Remaja Rosda Karya
[3] Imran. (2010). Pembinaan Guru di Indonesia. Jakarta: Pustaka Jaya.
[4] Basrowi dan Suwandi. (2010). Memahami Penelitian Kualitatif. Jakarta: Rineka Cipta.
[5] Kothari, C.R. 2004. Research Methodology: Methods and Techniques. New Delhi: New Age International (P) Ltd., Publishers.
[6] Lohman, 2003, Analisis Kuantitatif, Jogjakarta.
[7] Lohman, 2003, Analisis Kuantitatif, Jogjakarta.
[8] Chang, O.H. dan Chow, C.W, 1999. The Balanced Scorecard: A Potential Tool for Supporting Change and Continous Improvement in Accounting Corporation, August, Vol. 14, No.3, pp.395-412.
[9] Saaty, T. L., 1995, Fundamentals of The Analytic Network Process, ISAHP, pp. 1- 12.
[10] Saaty, T. L., 1995, Fundamentals of The Analytic Network Process, ISAHP, pp. 1- 12.
[11] Saaty, T. L., 2005, Theory and Applications of the Analytic Network Process: Decision Making with Benefits, Opportunities, Costs, and Risks, RWS Publications, Pittsburgh.
[12] Kadir, A., 2014. Pengenalan Sistem Informasi Edisi Revisi, Yogyakarta: Andi.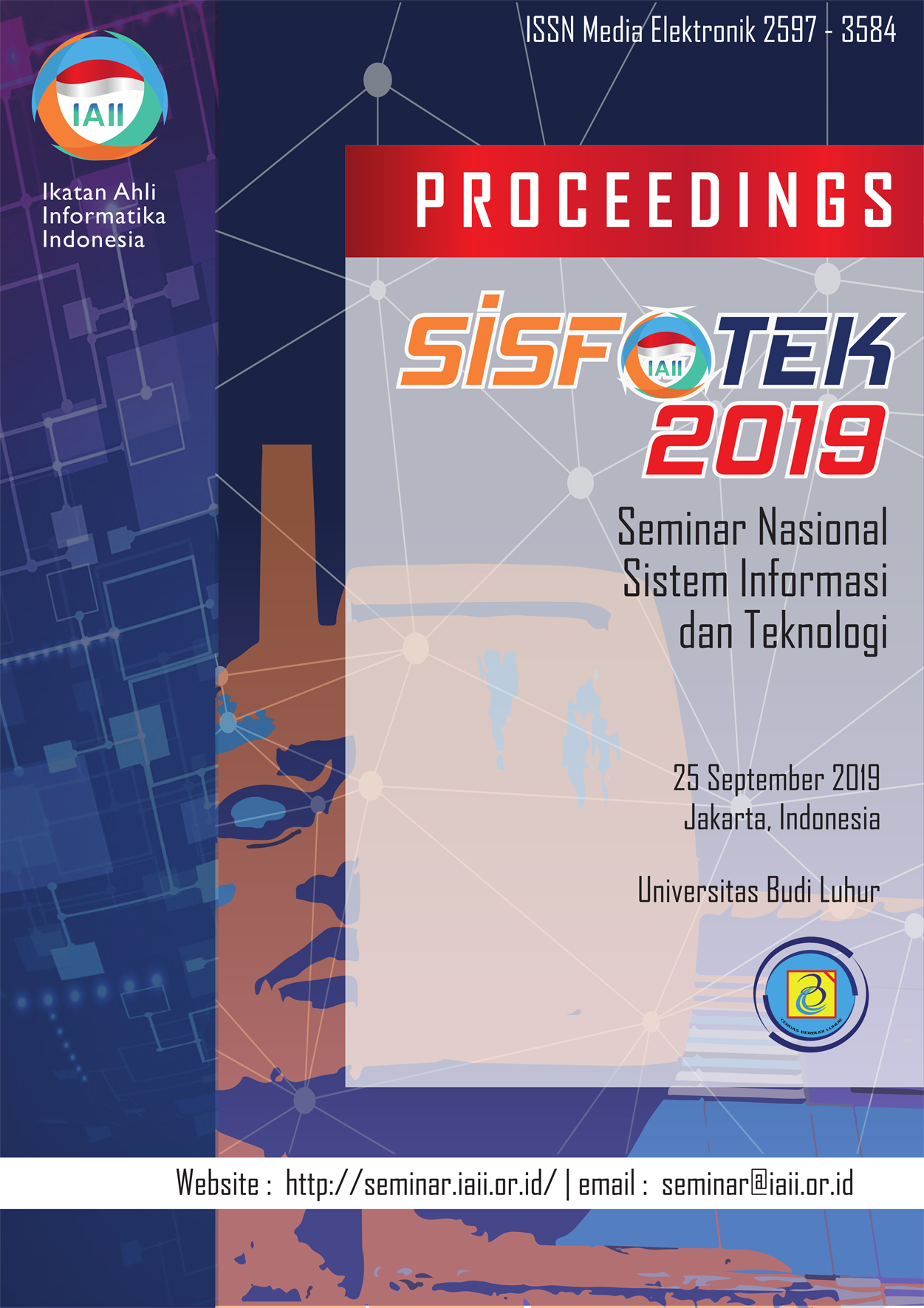 How to Cite
MARIMIN, Marimin; KURNIAWAN, Zaqi; RUSDAH, Rusdah. Sistem Pendukung Keputusan Penilaian Kinerja Guru untuk Rekomendasi Guru Tetap Berbasis Balanced Scorecard dengan Pendekatan Analytic Network Process.
Prosiding SISFOTEK
, [S.l.], v. 3, n. 1, p. 177 - 186, oct. 2019. ISSN 2597-3584. Available at: <
http://seminar.iaii.or.id/index.php/SISFOTEK/article/view/123
>. Date accessed: 03 june 2020.
Section
3. Data dan Diseminasi Informasi