Manajemen Proyek Agile dengan Pendekatan Metode Scrum sebagai Peningkatan Layanan Berkelanjutan Perusahaan
Keywords:
IT Governance, Agile Project Management, Scrum, ITIL, Framework
Abstract
At present, there are many frameworks used in implementing IT Governance. But with the pattern of implementation of sustainable IT Governance development, there needs to be preparation, planning and development that carry out relatively short activities. Especially the existence of a framework that can support this activity. Therefore the author will discuss the development of IT Governance by utilizing the ITIL framework as a Continual Service Improvement by implementing more adaptive and relatively short daily activities through the design and development of using Agile Project Management with the Scrum method. So that the development of IT Governance is expected to be faster and more agile in optimizing the fulfillment of excellent service for all institutions.
References
[1] Hammer, M., & Champy, J. (1993). Reengineering The Corporation (p. 223). Nicholas Brealey Publishing Ltd.
[2] Wheelan, T. L., & Hunger, J. D. (2004). Strategic Management and Business Policy (9th ed., p. 1088). Prentice Hall.
[3] SPREMIC, M., & D, P. 2008. Emerging issues in IT Governance?: implementing the corporate IT risks management model. Wseas Transactions On Systems, 7(3), 219–228.
[4] WILKIN, C. L., & CHENHALL, R. H. 2010. A Review of IT Governance: A Taxonomy to Inform Accounting Information Systems. Journal of Information Systems, 24(2), 107– 146. https://doi.org/10.2308/jis.2010.24.2.107.
[5] Heeks, R. (2003). Most e-Government for Development Projects Fail How Can Risks be Reduced? (p. 19). Manchester, UK: University of Manchester.
[6] Schwaber, Ken. dan Sutherland, Jeff., 2013. The Definitive Guide to Scrum: The Rules of the Game. [Online] Available di: https://www.scrum.org/resources/scrum- guide [Diakses 23 Maret 2019].
[7] Najwa Nina Fadilah dan Susanto Tony Dwi. 2017. Kajian Dan Peluang Penelitian Tata Kelola Teknologi Informasi: Ulasan Literatur. Jurnal Teknologi Informasi dan Ilmu Komputer (JTIIK) Vol. 5, No. 5, hlm. 517-530
[8] JAIRAK, K., & PRANEETPOLGRANG, P. 2013. Applying IT governance balanced scorecard and importance-performance analysis for providing IT governance strategy in university. Information Management & Computer Security, 21(4), 228–249. https://doi.org/10.1108/IMCS-08-2012-0036
[9] SANDFRENI, & ADIKARA, F. 2017. Capability level assessment of IT governance in PTP Mitra Ogan: COBIT 5 framework for BAI 04 process. 2017 4th International Conference on Computer Applications and Information Processing Technology (CAIPT), 1–5. https://doi.org/10.1109/CAIPT.2017.8320665
[10] KERR, D. S., & MURTHY, U. S. 2013. The importance of the CobiT framework IT processes for effective internal control over financial reporting in organizations: An international survey. Information and Management, 50(7), 590–597. https://doi.org/10.1016/j.im.2013.07.012
[11] EKANATA, A., & GIRSANG, A. S. 2015. Assessment of Capability Level and IT Governance Improvement Based on COBIT and ITIL Framework at Communication Center Ministry of Foreign Affairs, 2015, 1–6.
[12] SHALANNANDA, W., & HAKIMI, R. 2016. IT Governance Design for Hospital Management Information System. 10th International Conference on Telecommunication Systems Services and Applications (TSSA).
[13] LUNARDI, G. L., BECKER, J. L., MAÇADA, A. C. G., & DOLCI, P. C. 2014. The impact of adopting IT governance on financial performance: An empirical analysis among Brazilian firms. International Journal of Accounting Information Systems, 15(1), 66– 81. https://doi.org/10.1016/j.accinf.2013.02.001
[14] Lesmideyarti Dwi dan Fadllullah Arif. 2017. Studi Literatur Penerapan Scrum Framework Untuk Meningkatkan Produktivitas Pembuatan Software. Prosiding Seminar Nasional Sains, Lingkungan dan Pendidikan, Vol 2. 440-449.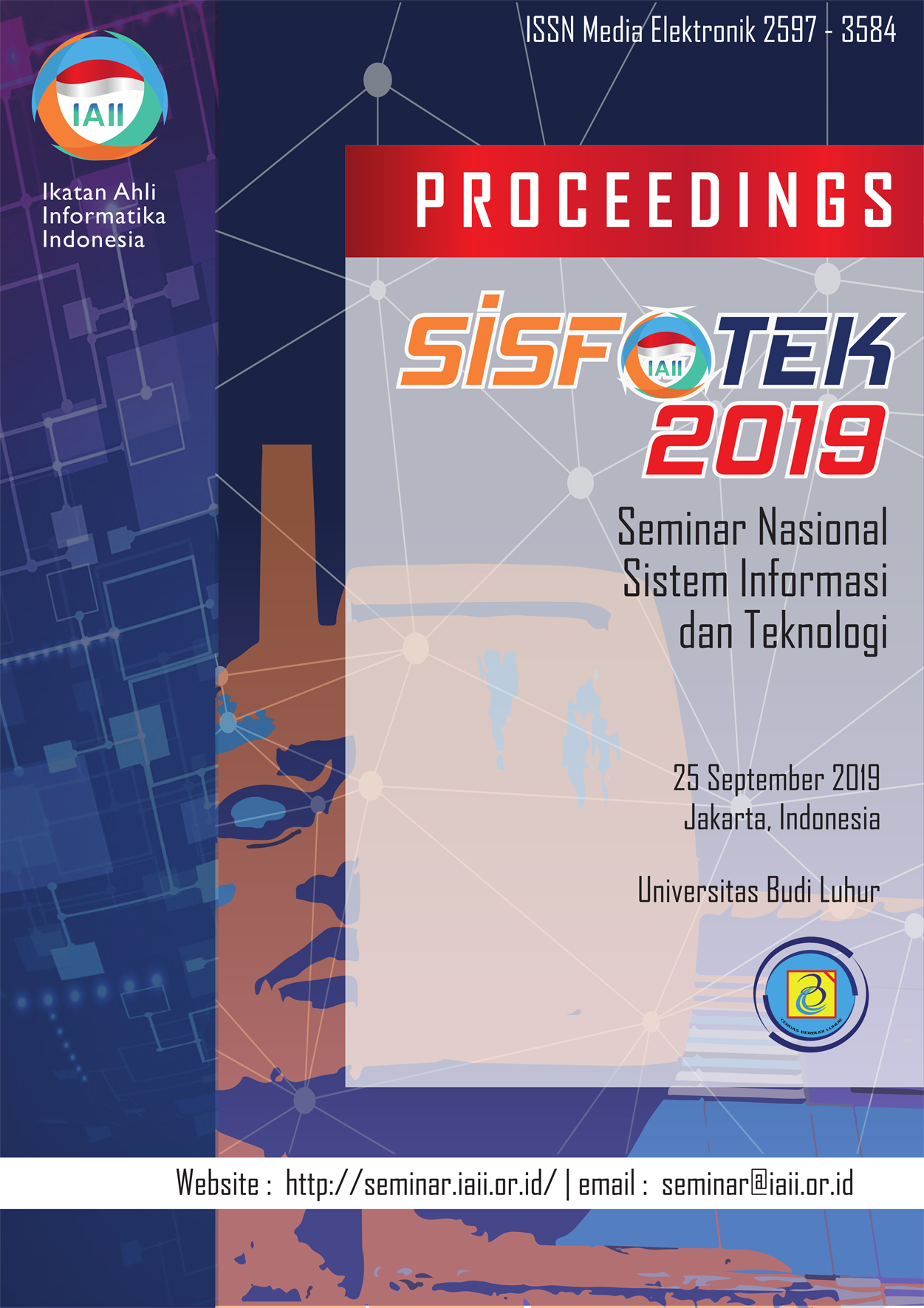 Downloads
How to Cite
Pamungkas, R. W. P., & Khalida, R. (2019). Manajemen Proyek Agile dengan Pendekatan Metode Scrum sebagai Peningkatan Layanan Berkelanjutan Perusahaan. Prosiding SISFOTEK, 3(1), 187 - 194. Retrieved from http://seminar.iaii.or.id/index.php/SISFOTEK/article/view/124
Section
1. Sistem Informasi Manajemen
License
http://creativecommons.org/licenses/by/4.0