Sistem Informasi Pencarian Korban Pasca Bencana Berbasis Web pada BNPB Kota Padang
Keywords:
Website, Evacuation, Design, SDLC
Abstract
Indonesia is one of the countries that often experiencing natural disaster, both because of geological factors and because of human activities. For example, floods or landslides. These kind of disasters also experienced by West Sumatra, especially in the city of Padang. Post-disaster control that had happened in Padang before meet some difficulty in processing data victims. Family has to recognize the identity and characteristics of the victims while there are not enough hints about the location of the disaster. A government agency for Disaster Management (BPBD) made the information system for searching the disaster victims in the Padang City easier for some stakeholder especially the families of the victims  to identify their families. Data will be fast and easy to accessed by anyone, especially by family in identifying their missing family members. This system also can provide information about the searching location.
References
[1] BENCANA, P.B.N.P., n.d. Perka 2 Tahun 2012 tentang Pedoman Umum Pengkajian Resiko Bencana. [Online] Tersedia di : https://bnpb.go.id/perka-2-tahun-2012-tentang-pedoman-umum-pengkajian-resiko-bencana.
[2] Perka BNPB No. 7/2015, n.d. Perka BNPB No. 7/2015 tentang Rambu dan Papan Informasi Bencana. [Online] Tersedia di : https://www.bnpb.go.id/perka-bnpb-no-7-2015-tentang-rambu-dan-papan-informasi-bencana.
[3] Dyah Ika Rinawati1, Diana Puspita Sari1,Fuzie Priatamphatie1, F., n.d. RANCANG BANGUN SISTEM INFORMASI BANTUAN LOGISTIK BENCANA STUDI KASUS PADA BPBD KABUPATEN MAGELANG. Jurnal Teknik Industri, Vol. 13, No. 1, Januari 2018,.
[4] Indrajani, n.d. MASTER DATA MANAGEMENT MODEL IN COMPANY: CHALLENGES AND OPPORTUNITY. ComTechVol. 6 No. 4 Desember 2015: 514-524,.
[5] Tata Sutabri, n.d. Analisa Sistem Informasi.
[6] Gelinas, Ulrich & Dull, B.R., 2012. Accounting Information Systems. Th Ed. South Western Cengage Learning. 5191 Natorp Boulevard Mason, USA. P. 19,.
[7] DeLone, W. H., & McLean, E.R., 2003. No TitleThe Delone and McLean Model of Information Systems Success. Journal of Management Information Systems/Spring, Vol 19. (N pp. pg 9-30.
[8] Sahil Barjtya1, Ankur Sharma2, U.R., n.d. International Journal Of Engineering And Co
mputer Science. International Journal Of Engineering And Computer, volume 6 pp. Page No. 22097-22100.
[9] Mark McMurtrey, n.d. A Case Study of the Application of the SystemsDevelopment Life Cycle (SDLC) in 21st Century HEALTH CARE:SOMETHING OLD,SOMETHING NEW?. The Journal of the Southern Association for InformationSystems, Vol 1.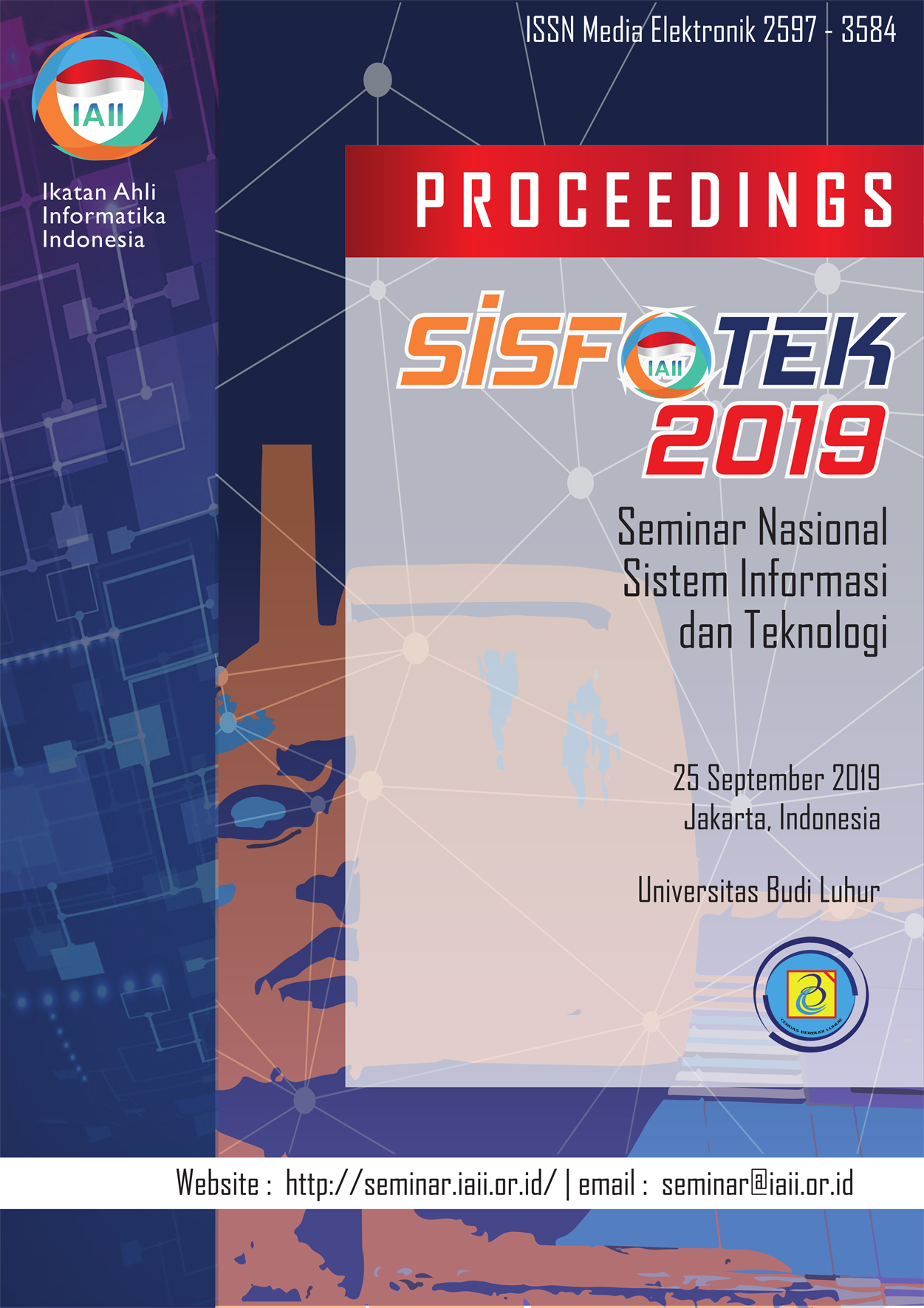 Downloads
How to Cite
Hamdi, K., Gunawan, I., Arianto, A., Yuhefizar, Y., & Sunaryo, B. (2019). Sistem Informasi Pencarian Korban Pasca Bencana Berbasis Web pada BNPB Kota Padang. Prosiding SISFOTEK, 3(1), 195 - 200. Retrieved from http://seminar.iaii.or.id/index.php/SISFOTEK/article/view/125
Section
1. Sistem Informasi Manajemen
License
http://creativecommons.org/licenses/by/4.0