Analisis Sentimen Tokoh Politik pada Situs Berita Menggunakan NER. Studi Kasus: IMMC
Keywords:
Sentiment Word, Named Entity Recognation, NER
Abstract
In the political world, decisions made by the media can be a measuring instrument of the image of a character. In a news created by a news site, it can be categorized as positive and negative news. Currently there are only a few applications that can see and record the news of a character on a news site. Percentage count can be representative of news sites, it can show positive and negative results from rticle on those sites. To classify a news site, need sentiment analysis of each article on the news site. The sentiment analysis results of each article will affect the percentage count. In general, the analysis is done using preprocessing text which is compared with the word sentiment. However, the preprocessing process and the sentiment word are not appropriate if used to analyze the sentiments of an article with using bahasa. Named Entitity Recognition (NER) is part of the word extracted from a collection of texts. NER can be used to extract positive and negative words. In this study, each article from a news site will be analyzed using Named Entity Recognation (NER). The results of sentiment analysis are validated by users. In this study, from 10 test data (articles), the accuracy of sentiment analysis with NER was 90%. While the sentiment analysis using sentiment word and Preprocessing is only 80%.
References
[1] Ratnawati F. 2018. Implementasi Algoritma Naive Bayes Terhadap Analisis Sentimen Opini Film Pada Twitter. Politkeknik Negeri Bengkalis, Riau.
[2] Christianto D, Siswanto E, Chaniago R. 2015. Penggunaan named entity recognition dan artificial intelligence markup language untuk penerapan chatbot berbasis teks. Penggunaan named entity recognition dan artificial intelligence markup language untuk penerapan chatbot berbasis teks hal 61-68.
[3] Kurniawati T, Indriarti, Adikara P.P. 2018. Implementasi named entity recognition pada factoid question answering system untuk cerita rakyat indonesia. Jurnal pengembangan teknologi informasi dan ilmu komputer vol. 2, no. 9, september 2018, hal. 3142-3149.
[4] Kasiram, M. 2008. Metode Penelitian Kuantitatif-Kualitatif. Malang:UIN Malang Press.
[5] Noor, Juliansyah. 2014. Metodologi Penelitian. Jakarta: Kencana Prenada Media Group
[6] Sugiyono, 2013, Metodelogi Penelitian Kuantitatif, Kualitatif Dan R&D. (Bandung: ALFABETA)
[7] Dirgantara, et al.,2018. Penerapan Named Entity Recognition Untuk Mengenali Fitur Produk Pada E-Commerce Menggunakan Rule Template Dan Hidden Markov Model, Jurnal Pengembangan Teknologi Informasi dan Ilmu Komputer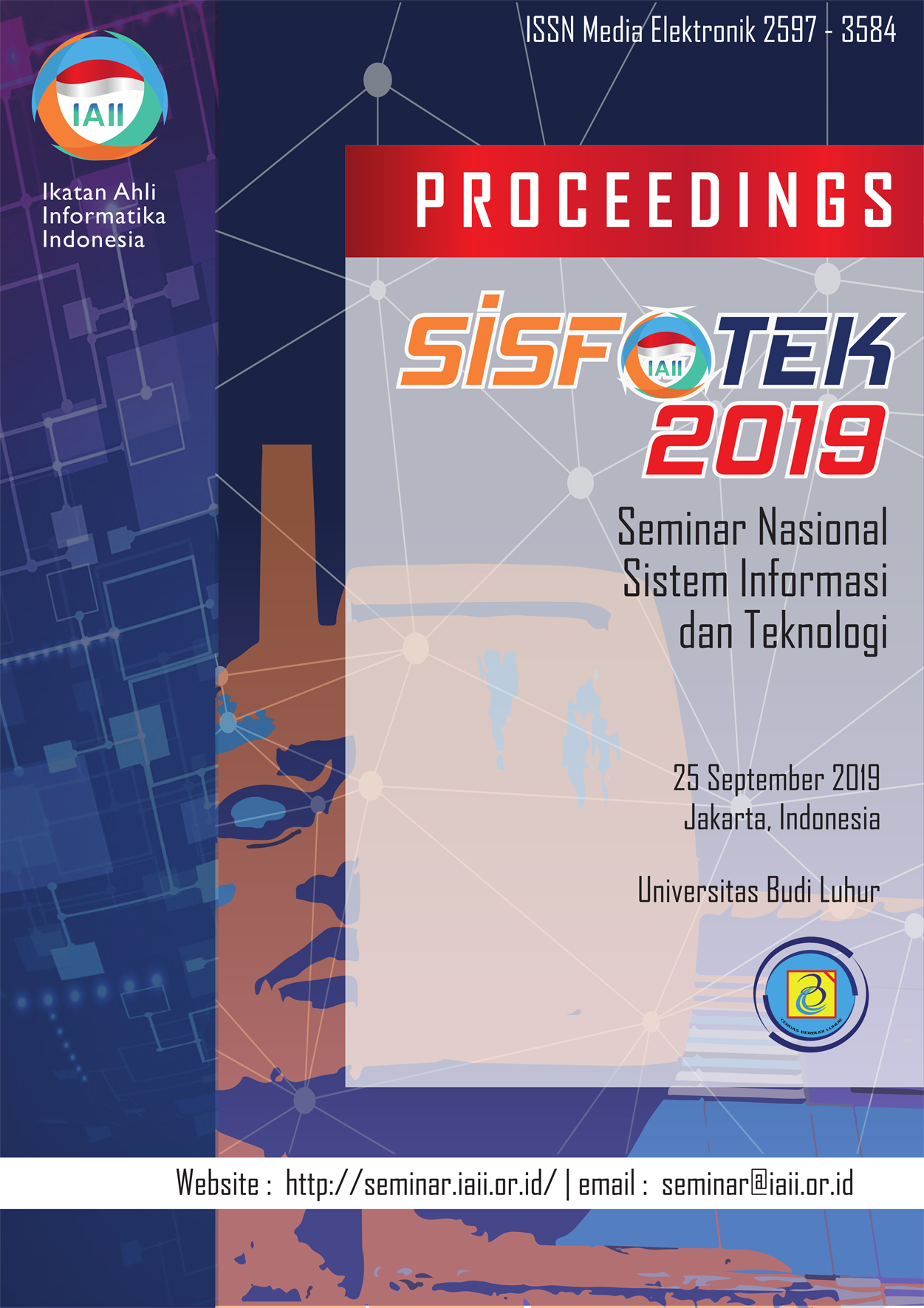 Downloads
How to Cite
Brotosaputro, G., & Ortega, J. (2019). Analisis Sentimen Tokoh Politik pada Situs Berita Menggunakan NER. Studi Kasus: IMMC. Prosiding SISFOTEK, 3(1), 212 - 216. Retrieved from http://seminar.iaii.or.id/index.php/SISFOTEK/article/view/128
Section
3. Data dan Diseminasi Informasi
License
http://creativecommons.org/licenses/by/4.0