Identifikasi Kerusakan Mobil City Car Automatic dengan Pendekatan Backward Chaining System Pada Auto2000 Pandeglang
Keywords:
Car; City Car Automatic; Identification; Expert System; Backward Chaining
Abstract
City Car Automatic is one of the four-wheeled land transportation vehicles that includes vehicles that meet the standards set by the government, namely Fuel-Saving Motor Vehicles at affordable prices or better known as Low Cost Green Car (LCGC). In addition, its small and agile enough to drive on a crowded road and easy to park and its ease of operation is the reason for people to choose this type of car. Auto2000 is the largest Toyota retailer network in Indonesia, which always strives to provide the best service for all of its customers including after sales service services in accordance with its slogan "Toyota Easier affair". This study aims to build an expert system in identifying City Dam Automatic Car as a media. The developed application is expected to be able to help and simplify the process of identifying damage to City Car Automatic cars especially for new mechanics who are conducting trining in Auto2000 Pandeglang. The damage identification process uses the Backward Chaining method to determine the type of damage in the Automatic City Car. This research will have an output in the form of expert system software as a training media or a new mechanical training center in Auto2000 that is able to identify damage to City Automatic Car.
References
[1] Kendall&Kendall, 2010, Analisa dan Perancangan Sistem, Edisi ke-5, PT Indeks
[2] Kusrini, 2006, Sistem pakar Teori dan Aplikasi, Yogyakarta, Andi Offset .Yogyakarta
[3] Kusrini, 2008,Apliasi Sistem Pakar, Yogyakarta, Andi Offset
[4] Kusumadewi, S. 2003, Artifical Intelegence ( Teknik dan aplikasi), Yogyakarta, Graha Ilmu.
[5] Turban, Efraim dkk (2005). Decision support system and intelegent system.Yogyakarta: Andi
[6] Uky Yudatama.2008.Sistem Pakar Untuk Diagnosis Kerusakan Mobil Panther Berbasis Mobile.Institut Sains & Teknologi AKPRIND.
[7] Yufi Tuesriza (2016), Sistem Pakar Deteksi Kerusakan Sepeda Motor Non Matic Dengan Menggunakan Metode Forward Chaining Berbasis web.Universitas Islam "45" Bekasi.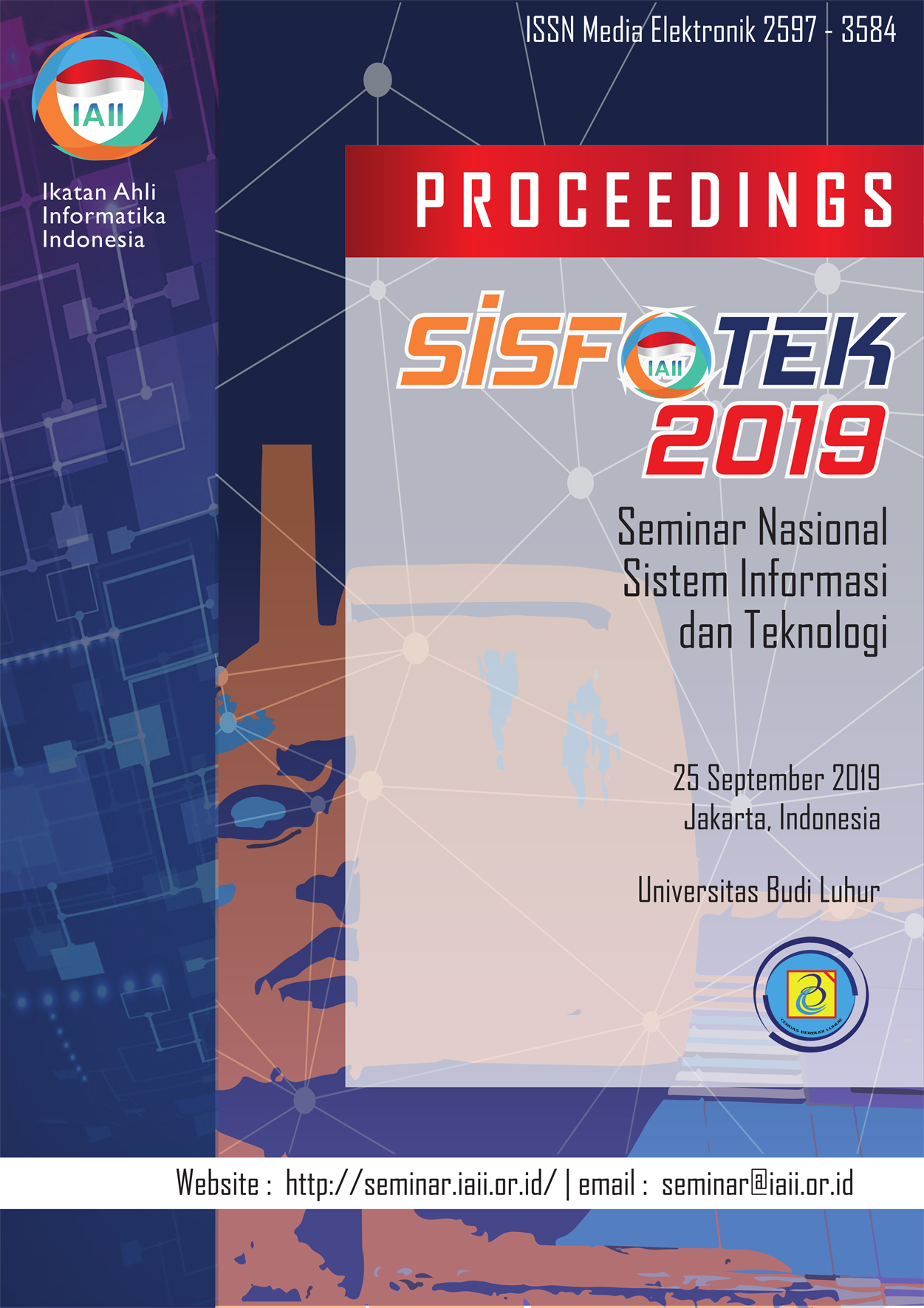 Downloads
How to Cite
Wardah, N. N., Sugiarto, A., & Pratama, A. G. (2019). Identifikasi Kerusakan Mobil City Car Automatic dengan Pendekatan Backward Chaining System Pada Auto2000 Pandeglang. Prosiding SISFOTEK, 3(1), 235 - 243. Retrieved from http://seminar.iaii.or.id/index.php/SISFOTEK/article/view/132
Section
2. Rekayasa Sistem Informasi
License
http://creativecommons.org/licenses/by/4.0