Metode Fuzzy dalam Memprediksi Penentuan Jumlah Kalori Ibu Hamil
Devia Kartika

Universitas Putra Indonesia YPTK Padang

Silky Safira

Universitas Putra Indonesia YPTK Padang

Abulfawa Muhammad

Universitas Putra Indonesia YPTK Padang
Abstract
Nutritional status of pregnant women is one of the factors causing the high mortality rate in Indonesia. The mortality rate estimated 19 thousand every year. In determining the amount of calories pregnant women was developed with the Fuzzy Inference System (FIS) Mamdani. Purpose to achieve is to prevent malnutrition (poor nutrition) during pregnancy. One of them is with attention the immune system that they have resulted in the pregnant woman must know the level of calories in the body with the identification of height, weight, and age in order to obtain some variables. In the fuzzy process, the input is divided into 3 variables: female calories, basal caloric needs and correction factors. Caloric output fuzzy set for pregnant women is low, normal and high. The results of the study have been tested with some simple cases are solved by using Fuzzy Inference System (FIS) and Matlab Software.
References
[1] Ahmad, Fiqril.2010. "Konsultasi Pengaturan Pola Makan Ibu Hamil".
[2] Andi. 2005. "Jaringan Syaraf Tiruan dan Pemogramannya Menggunakan Matlab",Yogyakarta.
[3] Hartati,Sri.2006."Fuzzy Multi Attribute Decision Making",Yogyakarta.
[4] Kusumadewi,Sri. 2013 ."Aplikasi Logika Fuzzy",Yogyakarta.
[5] Lumbangaol, R. A. ( 2013). Sistem Pendukung Keputusan Penanganan Gizi Buruk Pada Balita Menggunakan Metode Fuzzy Mamdani Volume : IV, Nomor: 2.
[6] Mardison.2012."Sistem Pendukung Keputusan Dalam Pencairan Kredit Nasabah Bank dengan Menggunakan Logika Fuzzy dan Bahasa Pemograman Java".
[7] Proverawati,Atikah. 2011 ."Ilmu Gizi untuk Keperawatan & Gizi Kesehatan",Yogyakarta.
[8] Sejati, Y. (2008). Implementasi Fuzzy Set Dan Fuzzy Infekence System Tsukamoto Pada Pene,Ntuan Harga Beli Handphone Bekas (Vol. Volume 4 ): Jurnal Informatika.
[9] Setiono, & Marwoto, S. ( 2010). Pemodelan Logika Fuzzy Terhadap Kerusakan Jembatan Beton Media Teknik Sipil, X.
[10] Supardi.2012."Implikasi Logika Fuzzy Untuk Mengukur Status Kesehatan Masyarakat Berdasarkan Kecukupan Gizi",Medan.
[11] Tarigan, P. (2013). Sistem Pengendali Pendingin Ruangan Menggunakan Fuzzy Logic Berbasis Mikrokontroler Atmega 8535 Informasi dan Teknologi Ilmiah (INTI) Volume : I, Nomor : 1.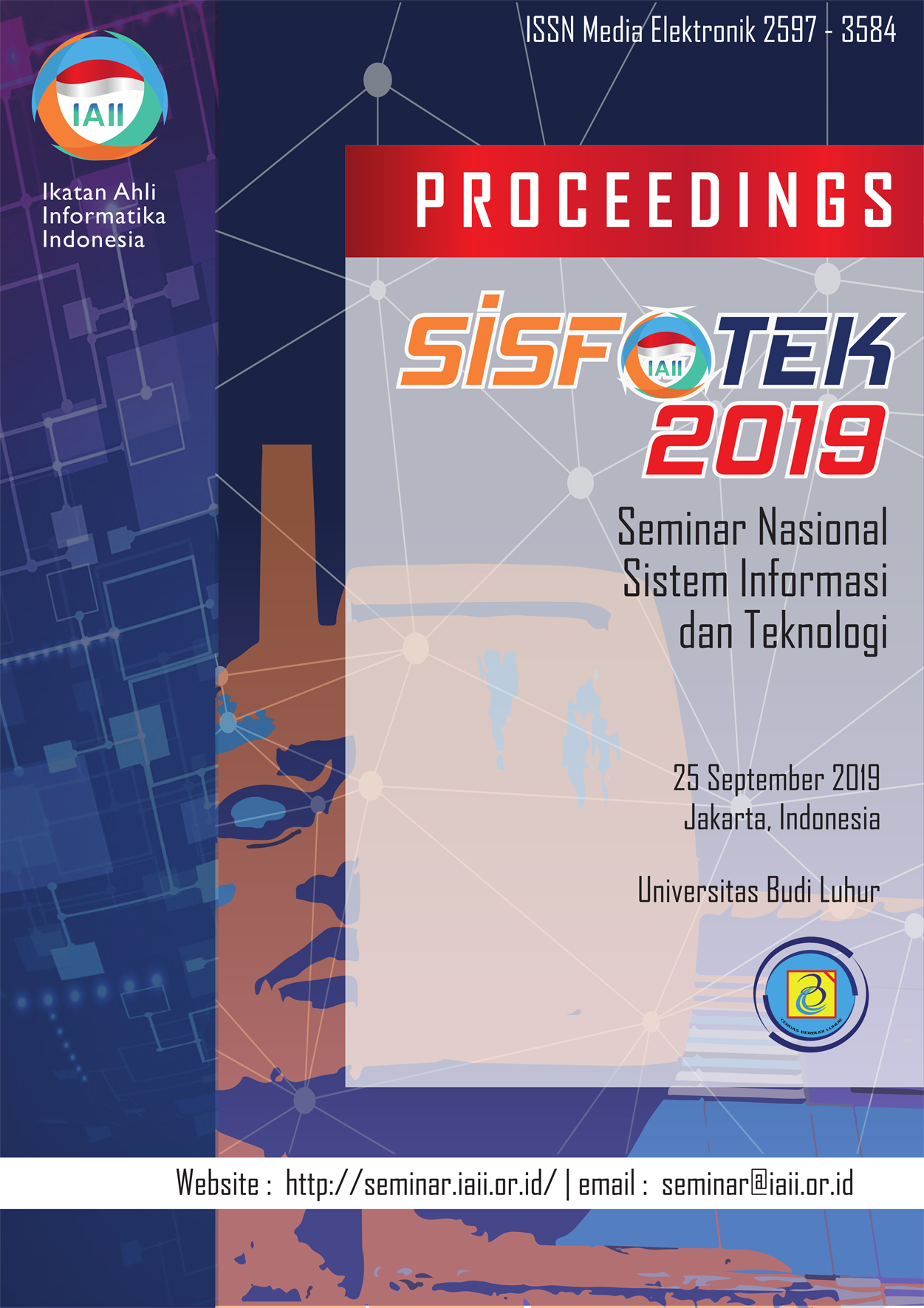 How to Cite
KARTIKA, Devia; SAFIRA, Silky; MUHAMMAD, Abulfawa. Metode Fuzzy dalam Memprediksi Penentuan Jumlah Kalori Ibu Hamil.
Prosiding SISFOTEK
, [S.l.], v. 3, n. 1, p. 217 - 223, sep. 2019. ISSN 2597-3584. Available at: <
http://seminar.iaii.or.id/index.php/SISFOTEK/article/view/133
>. Date accessed: 20 oct. 2019.
Section
2. Rekayasa Sistem Informasi