Sistem Pendukung Keputusan Penerimaan Beasiswa Bagi Siswa Kurang Mampu Dengan Menggunakan Metode Profile Matching
Keywords:
Scholarships, Profile Matching, DSS (Decision Support System)
Abstract
The scholarship selection process at Padangsidimpuan 4 High School has many obstacles in the decision  making process. This is because there is no objective method that can decide quickly and accurately. To assist in determining who is eligible to receive a scholarship, this study will use the DSS (Decision Support System) with the Multi Criteria Decision Making model. The method used is the Profile Matching method. The Profile Matching method was chosen because it is able to select the best alternative from a number of alternatives, in this case the intended alternative is the one who is entitled to receive a scholarship based on specified criteria. The study was conducted by finding the weight value for each sub-aspect, then the ranking process was carried out which would determine the optimal alternative, namely the best students who would be considered by decision makers to get a scholarship.
References
[1] Afshari, dkk. (2016). Metode Fuzzy dan Simple Addictive Weighting (SAW). perusahaan MAPNA.
[2] Efendi, (2017). System pendukung keputusan penentuan peneriam bantuan langsung masyarakat (BLM) menggunakan metode AHP dan TOPSIS. BLM Kelurahan Kota Ternate.
[3] Khorunnisa, (2017). Menerapkan metode profile matching dan AHP. balai ketahanan pangan dan pertanian (BKPP) kota Bima
[4] Rifqi, (2016). Penerapan system pendukung keputusan untuk memilih lahan kelapa sawit menggunakan metode AHP, PM, dan Topsis.
[5] Saputra, (2017). System pendukung keputusan karyawan terbaik menggunakan metode TOPSIS dan Borda. Tridharma
[6] Haryani dan Dina Fitriani. 2019. "Sistem Pendukung Keputusan Penentuan Karyawan Terbaik Pada Collection Pt . Panin BankMenggunakanMetode Profile Matching." Jurnal Mantik Penusa 3(1):1-8.
[7] Dicky Nofriansyah; sarjon defit. 2017. Milti Criteria Decision Making (MCDM) Pada Sistem Pendukung Keputusan. Yogyakarta: Deepublish.
[8] Diana. 2018. Metode & Aplikasi Sistem Pendukung Keputusan. Yogyakarta:Deepublish.
[9] Hutasoit, Rotua Sihombing, Agus Perdana Windarto, Dedy Hartama, dan Solikhun Solikhun. 2018. "Sistem Pendukung Keputusan Pemilihan Guru Terbaik Pada Smk Maria Goretti Pematangsiantar Menggunakan Metode Simple Additive Weighting (Saw)." Jurasik (Jurnal Riset Sistem Informasi dan Teknik Informatika) 1(1):56.
[10] Amin, Ruhul. 2017. Rancang Bangun Sistem Informasi Penerimaan Siswa Baru Pada SMK Budhi Warman 1 Jakarta VOL. 2. NO. 2 Februari 2017 E-ISSN: 2527- 4864.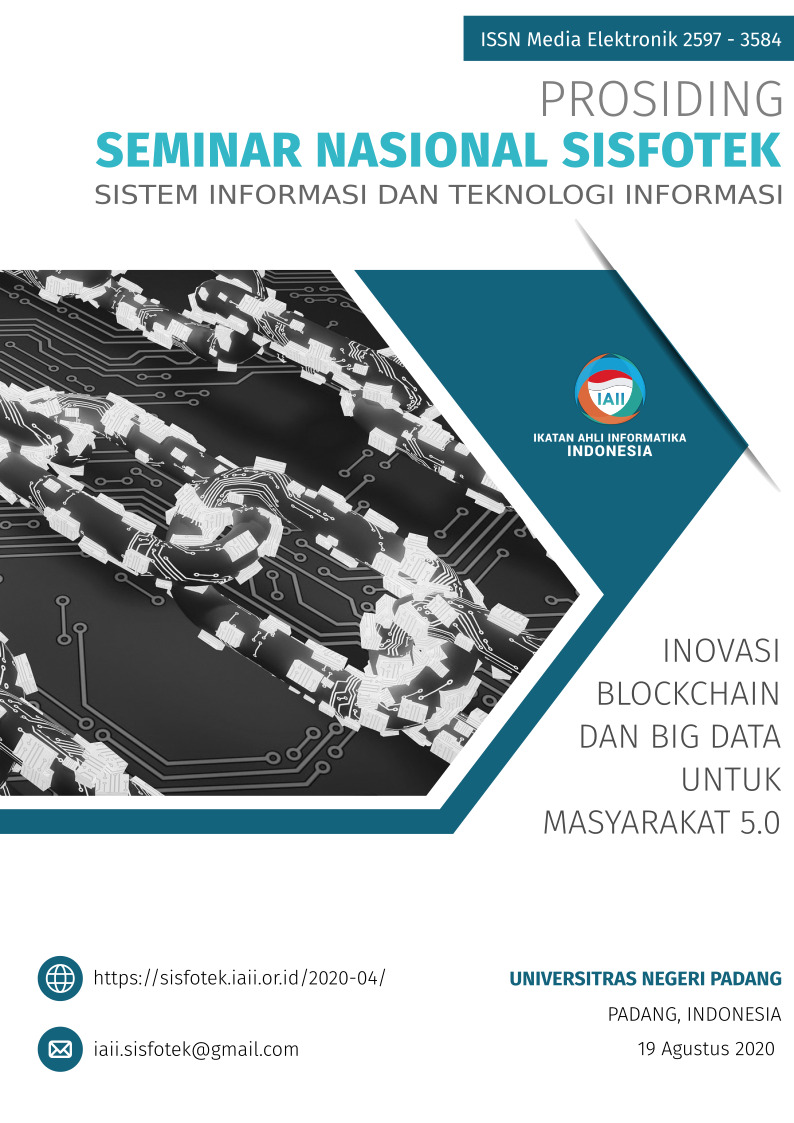 Downloads
How to Cite
Alwendi, A., & Fadillah, Y. (2020). Sistem Pendukung Keputusan Penerimaan Beasiswa Bagi Siswa Kurang Mampu Dengan Menggunakan Metode Profile Matching. Prosiding SISFOTEK, 4(1), 18 - 24. Retrieved from http://seminar.iaii.or.id/index.php/SISFOTEK/article/view/143
Section
3. Data dan Diseminasi Informasi