Sistem Monitoring Produksi Outsole Sepatu Di CV. Teja Rubber
Keywords:
Information System, Monitoring, Production, CV. Teja Rubber
Abstract
In the development of advanced information technology, companies are often faced with rapid changes in the business environment, so companies need to carry out continuous monitoring and measurement of company performance. Monitoring is a cycle of activities that closely observe a situation or condition including certain activities. CV. Teja Rubber, is engaged in manufacturing rubber outsole by accepting customer orders that have been determined the size and color for shoes outsole to be made, has the activity of making shoes outsole from the beginning of raw materials to become an shoe outsole. However, in the production process there are still problems in monitoring the production process, namely the difficulty of getting information on the development of the production process causes difficulty in monitoring the development of the production process. Therefore, in supporting and improving the production process, namely by creating a monitoring system for shoes outsole production in CV. Teja Rubber. The system can manage the flow of information that can be known by all sections to monitor the course of production in accordance with the targeted and find out when the process is not appropriate so that it is easy to access information about the number of products produced, production time taken, and products that are not feasible so that production reports will be more effective and the production process can be controlled.
References
[1] M. Ropianto, O. Veza and M. Donald, "Sistem Informasi Dashboard Monitoring Untuk Pengorderan Barang Dan Jasa Pada PT Energi Listrik Batam," Jurnal Teknik Ibnu Sina (JT-IBSI) , vol. 3, no. 1, pp. 57-69, 2018.
[2] H. Haryanto, E. Permata and N. R. Nainggolan, "Sistem Monitoring Proses Produksi pada Mesin Bardi di PT. Tirta Investama (Danone Aqua) Sukabumi Berbasis Web," SETRUM , vol. 3, no. 1, pp. 26-34, 2014.
[3] A. Herliana and P. M. Rasyid, "Sistem Informasi Monitoring Pengembangan Software Pada Tahap Development Berbasis Web," Jurnal Informatika, vol. 3, no. 1, pp. 41-50, 2016.
[4] N. Arifin and J. , "Perancangan Sistem Informasi Monitoring Proses Produksi Pada Pt. Charoen Pokphand Indonesia," Jurnal Global, vol. 5, no. 1, pp. 39-49, 2018 .
[5] A. P. Gunawan, A. L. Maukar and D. E. S. Rahaju, "Perancangan Sistem Informasi Produksi Di Cv. Bintang Selatan," WIDYA TEKNIK , vol. 9, no. 2, pp. 215-228, 2010.
[6] Z. Hakim, M. I. Dzulhaq and R. Utami, "Perancangan Sistem Informasi Perencanaan Dan Monitoring Jadwal Produksi Alas Sepatu Pada Pt Victory Chingluh Indonesia," Jurnal Sisfotek Global, vol. 8, no. 1, pp. 75-80, 2018.
[7] A. Snatknia, K. Karjusta, J. Majaka, T. Aruvalia and T. Eiskopb, "Real Time Production Monitoring System In SME," Estonian Journal of Engineering , vol. 19, no. 1, pp. 62-75, 2013.
[8] S. K. Subramaniam, S. H. Husni, R. S. S. Singh and A. H. Hamidon, "Production Monitoring System For Monitoring The Industrial Shop Floor Performance," International Journal Of Systems Applications, Engineering & Development , vol. 3, no. 1, pp. 28-35, 2009.
[9] T. F. A. T. Tobing and D. W. Ariyanto, "Sistem Informasi Monitoring Pesanan Dan Pengiriman Bahan Baku Produksi," JURNALSISFOTEKGLOBAL, vol. 9, no. 1, pp. 63-68, 2019.
[10] C. Tristianto, "Penggunaan Metode Waterfall Untuk Pengembangan Sistem Monitoring Dan Evaluasi Pembangunan Pedesaan," Jurnal Teknologi Informasi ESIT , vol. 11, no. 1, pp. 8-22, 2018.
[11] M. Rohayati, "Membangun Sistem Informasi Monitoring Data Inventory Di Vio Hotel Indonesia," Jurnal Ilmiah Komputer dan Informatika (KOMPUTA) , vol. 1, no. 1, pp. 1-8, 2014 .
[12] A. and S. Monalisa, "Rancang Bangun Sistem Informasi Monitoring Perkembangan Proyek Berbasis Web (Studi Kasus: Pt. Inti Pratama Semesta)," Jurnal Rekayasa dan Manajemen Sistem Informasi, vol. 1, no. 1, pp. 49-54, 2015.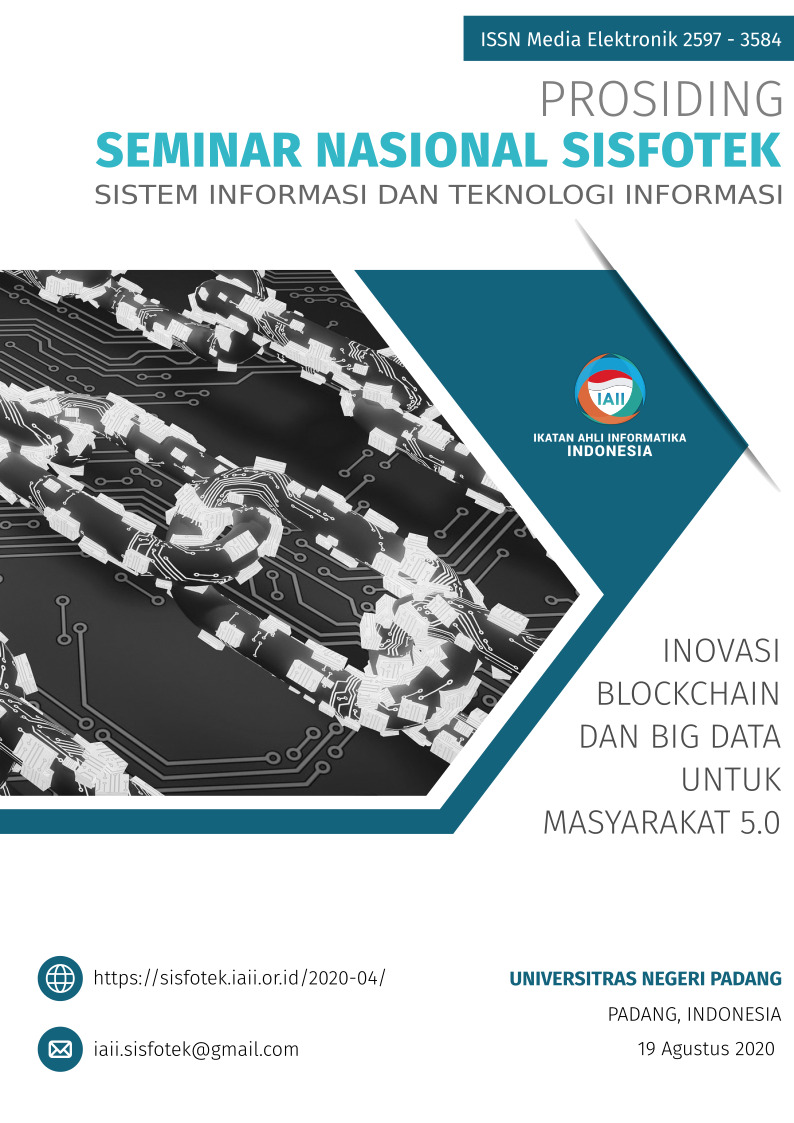 Downloads
How to Cite
Setiawan, R., Nurul Sabrina, P., & Umbara, F. R. (2020). Sistem Monitoring Produksi Outsole Sepatu Di CV. Teja Rubber. Prosiding SISFOTEK, 4(1), 41 - 44. Retrieved from http://seminar.iaii.or.id/index.php/SISFOTEK/article/view/150
Section
5. Teknologi & Komputer