Sistem Pendukung Keputusan Menentukan Siswa Yang Menerima Beasiswa Menggunakan Metode SAW
Keywords:
MYSQL, scholarship recipients, SAW, SDLC, UML
Abstract
The number of schools that are growing steadily, making the school is required to implement a better strategy. For that reason, the school must observe all the activities that exist in the school environment to be able to attract the attention of parents so that their children attend school. Decision Support System is basically to facilitate the school in selecting candidates who will receive scholarships, to get more accurate results, and apply the Simple Additive Weighting method. At SD Negeri Singajaya 03 the process of determining students who receive scholarships uses several criteria, namely Parental Income, Semester, Parental Dependency, Number of Brothers, and Value. In building this system the author uses the System Development Life Cycle (SDLC) development method, and for system design using the Unified Modeling Language (UML). For making the application the author uses PHP programming language and MYSQL database testing using the Black Box Testing method. The results of this study are an application of decision support to determine prospective scholarship recipients using the method Simple Additive Weighting (SAW). In conclusion, this Decision Support System is more convincing than the old method. Because the calculation results are faster, more efficient, and more accurate. 
References
[1] A. Supriadi, A. Nugroho and I. Romli, "Sistem Pendukung Keputusan Menentukan Siswa Terbaik Menggunakan Metode Simple Additive Weighting (SAW)," ELTIKOM, vol. 1, no. 1, pp. 26-33, 2017.
[2] E. Turban and L. Volonino, Information Technologi for Management, New Jersey: Prentice Hall Inc, 2010.
[3] R. j. Mcleod, Sistem Informasi Manajemen, jakarta: PT Prenhalindo, 1995.
[4] D. U. Daihani, Sistem Pendukung Keputusan, Jakarta: Elex Media Komputindo, 2001.
[5] Y. Ita, T. Iman and N. , "Sistem Pendukung Keputusan seleksi Beasiswa Pendidikan Menggunakan Metode Simple Additive Weighting," Telematika, vol. 7, no. 1, pp. 29-39, 2014.
[6] Kusrini, Konsep dan Aplikasi Sistem Pendukung Keputusan, Jogjakarta: Andi, 2007.
[7] K. Sri, H. Sri, H. Agus and R. Wardoyo, Fuzzy Multi-Attribute Decision Making (Fuzzy MADM), Jakarta: Graha Ilmu, 2006.
[8] R. Fauzan, Y. Indrasary and N. Muthia, "Sistem Pendukung Keputusan Penerimaan Beasiswa Bidik Misi di POLIBAN dengan Metode SAW Berbasis Web," J. Online Inform, vol. 2, no. 2, p. 79, 2018.
[9] G. E. Rinaldhi, "Penerapan Metode Simple Additive Weighting (SAW) untuk Sistem Pendukung Keputusan Penentuan Penerimaan Beasiswa bantuan Siswa Miskin (BSM) pada SMA Negeri 1 Subah Kab. Batang," UDN, 2013.
[10] R. Fauzan, S. Saberan and M. Ridwan, "A Decision Support System For Selection Of Smartphone Using Simple Additive Weighting (SAW) Method," in in Seminar Nasional Riset Terapan, pp A15-A24, 2017.
[11] E. Sri, "Perancangan Sistem Pendukung Pengambilan Keputusan untuk Penerimaan Beasiswa dengan Metode SAW (Simple Additive Weighting)," Dinamik, vol. 16, no. 2, pp. 171-176, 2011.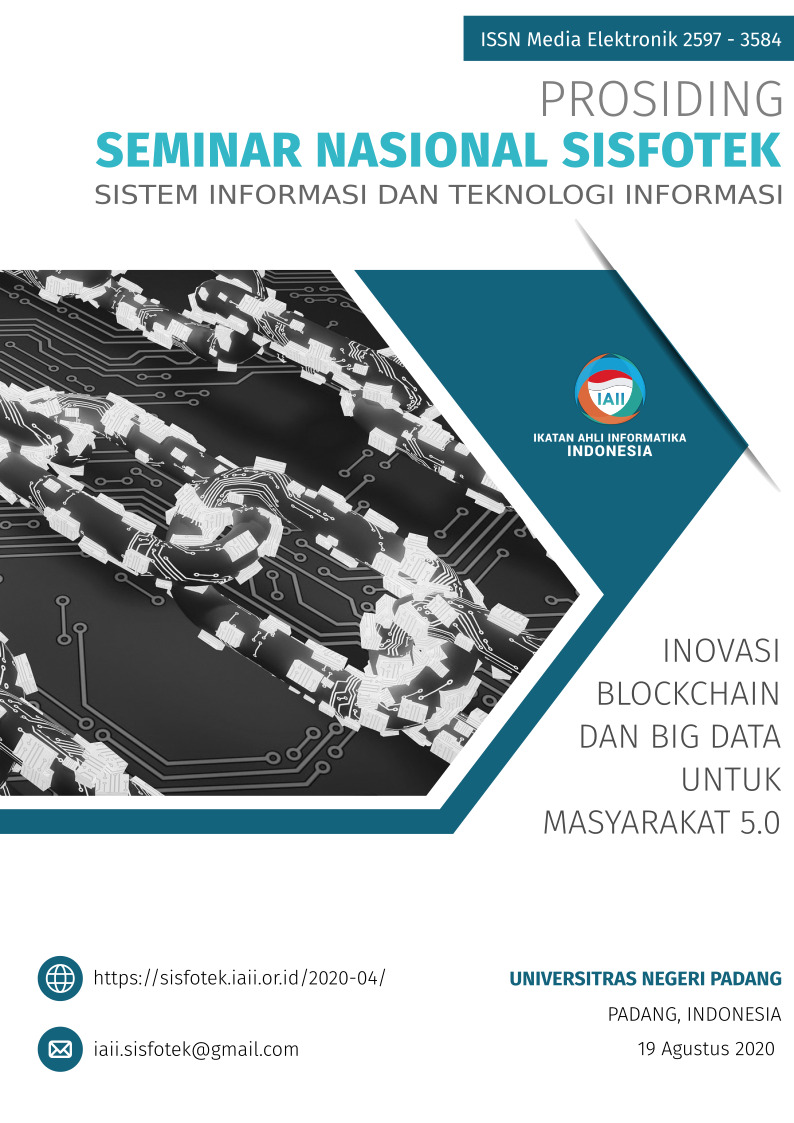 Downloads
How to Cite
Jamaludin, J., Nugroho, A., & Romli, I. (2020). Sistem Pendukung Keputusan Menentukan Siswa Yang Menerima Beasiswa Menggunakan Metode SAW. Prosiding SISFOTEK, 4(1), 45 - 49. Retrieved from http://seminar.iaii.or.id/index.php/SISFOTEK/article/view/151
Section
2. Rekayasa Sistem Informasi