Sistem Rekomendasi Bantuan Rutilahu Kabupaten Sumedang Menggunakan Metode Multi Attribute Utility Theory
Keywords:
uninhabitable house, dinas sosial, decision support system, multi attribute utility theory (MAUT)
Abstract
The house is a place to live and shelter for humans as well as a place for daily activities and in Sumedang Regency there are still many houses that are categorized as uninhabitable house, because there are still people who are categorized as having uninhabitable houses, the government routinely provides assistance and due to limited funds owned by the Government as well as many people who submit requests for assistance,but the Government cannot provide assistance at the same time to all people who submit. The applicant for assistance must wait if not yet selected to get help, to get help, a selection of aid opinions must be made to make it right on target. Decision making related to the determination of the community who will receive assistance first, it will be carried out the construction of a system that aims to support a decision in the sense of a decision support system instead of replacing humans as decision makers in providing uninhabitable housing assistance, but can provide a picture or more knowledge towards humans for decision making,where the system development will be used by the Dinas Sosial Sumedang and using the Multi Attribute Utility Theory (MAUT) method and for this method that is calculating the normalization and weight that will be multiplied by the components needed so that the final result is a ranking order from the evaluation results.
References
[1] B. Triantoro, T. H. Pudjiantoro, and F. R. Umbara, "Sistem Pendukung Keputusan Seleksi Siswa Jalur Penelusuran Minat dan Kemampuan menggunakan Metode ID3 dan AHP," KNTIA, pp. 281–287, 2017.
[2] A. F. Siddiq and U. W. Bandung, "Sistem Pendukung Keputusan Menggunakan Metode Technique for Order by Similarity to Ideal Solution (TOPSIS)," J. Sist. Inf., vol. 4, no. 1, pp. 398–412, 2012.
[3] S. Aisyah, "Jurnal Teknovasi APLIKASI SISTEM PENDUKUNG KEPUTUSAN ANALISIS KELAYAKAN PADA PERUSAHAAN LEASING Siti Aisyah Program Studi Sistem Informasi Fakultas Teknoogi dan Ilmu Komputer Universitas Prima Indonesia Jurnal Teknovasi ISSN?: 2540-8389," J. Teknovasi, vol. 06, pp. 1–16, 2019.
[4] W. Fauzi, "Sistem pendukung keputusan penerima bantuan dana rutilahu dengan menggunakan metode electre," Semin. Nas. Teknol. Inf. dan Komun. 2016 (SENTIKA 2016), vol. 2016, no. Sentika, pp. 18–19, 2016.
[5] BSPS, "Indikator Perumahan dan Kesehatan Lingkungan 2011," 2011.
[6] N. Hadinata, "Implementasi Metode Multi Attribute Utility Theory (MAUT) Pada Sistem Pendukung Keputusan dalam Menentukan Penerima Kredit," SISFOKOM, vol. 07, no. September, pp. 87–92, 2018.
[7] R. Jannah, "Aplikasi Penerimaan Karyawan dengan Metode Multi Attribute Utility Theory," Tek. Inform. STMIK Amik Riau, vol. 1, no. 2, pp. 79–89, 2015.
[8] K. Danik, "Sistem Pendukung Keputusan Penerima Bantuan Rumah Layak Huni Dengan Menggunakan Metode Weighted Product (WP)," Skripsi, Fak. Ilmu Komput., 2014.
[9] H. Tumanggor, M. Haloho, P. Ramadhani, and S. D. Nasution, "Penerapan Metode VIKOR Dalam Penentuan Penerima Dana Bantuan Rumah Tidak Layak Huni," JURIKOM (Jurnal Ris. Komputer), vol. 5, no. 1, pp. 71–78, 2018.
[10] I. Fajarwati, N. S. Fitriasari, and H. Siregar, "Perbandingan Metode Weighted Product ( WP ), Weighted Sum Model ( WSM ) Dan Multi Attribute Utility Theory ( MAUT ) Dalam Sistem Pendukung Keputusan Penerimaan Tenaga Kerja," J. Teor. dan Apl. Ilmu Komput., vol. 1, no. 1, pp. 25–32, 2018.
[11] Y. Kristyawan, "Sistem Pendukung Keputusan Distribusi Rehabilitas Sosial Rumah Tidak Layak Huni pada Kab Sampang Menggunakan Metode Vikor," J. Inf., vol. 2, no. 2, pp. 1–8, 2017.
[12] K. S. Mardiati and Oktafianto, "Sistem Pendukung Keputusan (Dss) Penerima Bantuan Rumah Tak Layak Huni (Rtlh) Pada Kecamatan Ambarawa Dengan Menggunakan Metode Analytical Hierarcy Process (Ahp)," Appl. Phys. A, vol. 73, pp. 1–21, 2017.
[13] Sudin Saepudin, Dudih Gustian, and Heri Firmansyah, "Sistem Pendukung Keputusan Dengan Simple Additive Weighting Dalam Pemilihan Calon Penerima Bantuan Rumah Tidak Layak Huni," Digit. Zo. J. Teknol. Inf. dan Komun., vol. 10, no. 2, pp. 110–119, 2019.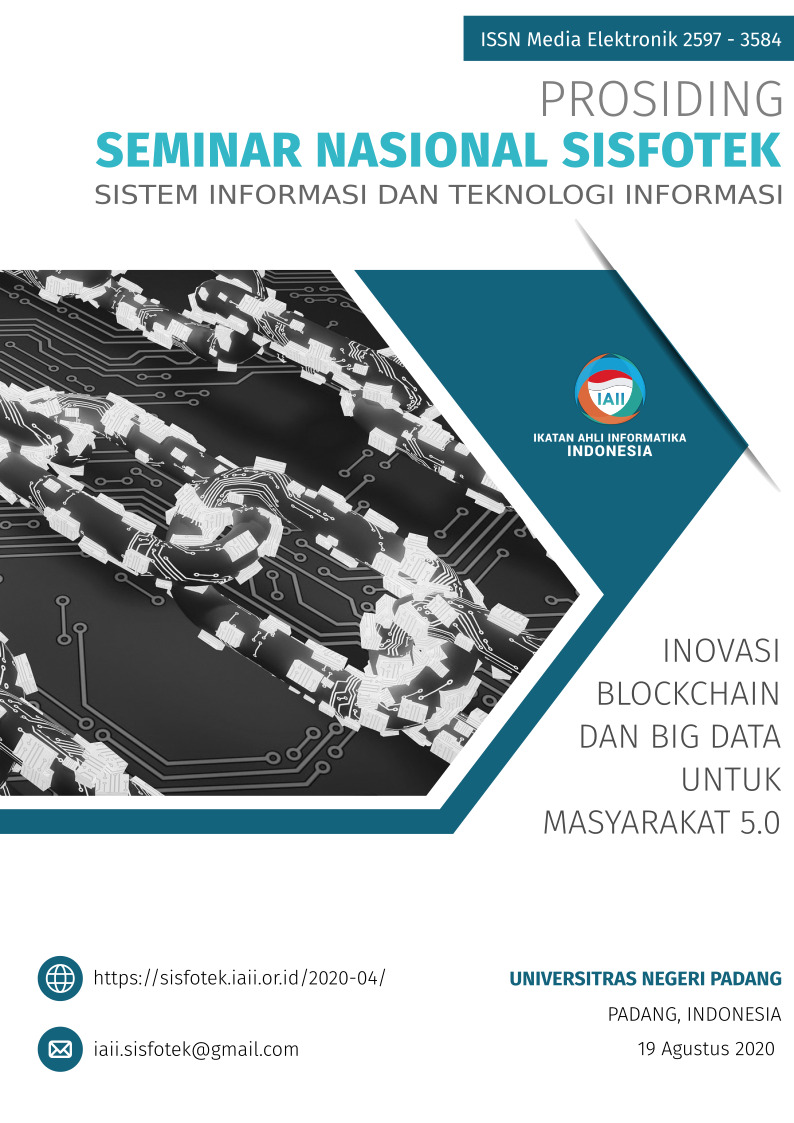 Downloads
How to Cite
Pudjiantoro, T. H., Pinasty, S. Y., & Umbara, F. R. (2020). Sistem Rekomendasi Bantuan Rutilahu Kabupaten Sumedang Menggunakan Metode Multi Attribute Utility Theory. Prosiding SISFOTEK, 4(1), 64 - 69. Retrieved from http://seminar.iaii.or.id/index.php/SISFOTEK/article/view/154
Section
3. Data dan Diseminasi Informasi