Perekrutan Karyawan Menggunakan Algoritme TOPSIS dan Pengujian UAT
Keywords:
recruiting employees, TOPSIS algorithm, UAT, employee recommendations
Abstract
The problem at PT. Putra Bangsingja Perkasa has difficulty in providing employee recommendations that are accepted according to the needs of the 160 prospective employees who register every 6 months of employee recruitment and who assess only 2 people. Employee recruitment applications using the TOPSIS algorithm need to be made to recommend employees who really meet the quality and match the desired criteria such as physical appearance, comprehension, communication, work motivation, education and work experience. The final results of this study are the results of the UAT testing process, the respondents agree (above 83.3%) that overall this employee recruitment application helps the leadership in providing employee recommendations that are accepted according to their needs.
References
[1] Andriyansyah; Siswanto, dan Mujito. 2019, Penerapan Algoritma Topsis untuk Perekrutan Karyawan Divisi HRD pada CV. Semito Mandiri. Prosiding SISFOTEK, Vol. 3, No. 1, p.p 44 - 52, oct. 2019. ISSN 2597-3584 (media online),. Tersedia di: http://seminar.iaii.or.id/index.php/SISFOTEK/article/view/102. [Accessed: 11 aug. 2020].
[2] Sriani 1 , Raissa Amanda Putri, 2018. Analisa Sistem Pendukung Keputusan Menggunakan Metode Topsis Untuk Sistem Penerimaan Pegawai Pada Sma Al-Washliyah Tanjung Morawa, ALGORITHM: Jurnal Ilmu Informasi dan Komputer Jilid: 02, Nomer: 01, April 2018 ISSN 2598-6341 (online),DOI: http://dx.doi.org/10.30829/algoritma.v2i1.1614
[3] Sri Lestari, 2011, Seleksi Penerimaan Calon Karyawan Menggunakan Metode Topsis Konferensi Nasional Sistem dan Informatika (KNS&I-11), Bali, November 12, 2011, pp. 027- 170
[4] Enggar Novianto (1300018002)a,1,, Sri Winiarti 2019, Sistem Pendukung Keputusan untuk Seleksi Karyawan Baru dengan MetodeSimple Additive Weighting(SAW berbasis Web Jurnal Sarjana Teknik Informatika e-ISSN 2338-5197Vol. 7, No. 2, Juni 2019, pp. 49-55. DOI: http://dx.doi.org/10.12928/jstie.v7i2.15826
[5] Tati M.,2018, Sistem Pendukung Keputusan Penerimaan Asisten Laboratorium Komputer Menggunakan Metode AHP-TOPSIS, Jurnal JITK (Jurnal Ilmu Pengetahuan Dan Teknologi Komputer) Jilid 3 Terbitan 2, 15-2-2018.pp. 159-166.
[6] Tati M., 2018, Sistem Pendukung Keputusan Pemilihan Mobil Murah Ramah Lingkungan Menggunakan Metode TOPSIS, 2018/3/15, Jurnal TECHNO Nusa Mandiri, Jilid 15, Terbitan 1, pp.37-42.
[7] Tati Mardiana, Siska Selvia Tanjung, 2019 Sistem Pendukung Keputusan Pemilihan Perguruan Tinggi Swasta Menggunakan Topsis, 5 Maret 2019 Jurnal Riset Informatika, Jilid 1, Terbitan 2, pp.81-90.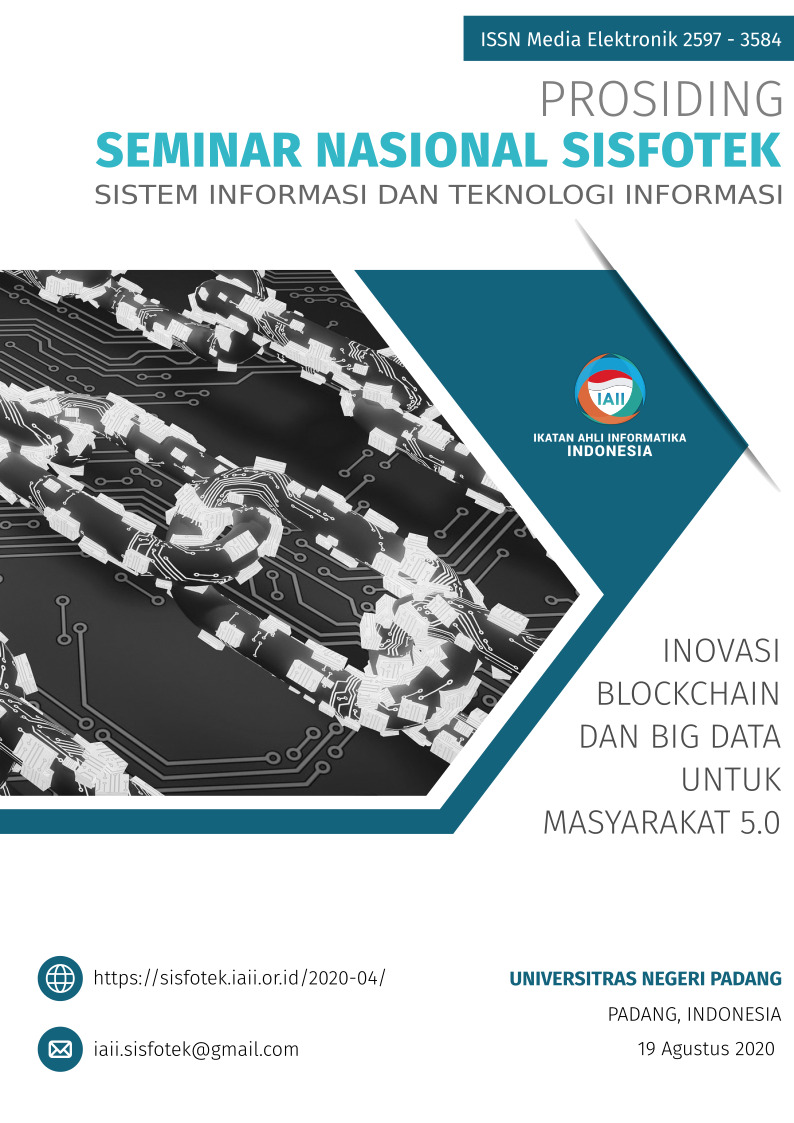 Downloads
How to Cite
Siswanto, S., Al Aziz, M. S., Mujito, M., & Prasetyo, B. H. (2020). Perekrutan Karyawan Menggunakan Algoritme TOPSIS dan Pengujian UAT. Prosiding SISFOTEK, 4(1), 70 - 75. Retrieved from http://seminar.iaii.or.id/index.php/SISFOTEK/article/view/155
Section
3. Data dan Diseminasi Informasi