Implementasi Algoritme Profile Matching dan Pengujian UAT Untuk Memilih Karyawan Terbaik
Keywords:
best employees, profile matching algorithm, UAT, performance aspects, personality aspects
Abstract
In supporting the performance or enthusiasm of employees in the regulation department, the company gives rewards or awards to employees who get the title as the best employees in the form of money with a certain nominal value. It is expected that this reward can stimulate the enthusiasm of employees at work. But when assessing employees there are obstacles, including subjective judgments and calculation errors often occur in determining who the employee gets the title of the best employee. The application for selecting the best employees has been made using the profile matching algorithm. In this study using two aspects, namely aspects of performance consisting of speed of work, quality of work, work responsibilities and problem solving and personality aspects consisting of absenteeism, work knowledge, attitude, team work and loyalty. So that the final results of this study in the form of the results of the testing process with the UAT, the respondents agreed (above 91.2%) that overall the application for selecting employees helps the decision maker management in providing the best employee recommendations based on ranking correctly.
References
[1] Febrina, Sari, 2018, Metode Dalam Pengambilan Keputusan. Yogyakarta: Penerbit Deepublish. pp. 66-69. ISBN: 978-602-453- 982-5.
[2] Masitoh, Akip S.,2016. Penerapan Metode Profile Matching Dalam Pengembangan Aplikasi E-Commerce Pada Penjualan Barang Elektronik. Jurnal Sistem Informasi, Volume 3, pp. 19-23 ISSN: 2406-7768. DOI: https://doi.org/10.24036/tip.v9i1.48.
[3] Intan N.F., Rina F., 2016. Implementasi Metode Profile
Matching Untuk Evaluasi Potensi Akademik Penjurusan Siswa MAN 2 Kota Kediri, Jurnal Infotel, Volume 2, No.2 November 2016, pp.156-163. ISSN: 2085-3688. DOI:https://doi.org/10.20895/infotel.v8i2.121 .
[4] Nency E. P.i, Firlan, Taufik S., 2016. Sistem Pendukung Keputusan Pemilihan Mahasiswa Berprestasi Menggunakan Metode Profile Matching Pada Stmik Indonesia Padang. Jurnal Teknologi Informasi & Pendidikan, Volume. NO. 1 April 2016, pp. 13-29. ISSN: 2086 – 4981. DOI: https://doi.org/10.24036/tip.v9i1.48.
[5] Zainul H., Aso S., Ririn E., 2017. Rancangan Sistem Penunjang Keputusan Pengangkatan Karyawan Tetap Dengan Metode Profile Matching di PT. Lotte Packaging. Jurnal Sisfotek Global, Vol. 7 No. 2, September 2017, pp.13-19. ISSN: 2088 – 1762.
[6] Budi S., 2018. Pemilihan Pegawai Berprestasi dengan Menggunakan Metode Profile Matching. Jurnal & Penelitian Teknik Informatika, Volume 3 Nomor 1, Oktober 2018, pp, 202-210. e-ISSN : 2541-2019.
[7] Agam S. J., 2015. Penerapan Metode Gap Dalam Menentukan Pemain Terbaik Di Tim Sepakbola. Seminar Nasional Teknologi Informasi dan Multimedia 2015, STMIK AMIKOM Yogyakarta, 6-8 Februari 2015, pp.37-42. ISSN: 2302–3805.
[8] Anggar A. S. W., Wing W. W., Ferry W. W, 2018. Penempatan Praktek Kerja Industri Siswa Dengan Metode Fuzzy-Profile Matching. Seminar Nasional Teknologi Informasi dan Multimedia 2018, UNIVERSITAS AMIKOM Yogyakarta, 10 Februari 2018,Volume 2, pp.139-144. ISSN: 2302–3805,
[9] Heru P., 2017. Penerapan Metode Profile Matching Dalam Sistem Pendukung Keputusan Penilaian Kinerja Karyawan Pada PT. Hyundai Mobil Indonesia Cabang Kalimalang. Jurnal Techno Nusa Mandiri Vol. XIV, No. 1 Maret 2017, pp.15-20. ISSN: 1978-2136.
[10] Hasrul A.H., Rahima Br. P., Andysah P. U., 2016. Productivity Assessment (Performance, Motivation, and Job Training) using Profile Matching. SSRG International Journal of Economics and Management Studies (SSRG-IJEMS) – volume3 issue6 Nov to Dec 2016, pp. 73-77. ISSN: 2393-9125, DOI: 10.14445/23939125/IJEMS-V3I6P114.
[11] Arif L. H., Tito P., .2013, Sistem Pendukung Keputusan Evaluasi Kinerja Karyawan Untuk Promosi Jabatan Struktural Pada Bimbingan Belajar Sciencemaster Menggunakan Metode Gap Kompetensi (Profile Matching). Jurnal Teknologi Technoscientia, Vol. 5 No. 2 Februari 2013, pp. 211-220. ISSN: 1979-8.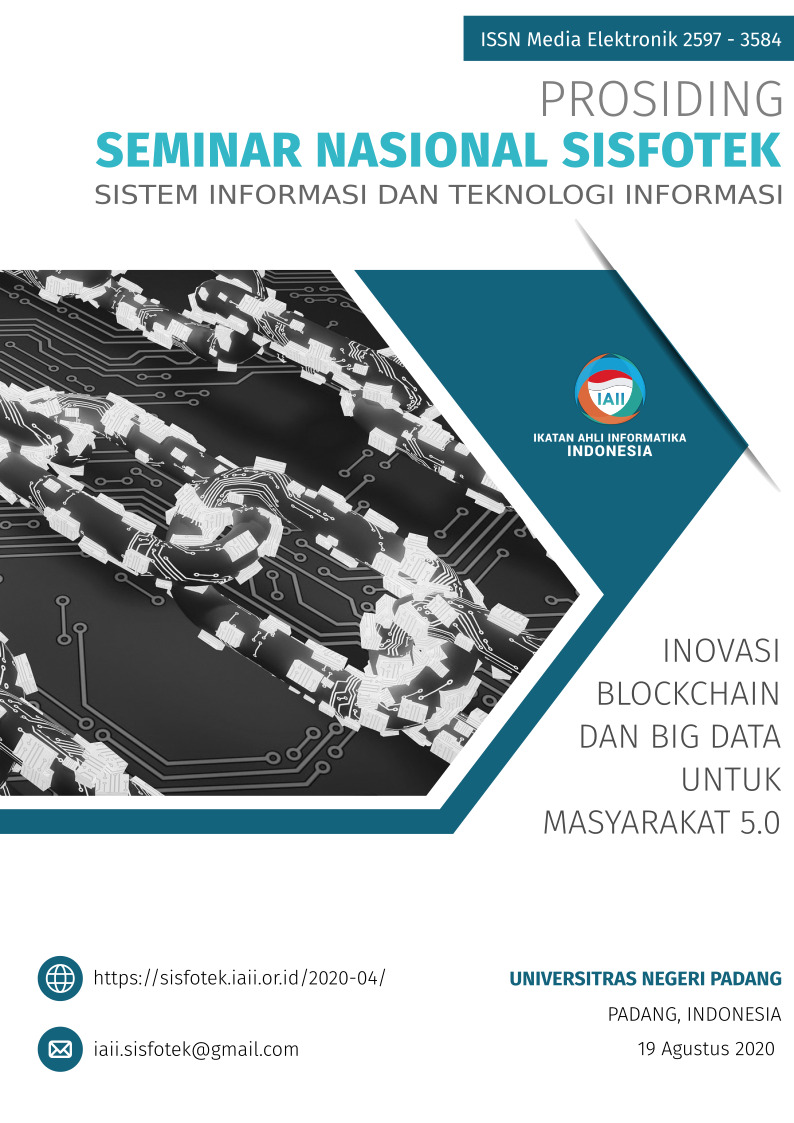 Downloads
How to Cite
Siswanto, S., Asad, R. J., Utama, G. P., Pramusinto, W., & Anif, M. (2020). Implementasi Algoritme Profile Matching dan Pengujian UAT Untuk Memilih Karyawan Terbaik. Prosiding SISFOTEK, 4(1), 76 - 83. Retrieved from http://seminar.iaii.or.id/index.php/SISFOTEK/article/view/156
Section
3. Data dan Diseminasi Informasi