Sistem Monitoring Bimbingan Mahasiswa dengan Menggunakan Metode Service Quality
Keywords:
Guidance, Service Quality, Monitoring System
Abstract
The Informatics Engineering Study Program is one of the study programs in the Faculty of Science and Informatics (FSI), Jenderal Achmad Yani University (Unjani). The Informatics Engineering Study Program conducts final assignment guidance activities and students have the right to determine the supervisor to be able to guide students in final assignment activities. During their tutoring students have the right to get guidance based on the problem at hand. Student satisfaction in terms of guidance can be seen in terms of guidance time, the frequency of lecturers conducting guidance, lecturers provide solutions when guidance, student comfort during guidance and lecturers help solve the problem of student final assignments. Student guidance activities are not satisfied with the supervisors related to the guidance activities provided, therefore the head of the department has difficulty monitoring the guidance activities. The purpose of this research is to create a system that can monitor the guidance activities, evaluate the results of the guidance of the supervisor, assist students in providing guidance assessment satisfaction. The method used in this study is the service quality method, the service quality method is needed in order to improve the quality of guidance in the Informatics Engineering Study Program in Unjani in order to evaluate and make the guidance activities even better.
References
[1] E. Risnandar, "Monitoring Kegiatan Mahasiswa Berbasis Web dan Android Client," Tek, vol. 5, pp. 479-484, 2015.
[2] P. K. a. H. S. S. R. Firliana, "SISTEM ANALISIS KUALITAS PELAYANAN TERHADAP TINGKAT KEPUASAN PELANGGAN MENGGUNAKAN METODE SERVICE QUALITY (SERVQUAL)," Seminar Nasional Teknologi Informasi dan Multimedia, pp. 6-7, 2016.
[3] N. Noviana and N. P. Wijaya, "ANALISA PENGARUH KEPUASAN PENGGUNA EDMODO PADA PENINGKATAN MINAT BELAJAR MAHASISWA STMIK PALCOMTECH," vol. 8, pp. 38-44, 2019.
[4] A. Dwiyani, "Perancangan Sistem Pendukung Bimbingan Online Tugas Akhir Mahasiswa Program Studi Teknik Informatika," Ilm. Bimbing. Konseling, vol. 7, 2014.
[5] B. W. a. W. L. Y. S. R. H. Prihatanto, "Sistem Monitoring Pembimbingan Tugas Akhir di STMIK Sinar Nusantara Surakarta," pp. 57-65.
[6] K. Nugroho, "Perancangan Aplikasi Mobile Berbasis SMS Gateway dan Web Engineering dengan Unified Modelling Language ( UML )," Seminar Nasional Multi Displin Ilmu, vol. 96, pp. 96-103, 2017.
[7] D. S. a. A. Y. Yn, "Analisis Tingkat Kualitas Pelayanan Jasa Menggunakan Metode Service Quality ( Servqual ) Fuzzy di Instalasi Radiologi Rumah Sakit Umum," Kesmas, vol. 7, 2011.
[8] S. A. a. G. P. L. S. S. Yuniar, "Usulan Perbaikan Kualitas Pelayanan Jasa Pengiriman Paket Berdasarkan Hasil Pengukuran Menggunakan Metode Service Quality ( Servqual )," Online Inst. Teknol. Nas, vol. 2, pp. 98-109, 2014.
[9] M. S. P. G. A. M. A. P. A. F. R. a. K. H. R. Ekasari, "Analisis Kualitas Pelayanan Puskesmas Dengan Metode Servqual," Darussalam Pendidikan Komun dan Pemikir Hukum Islam, vol. 9, 2017.
[10] A. S. a. F. M. A. Bakhtiar, "Analisis Kualitas Layanan yang Berpengaruh Terhadap Kepuasan Pelanggan Menggunakan Metode Serqual dan Model Kano (Studi Kasus : PT PLN UPJ Semarang Selatan)," Tek. Ind, vol. 5, pp. 77-84, 2012.
[11] W. Wahyani, "Penerapan Metode Service Quality Untuk Menganalisis Kepuasan Pelanggan," 2013.
[12] S. D. M. E. a. P. O. P. Metode, "Layanan Teknologi Informasi Pengguna Jasa Internet Service Provider (Studi Kasus pada PT. Platinum Citra Indonesia, Tangerang)," vol. 1, pp. 69-79, 2012.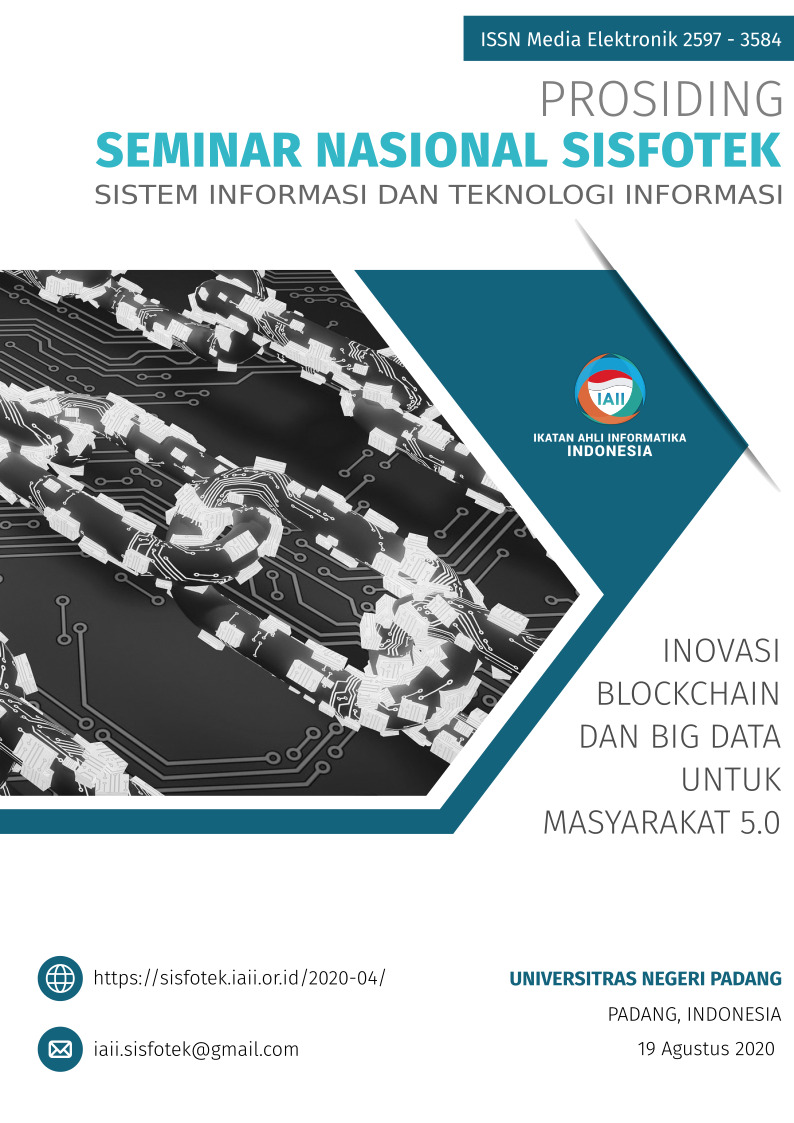 Downloads
How to Cite
Prasetyo, B. D., Witanti, W., & Sabrina, P. N. (2020). Sistem Monitoring Bimbingan Mahasiswa dengan Menggunakan Metode Service Quality. Prosiding SISFOTEK, 4(1), 118 - 122. Retrieved from http://seminar.iaii.or.id/index.php/SISFOTEK/article/view/163
Section
1. Sistem Informasi Manajemen