Sistem Segmentasi Keluhan Air Bersih di PT. Suryacipta Swadaya Menggunakan K-Medoids Clustering
Keywords:
Complaint, K-medoids, industrial industri
Abstract
Suryacipta Swadaya is a company that manages industrial estates. PT. Suryacipta Swadaya manages water in the industrial area to be distributed to 73 companies in the industrial area. Water in the industrial area sometimes has problems that companies complain about. There are 7 types of complaints with an average of complaints from 2017 to 2019, which is 8929 complaints per year. Water complaints for each company vary in the amount of distribution, however the water needs of each company are different even for the same company that has a diversity of water needs each year. Based on this, PT. Suryacipta Swadaya has difficulty mapping the water complaints group based on company needs, so that it is effective in handling water complaints in the industrial area. In this study the grouping of water complaints will be assisted using the K-Medoids method in the process of grouping water complaints so that the handling process can be handled immediately.
References
D. J. Kuncoro, "Studi Deskriptif Tentang Kualitas Pelayanan Penanganan Keluhan Pelanggan Perusahaan Daerah Air Minum Kota Surabaya," Kebijakan dan Manajemen Publik, pp. 221-229, 2016.
Y. H. Chrisnanto and G. Abdillah, "Gambaran Umum Kemampuan Akademik Mahasiswa Unjani Dengan Algoritma Partitioning Around Medoids (PAM) Clustering," in Prosiding SNIA 2015, Cimahi, 2015.
N. N. E. Smrti, "Otomatisasi Klasifikasi Buku Perpustakaan dengan Menggabungkan Metode K-NN dengan K-Medoids," LONTAR KOMPUTER, vol. 4, no. 1, pp. 201-214, 2013.
D. F. Pramesti, M. T. Furqon and C. Dewi, "Implementasi Metode K-Medoids Clustering Untuk Pengelompokan Data Potensi Kebakaran Hutan/Lahan Berdasarkan Persebaran Titik Panas (Hotspot)," Jurnal Pengembangan Teknologi Informasi dan Ilmu Komputer, vol. 1, no. 9, pp. 723-732, 2017.
W. A. Triyanto, "Algoritma K-Medoids Untuk Penentuan Strategi Pemasaran Produk," Jurnal SIMETRIS, vol. 6, no. 1, pp. 183-188, 2015.
G. Mahesa, Y. H. Chrisnato and F. R. Umbara, "Sistem Pengelompokkan Penjualan Vaksin Dan Serum di Pt Bio Farma Menggunakan Metode K - Medoids," in Prosiding SNST ke-10, Cimahi, 2019.
S. Sundari, I. S. Damanik, A. P. Windarto, H. S. Tambunan, J. and A. Wanto, "Analisis K-Medoids Clustering Dalam Pengelompokkan Data Imunisasi Campak Balita di Indonesia," in Prosiding Seminar Nasional Riset Information Science (SENARIS), Pematangsiantar, 2019.
R. D. Ramadhani and D. J. AK, "Evaluasi K-Means dan K-Medoids pada Dataset Kecil," Seminar Nasional Informatika dan Aplikasinya (SNIA) 2017 , pp. 20-24, 27 September 2017.
D. W. Putra, A. P. Nugroho and E. W. Puspitarini, "Game Edukasi Berbasis Android Sebagai Media Pembelajaran Untuk Anak Usia Dini," JIMP-Jurnal Informatika Merdeka Pasuruan E-ISSN 2503-1945, vol. 1, no. 1, pp. 46-58, 2016.
G. W. Sasmito, "Penerapan Metode Waterfall pada Desain Sistem Informasi Geografis Industri Kabupaten Tegal," Jurnal Informatika:Jurnal Pengembangan IT (JPIT), vol. 2, no. 1, pp. 6-12, 2017.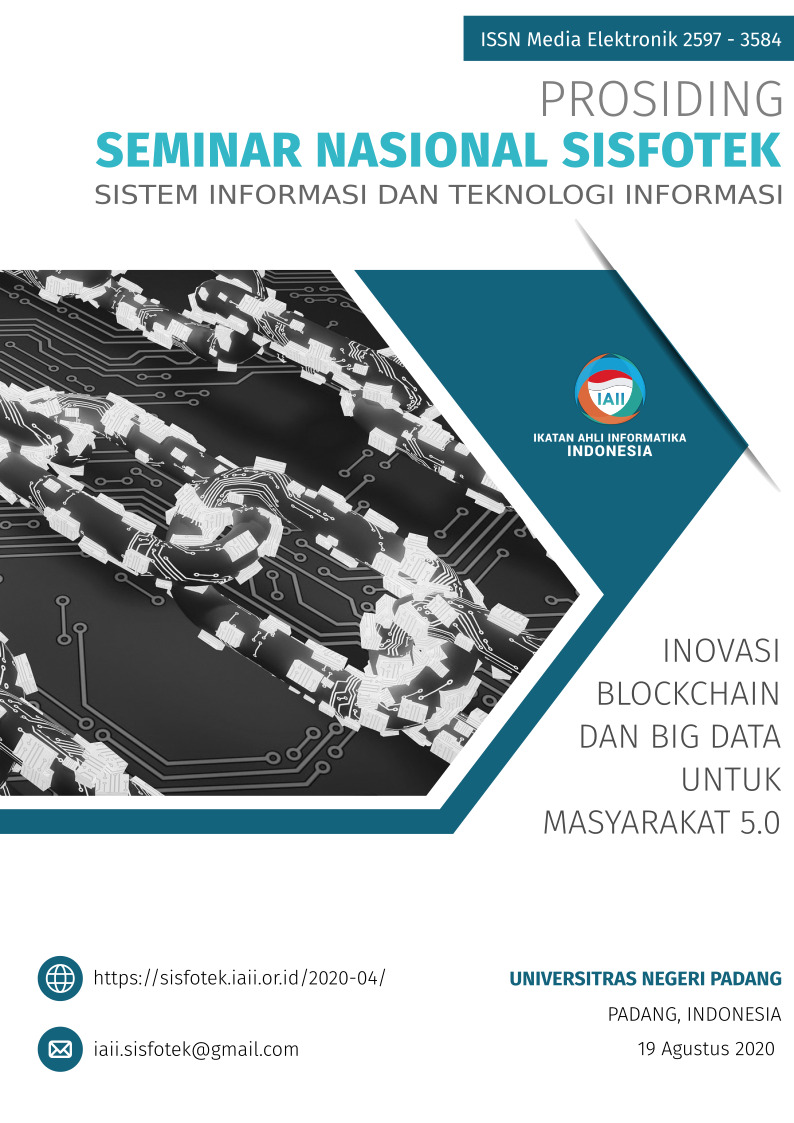 Downloads
How to Cite
Reza Noviandi, Yulison Herry Chrisnanto, & Herdi Ashaury. (2020). Sistem Segmentasi Keluhan Air Bersih di PT. Suryacipta Swadaya Menggunakan K-Medoids Clustering. Prosiding SISFOTEK, 4(1), 162 - 166. Retrieved from http://seminar.iaii.or.id/index.php/SISFOTEK/article/view/206
Section
2. Rekayasa Sistem Informasi
License
Copyright (c) 2020 Prosiding SISFOTEK
This work is licensed under a Creative Commons Attribution 4.0 International License.