Sistem Penunjang Keputusan Penerimaan Bantuan RASKIN dengan Metode SAW (Simple Addictive Weighting)
Keywords:
poverty, assistance, RASKIN, SPK, SAW
Abstract
Poverty is a social problem that is inevitable in various parts of the world, both in developed and developing countries. In overcoming the problem of poverty, many programs have been carried out by the government especially in Indonesia to minimize poverty, both in the form of material and non-material assistance. One of the government assistance programs that is still running today is the assistance of Poor Rice (RASKIN). Rice is the staple food of the Indonesian population and therefore in 2002 the Indonesian government launched the Poor Rice Program (RASKIN). The Poor Rice Program is also carried out in Jorong Sawah, the Corner of Selayo, in the process of selecting and determining the families of RASKIN beneficiaries, the Jorong apparatus is still implementing a manual system. Due to the large number of people entitled to receive assistance, while the amount of aid distributed is limited, the Head of Jorong Sawah Corner of Selayo has difficulty in determining which families are most entitled to receive RASKIN assistance. Computers are one alternative to advanced technology that can help deal with problems that exist in various fields. Therefore to solve the above problem, a decision support system for Raskin Assistance Acceptance was built using the SAW (Simple Adictive Weigting) method. With the development of this decision support system can help and facilitate the Selective Head of Jorong Sawah Corner in order to produce the right decision.
References
Zefriyenni., 2015. Sistem informasi penjualan dan pengendalian persediaan barang menggunakan metode economic order quantity (EOQ) menggunakan Bahasa pemograman java dan database mysql pada toko kansa elpiji. Jurnal KomTekInfo Fakultas Ilmu Komputer, vol.2, no. 2, hal. 23-32.
Usada Elisa. dkk., 2012. Rancang bangun sistem informasi jadwal perkuliahan berbasis jquery mobile dengan menggunakan php dan mysql. Jurnal Infotel, vol. 4, no. 2, hal. 40–51.
Dedi. dkk., 2019. Sistem informasi pengendalian persediaan stok lensa berbasis web pada optik trio jaya cabang Tangerang. Jurnal sisfotek global, vol. 2, no. 9, hal. 50-57.
Astika Deka Agus. dkk., 2018. Sistem pendukung keputusan penerimaan beras untuk keluarga miskin menggunakan metode simple additive weighting di kantor kepala desa gumpang. Jurnal TIKomSiN, vol. 6, no. 1, hal. 59-64.
Rini Aning Setiya&Soyusiawaty Dewi., 2014. Sistem pendukung keputusan seleksi penerimaan beras untuk keluarga miskin dengan metode simple additive weighting. Jurnal Sarjana Teknik Informatika, vol. 2, no. 2, hal. 1196-1205.
Faisal&Permana Silvester Dian Handy., 2015. Sistem penunjang keputusan pemilihan sekolah menengah kejuruan teknik komputer dan jaringan yang terfavorit dengan menggunakan multi-criteria decision making. Jurnal Teknologi Informasi dan Ilmu Komputer, vol. 2, no. 1, hal. 11-19.
Utama Yadi., 2011. Sistem informasi berbasis web jurusan sistem informasi fakultas ilmu komputer universitas sriwijaya. Jurnal Sistem Informasi, vol. 3, no. 2, hal. 359-370.
Maiyana Efmi., 2017. Perancangan aplikasi media informasi lowongan kerja perusahaan bagi pencari kerja berbasis web. Jurnal Sains Dan Informatika, vol. 3, no. 12, hal. 118-125.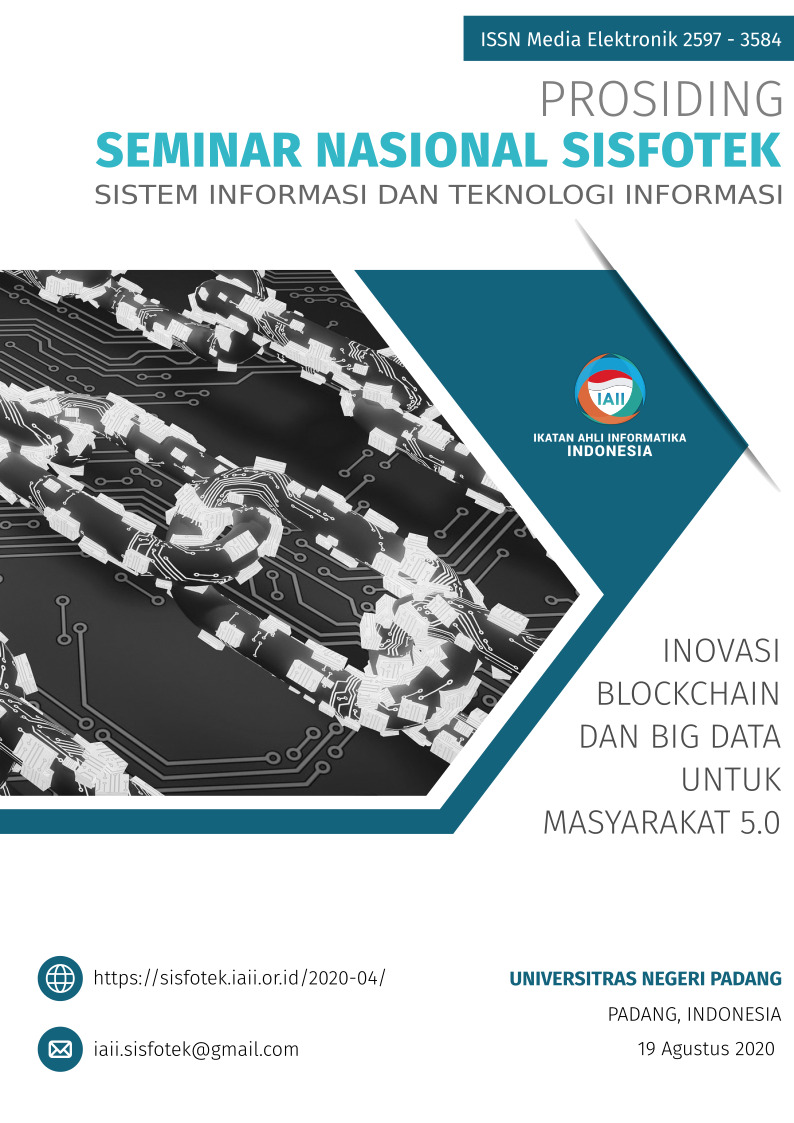 Downloads
How to Cite
Sari Geovani, & Nanda Pratama2. (2020). Sistem Penunjang Keputusan Penerimaan Bantuan RASKIN dengan Metode SAW (Simple Addictive Weighting). Prosiding SISFOTEK, 4(1), 176 - 183. Retrieved from http://seminar.iaii.or.id/index.php/SISFOTEK/article/view/209
Section
2. Rekayasa Sistem Informasi
License
Copyright (c) 2020 Prosiding SISFOTEK
This work is licensed under a Creative Commons Attribution 4.0 International License.