Rekomendasi Pemilihan Pemain Sepak Bola Terbaik Pada Liga X Menggunakan Metode Topsis
Keywords:
football, decision support system, TOPSIS
Abstract
Football is a popular sport that is widely played. Proved by the number of competition titles held. Every team that competes, will provide competitive competition. Players who play an important role in presenting competitive competition. Competition that occurs is not only the team that competes but all players take part in the competition to be the best. Each competition will reward each of the best players throughout the competition. The many factors and players involved make it difficult for the organizers to determine the best player. Decision support system is a computer-based system that can manipulate data into information that can provide alternative decisions or problem solving, so that data can be processed into information. Technique for Order Preference by Similarity to Ideal Solution (TOPSIS) is a multi-criteria decision making method or has many criteria. This research resulted in a decision support system that can be used to choose the best soccer players by using a combination of individual ability criteria, contribution to the team, aspects of fair play and the number of minutes played. By using the TOPSIS method, as many as 11 player data were tested and resulted in a suitability level of 57.14%.
References
Y. A. Gerhana, W. B. Zulfikar, Y. Nurrokhman, C. Slamet, And M. A. Ramdhani, "Decision Support System For Football Player's Position With Tsukamoto Fuzzy Inference System," Matec Web Of Conferences, Vol. 197, Pp. 1–6, 2018.
Y. Pramusinto, D. Nugroho, And Kustanto, "Sistem Pendukung Keputusan Pemilihan Kiper Pada Klub Sepak Bola Menggunakan Metode Analytic Hierrarchy Process (Ahp)," Tikomsin, No. 2338–4018, 2013.
A. Suryana, E. Yulianto, And K. D. Pratama, "Perancangan Sistem Pendukung Keputusan Penilaian Prestasi Pegawai Menggunakan Metode Saw, Ahp, Dan Topsis," Jurnal Ilmiah Teknologi Informasi Terapan, Vol. 3, No. 2, Pp. 130–139, 2017.
D. Sartika, D. Andreswari, And K. Anggriani, "Penentuan Posisi Ideal Pemain Dalam Cabang Olahraga Sepak Bola Dengan Menggunakan Pendekatan Dua Metode Naïve Bayes & Profile Matching," Jurnal Rekursif, Vol. 4, No. 3, Pp. 311–324, 2016.
G. Hendra And A. Sugih, "Sistem Pendukung Keputusan Untuk Menentukan Pemain Terbaik Dalam Satu Musim Kompetisi Sepakbola Dengan Menggunakan Metode Simple Additive Weighting," Informasi (Jurnal Informatika Dan Sistem Informasi), Vol. Xi, No. 2, Pp. 51–64, 2019.
A. S. W, L. Junaedi, And T. M. Fahrudin, "Seleksi Fitur Dan Preferensi Penyerang Terbaik Liga Inggris Berbasis Fisher ' S Discriminant Ratio , K -Means Clustering Dan Topsis," Jurnalilmiahinformatika, 2019.
Desi Leha Kurniasih, "Sistem Pendukung Keputusan Pemilihan Laptop Dengan Metode Topsis," Pelita Informatika Budi Darma, Vol. Iii, No. April, Pp. 29–36, 2013.
R. A. Siregar, "Seleksi Penyerang Utama Menggunakan K-Means Clustering Dan Sistem Pendukung Keputusan Metode Topsis," Technomedia Journal, Vol. 2, No. 1, Pp. 37–48, 2017.
B. M. Khafi, "Sistem Penunjang Keputusan Pemilihan Ssb (Sekolah Sepak Bola) Menggunakan Metode Topsis Berbasis Web Di Kota Malang," J-Intech, Vol. 4, No. 01, Pp. 33–39, 2017.
F. Nugrahani, P. N. Hayati, And I. E. Ismail, "Sistem Pendukung Keputusan Pemilihan Negara Untuk Studi S1 Di Asia Tenggara Berbasis Website Dengan Menggunakan Metode Topsis," Multinetics, Vol. 4, No. 2, Pp. 55–60, 2018.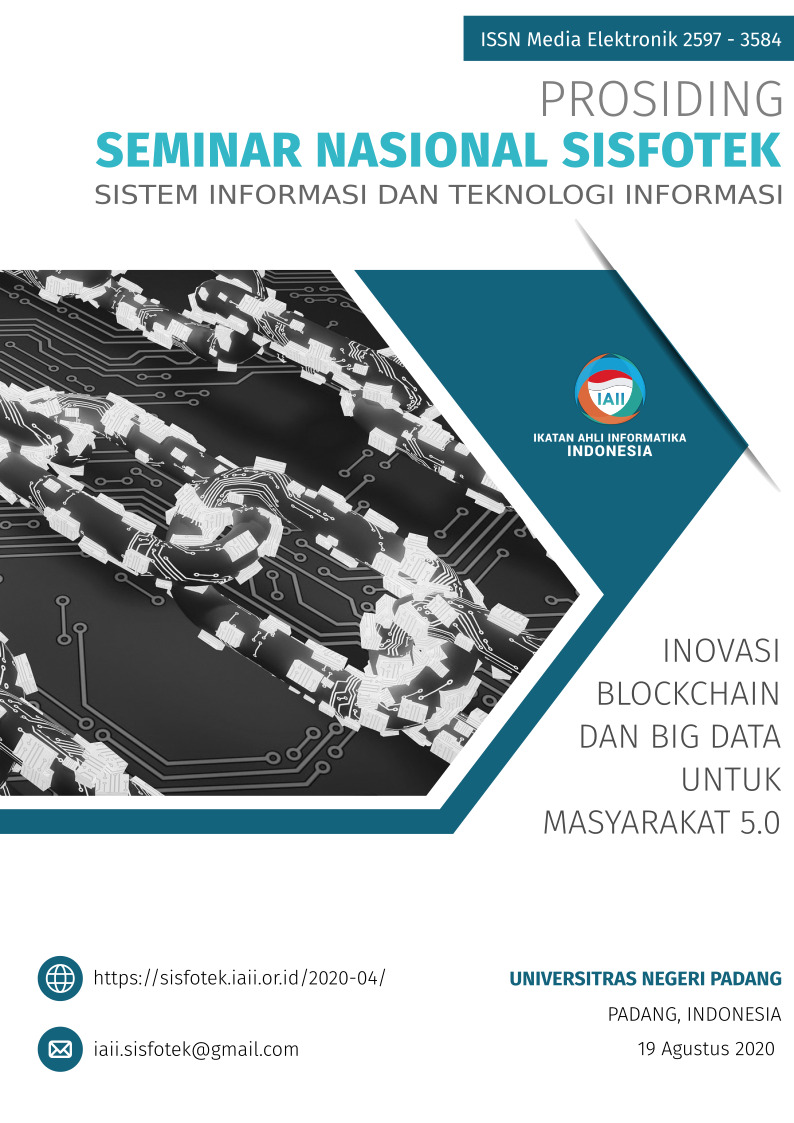 Downloads
How to Cite
Oki Iskandar, Gunawan Abdillah, & Agus Komarudin. (2020). Rekomendasi Pemilihan Pemain Sepak Bola Terbaik Pada Liga X Menggunakan Metode Topsis. Prosiding SISFOTEK, 4(1), 194 - 199. Retrieved from http://seminar.iaii.or.id/index.php/SISFOTEK/article/view/212
Section
3. Data dan Diseminasi Informasi
License
Copyright (c) 2020 Prosiding SISFOTEK
This work is licensed under a Creative Commons Attribution 4.0 International License.