Sistem Informasi Perpustakaan Pada Universitas Mahaputra Muhammad Yamin
Keywords:
Information Systems, Web, PHP, Library
Abstract
As the development of increasingly sophisticated information technology and the existence of these developments will make it easier for human work, including accessing various information very quickly and accurately. As one of the convenience in accessing information is the emergence of various kinds of information about the field of aspen to be informed, one of which is the library information system. With the library system, a person can access wherever and whenever information about the library such as information about books in the library is quite easy for someone to access library information. One of the libraries that has implemented library information systems is the library at Mahaputra Muhammad Yamin University where the library has implemented a web-based information system but there are still many deficiencies so that the system that is implemented has not given the maximum so it is less efficient to be able to see the deficiencies that exist in Mahaputra Muhammad Yamin University's information system can be seen from the old Asians that are applied to the Mahaputra Muhammad Yamin University's library information system.
References
Novia Lestari (2015), "Perancangan Sistem Informasi Untuk Pengendalian Distribusi Pangan pada LDPM Batutaba Sepakat", Journal of Information Systems and Informatics, Vol. 1, No. 2, September 2019 e-ISSN: 2656-4882 p-ISSN: 2656-5935.
Yadi Utama.(2018). "sistem informasi berbasis web jurusan sistem informasi fakultas ilmu komputer universitas sriwijaya", Jurnal Sistem Informasi (JSI), VOL. 3, NO. 2, Oktober 2011.
KM. Syarif, "Pengembangan Perangkat Lunak Dengan Menggunakan Php",
Jurnal Computech & Bisnis, Vol. 3, No. 1, Juni 2008, 14-21
Margareta Aulia Rachman, "Yeni Budi Rachman. Peran Perpustakaan Umum Kota Depok pada era teknologi Berkala Ilmu Perpustakaan dan Informasi", Vol. 15, No. 2, Desember 2019, Hal. 137-148 DOI: 10.22146/bip.41672 ISSN 1693-7740 (Print), ISSN 2477-0361 (Online) Tersedia online di https://jurnal.ugm.ac.id/bip Peran Perpustakaan Umum Kota Depok pada era teknologi digital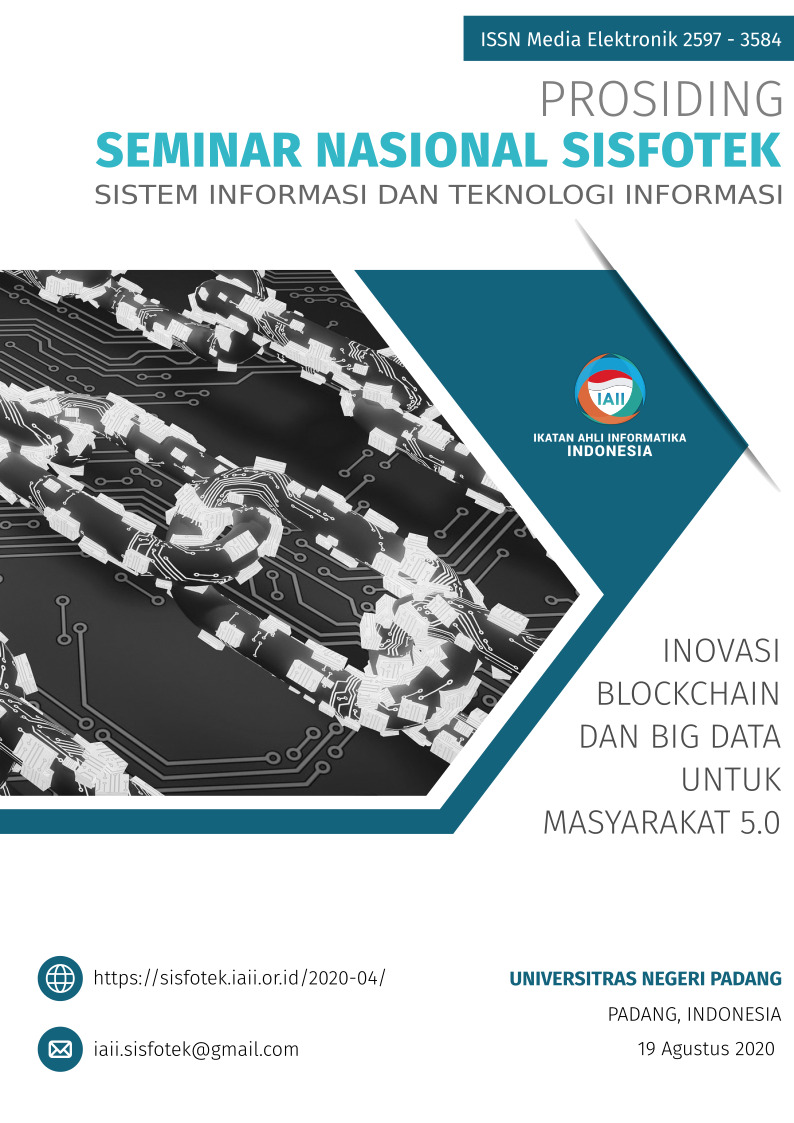 Downloads
How to Cite
Fendri Adi Saputra, & Ella Yedia Fitri. (2020). Sistem Informasi Perpustakaan Pada Universitas Mahaputra Muhammad Yamin. Prosiding SISFOTEK, 4(1), 213 - 220. Retrieved from http://seminar.iaii.or.id/index.php/SISFOTEK/article/view/215
Section
1. Sistem Informasi Manajemen
License
Copyright (c) 2020 Prosiding SISFOTEK
This work is licensed under a Creative Commons Attribution 4.0 International License.