Pembangunan Sistem Informasi Manajemen Aset pada PT. Kraft Ultrajaya Indonesia
Keywords:
Asset management information system, Data.
Abstract
Asset management information systems are widely used by private and government companies because they can help companies and governments in managing assets that aim to manage, maintain, and supervise important assets. In this study, researchers tried to implement a system to manage asset management at PT. Kraft Ultrajaya Indonesia because there are still problems where asset management that does not have inaccurate information about the assets owned causes the managers not to have specific references used in determining needs in the procurement process. In addition, there is an inadequate monitoring process for the realization of assets received that are not in accordance with the purchase order form, resulting in a lack of information on the status of realization of assets received. In other cases there is also insufficient depreciation of asset maintenance information, resulting in inconsistencies in data and information regarding the condition of assets that are inconsistent with the condition of assets that are depreciated in the field, which may result in uncontrolling of the available assets. From this problem, researchers tried to implement an asset management information system in order to make it easier to help access historical data that is easy in the process of asset data processing and asset control starting from the asset planning process to revenue so that it can help the company evaluate each asset owned and simplify the decision-making process, thereby minimizing the purchase of excess assets that can harm the company and can also control every asset management that exists in the company. In addition, the asset management information system that is implemented will provide information on asset status management, especially the depreciation of each asset, so as to know the quality status of existing assets and the condition of asset depreciation.
References
A. G. Sugiama, "Manajemen Aset Pariwisata: Pelayanan Berkualitas agar Wisatawan Puas dan Loyal," Guard. Intimarta, vol. 1, hal. 324, 2015.
I. Yunita dan J. Devitra, "Analisis Dan Perancangan Sistem Informasi Manajemen Aset Pada Smk Negeri 4 Kota Jambi," J. Manaj. Sist. Inf., vol. 2, no. 1, hal. 278–294, 2017.
M. Rosario Borroek, "Perancangan Sistem Informasi Manajemen Aset pada STIKOM Dinamika Bangsa Jambi (Studi Kasus: Penjualan dan Disposal Aset Tetap)," J. Ilm. Media SISFO, vol. 8, no. 2, hal. 61–74, 2014.
S. Dewi, L. M. Jannah, dan Y. Jumaryadi, "Analisis Dan Perancangan Sistem Informasi Manajemen Aset Tetap Pada Pt. Metis Teknologi Corporindo," J. Sist. Informasi, Teknol. Inf. dan Komput., vol. 9, no. 1, hal. 81–91, 2018.
J. Oliver, "Analisis Penyusutan Aset Tetap Dengan Menggunakan Undang-Undang Perpajakan No. 36 Tahun 2008 Pada Kpri Dharma Karya Palembang," J. Chem. Inf. Model., vol. 53, no. 9, pp. 1689–1699, 2013.
A. Alshamrani dan A. Bahattab, "A Comparison Between Three SDLC Models Waterfall Model, Spiral Model, and Incremental/Iterative Model," IJCSI Int. J. Comput. Sci. Issues, vol. 12, no. 1, hal. 106–111, 2015.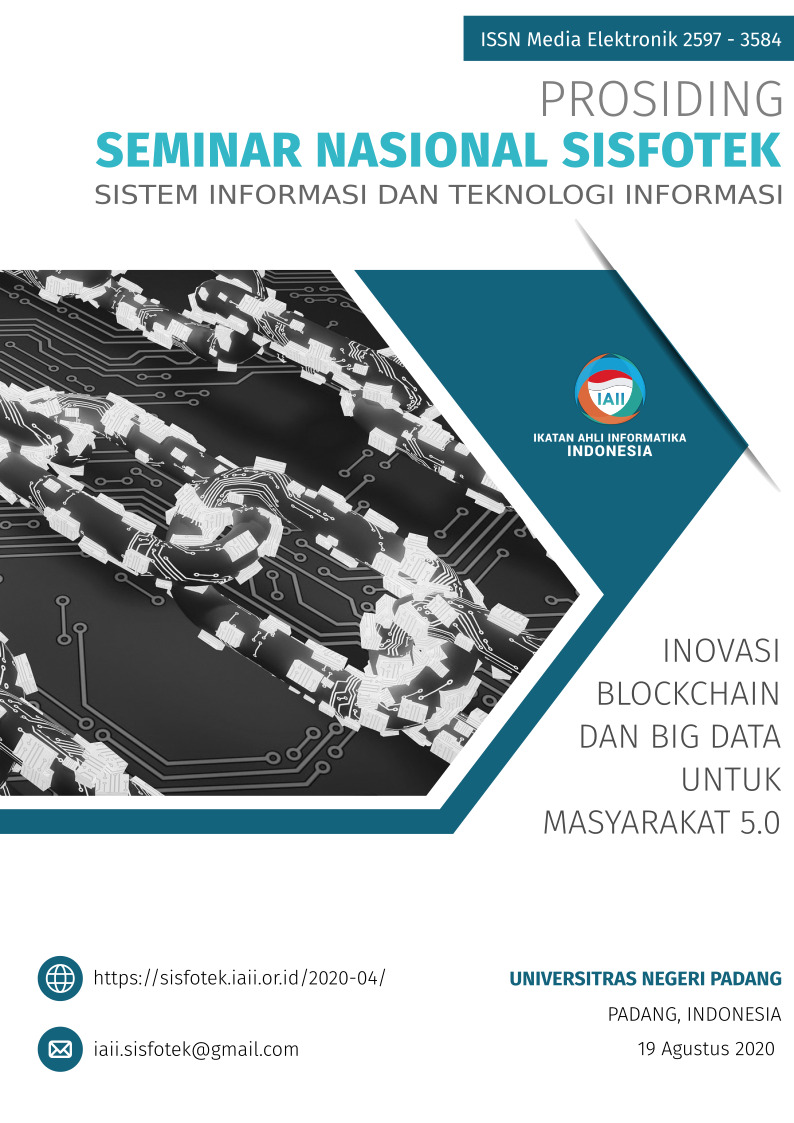 Downloads
How to Cite
Mukti Kinani, Yulison Herry Chrisnanto, & Irma Santikarama. (2020). Pembangunan Sistem Informasi Manajemen Aset pada PT. Kraft Ultrajaya Indonesia. Prosiding SISFOTEK, 4(1), 236 - 243. Retrieved from http://seminar.iaii.or.id/index.php/SISFOTEK/article/view/223
Section
1. Sistem Informasi Manajemen
License
Copyright (c) 2020 Prosiding SISFOTEK
This work is licensed under a Creative Commons Attribution 4.0 International License.