Implementasi Frequent Pattern Growth untuk Melihat Trend dari Penjualan Tisu di PT XYZ
Keywords:
Prediction; Tissue; Sales; Trend; Frequent-Pattern Growth;
Abstract
Prediction is a technology that learns from experience (data) to predict individual behavior in the future to encourage better decisions. Prediction is different from forecasting, forecasting makes aggregate predictions at the macroscopic level. Tissue is a practical cleaning tool for use and multifunctionality, so that tissue is commonly found and used by the public, tissue is used for travel equipment, complement the dining table, and cleaning tools stored in modern toilets. The sale of tissue, which sometimes cannot be fulfilled, makes some customers stop buying tissue from the company. The use of Frequent Pattern Growth algorithm or FP-Tree which is a development of apriori algorithm is one alternative algorithm to determine the set of data that often appears. The use of the Frequent Pattern Growth method for the case of tissue sales predictions gets fairly accurate results and can make it easier for related sections to see tissue demand trends in a country calculated based on tissue trends in the previous month.
References
T. Masters, Data Mining Algorithms in C++, 1st ed. New York: Apress Media, 2018.
D. P. Larasati, M. Nasrun, and U. A. Ahmad, "Analisis Dan Implementasi Algoritma Fp-Growth Pada Aplikasi Smart Untuk Menentukan Market Basket Analysis Pada Usaha Retail (Studi Kasus Pt X)," vol. 2, no. 1, pp. 749–755, 2017.
T. H. Pudjiantoro, F. Renaldi, and A. Teogunadi, "Penentuan Penanganan Kasus Terhadap Penyakit Berdasarkan Gejala Menggunakan Case Base Reasoning dan Algoritma Nearest Neighbor (Studi kasus?: Klinik Citra Medika Cianjur)," no. February, pp. 162–167, 2018.
D. Aprisal, "Pengaruh Kualitas Produk, Harga, Promosi Dan Lokasi Terhadap Keputusan Pembelian," eJournal Ilmu Adm. Bisnis, vol. 5, no. 3, pp. 815–826, 2017.
N. G. A. Pratidina and H. Soesanto, "Pengaruh Gaya Hidup, Kualitas Produk, Daya Tarik Promosi terhadap Keputusan Pembelian Tisu Tessa melalui Citra Merek," vol. 7, no. 3, pp. 1–11, 2018.
A. R. Saleh, E. Kuraesin, and A. Eldine, "Pelayanan Terhadap Loyalitas Pelanggan Tisu Festival PT. Sarana Karya Sahabat," vol. 1, no. 1, p. 21, 2016.
D. B. R. T. Putri, Manajemen Pemasaran. Denpasar: Fakultas Peternakan Universitas Udayana, 2010.
K. Erwansyah, "Implementasi Data Mining Untuk Menganalisa Hubungan Data Penjualan Produk Bahan Kimia Terhadap Persedian Stok Barang Menggunakan Algoritma FP ( Frequent Pattern ) Growth Pada PT . Grand Multi Chemicals," vol. 2, no. 2, pp. 30–40, 2019.
E. Siegel, Predictive Analytics?: the power to predict who will click, buy, lie, or die, vol. 53, no. 9. New Jersey: John Wiley & Sons, Inc., 2013.
C. E. Firman, "Penentuan Pola Yang Sering Muncul Untuk Penjualan Pupuk Menggunakan Algoritma Fp-Growth," J. Inform. Manaj. dan Komputer, Vol. 9, No. 2, Desember 2017, vol. 9, no. 2, pp. 1–8, 2017.
G. Gunadi and D. I. Sensuse, "Penerapan Metode Data Mining Market Basket Analysis Terhadap Data Penjualan Produk Buku Dengan Menggunakan Algoritma Apriori Dan Frequent Pattern Growth ( Fp-Growth )?:," Telematika, vol. 4, no. 1, pp. 118–132, 2015.
F. A. Priyana and A. Kardianawati, "Data Mining Asosiasi Untuk Menentukan Cross-Selling Produk Menggunakan Algoritma Frequent Patern-Growth Pada Koperasi Karyawan PT . Phapros Semarang Sistem informasi yang terkomputerisasi organisasi dalam mengumpulkan berbagai data dalam suatu basis data," Ilmu Komput., pp. 1–7, 2015.
D. Gumilar, T. H. Pudjiantoro, and R. Yuniarti, "Prediksi Kepopuleran Lagu Berdasarkan Tangga Lagu Billboard Menggunakan Decision Tree Dan K-Means," Pros. SNATIF Ke -4 Tahun 2017, pp. 187–192, 2017.
P. D. Astuti, "Kaisui yokujo? no kanri un'ei ni kansuru shido? yo?ko?.," Sist. Inf. Penjualan Obat Pada Apot. Jati Farma Arjosari, vol. 3, no. 4, pp. 34–39, 2011.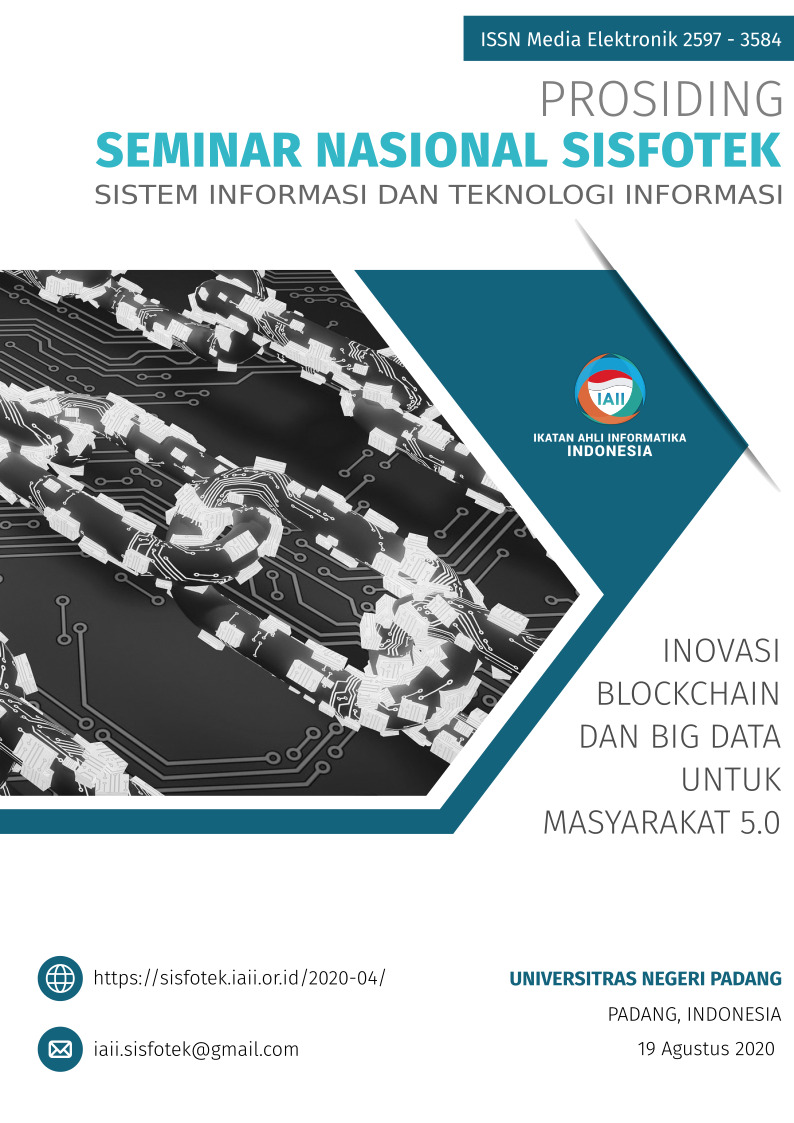 Downloads
How to Cite
Bima Wahyu Utama, & Tacbir Hendro Pudjiantoro. (2020). Implementasi Frequent Pattern Growth untuk Melihat Trend dari Penjualan Tisu di PT XYZ. Prosiding SISFOTEK, 4(1), 270 - 275. Retrieved from http://seminar.iaii.or.id/index.php/SISFOTEK/article/view/232
Section
2. Rekayasa Sistem Informasi
License
Copyright (c) 2020 Prosiding SISFOTEK
This work is licensed under a Creative Commons Attribution 4.0 International License.