Segmentasi Pelanggan Berdasarkan Keluhan Dengan Menggunakan K-Means Cluster Analysis Pada PT Infomedia Nusantara
Keywords:
Customer Segmentation, Customer Complaints, Data Mining, K-Means Clustering
Abstract
Customer segmentation is the division of customer groups that have different needs, characteristics and behaviors (heterogeneous) in this case very helpful in a more targeted service process so that company resources can be used effectively and efficiently for example making it easier to distinguish complaints and map with segments the same one. Customer complaints are an expression of feelings of customer dissatisfaction with service standards, actions that affect customers. In the service of handling customer complaints is the most important. This study aims to segment customers based on complaints. To overcome these problems a solution is needed to find the level of complaints. Where data has a lot of variation and amount of clustering process is needed. Clustering is a technique used to analyze data both in machine learning, data mining, pattern recognition, image analysis and bioinformatics. To produce useful information, it needs a data analysis using the clustering process. Researchers will use the K-Means method where this method becomes an efficient and effective algorithm in processing large amounts of data. Before data processing is carried out, data mining is carried out, namely data selection, data cleaning and data transformation, then the data is processed into several clusters. The clustered data results in the level of complaint handling based on difficult, normal and easy complaints handling time in each cluster.
References
S. Kasus and D. I. Kancatel, "Pelanggan Di Pt Telekomunikasi Indonesia Tbk," vol. 2012, no. semnasIF, pp. 52–58, 2012.
H. Ziafat and M. Shakeri, "Using Data Mining Techniques in Customer Segmentation," Int. J. Eng. Res. Appl., vol. 4, no. 9, pp. 70–79, 2014.
A. Al-refaie, "Cluster Analysis of Customer Churn in Telecom Industry," vol. 11, no. 5, pp. 1120–1124, 2017.
P. E. Prakasawati, Y. H. Chrisnanto, and A. I. Hadiana, "Segmentasi Pelanggan Berdasarkan Produk Menggunakan Metode K- Medoids," KOMIK (Konferensi Nas. Teknol. Inf. dan Komputer), vol. 3, no. 1, pp. 335–339, 2019, doi: 10.30865/komik.v3i1.1610.
Q. Cai, L. Ye, H. Xi, Y. Liu, and G. Zhu, "Telecom customer segmentation based on cluster analysis," Proc. - 2012 Int. Conf. Comput. Sci. Inf. Process. CSIP 2012, pp. 1179–1182, 2012, doi: 10.1109/CSIP.2012.6309069.
M. I. Istiana, "Segmentasi Pelanggan menggunakan Algoritma K-Means Sebagai Dasar Strategi Pemasaran pada LAROIBA Seluler," vol. 1, pp. 3–4, 2013.
Yohanes Venmard, "Analisis keluhan pelanggan terhadap Distribusi Minyak Pelumas di Manado," J. Online Poros Tek. Mesin, vol. 5, pp. 13–21, 2008.
T. Metehan and Z. A. Yasemin, "Demographic characteristics and complaint behavior: An empirical study concerning Turkish customers," Int. J. Bus. Soc. Sci., vol. 2, no. 9, pp. 42–48, 2011.
Y. Luo, Q. R. Cai, H. X. Xi, Y. J. Liu, and Z. M. Yu, "Telecom customer segmentation with K-means clustering," ICCSE 2012 - Proc. 2012 7th Int. Conf. Comput. Sci. Educ., no. Iccse, pp. 648–651, 2012, doi: 10.1109/ICCSE.2012.6295158.
P. S. Hasugian, "Penerapan Data Mining Untuk Klasifikasi Produk Menggunakan Algortima K-Means," J. Mantik Penusa, vol. 2, no. 2, pp. 191–198, 2018.
E. Muningsih and S. Kiswati, "Sistem Aplikasi Berbasis Optimasi Metode Elbow Untuk Penentuan Clustering Pelanggan," Joutica, vol. 3, no. 1, p. 117, 2018, doi: 10.30736/jti.v3i1.196.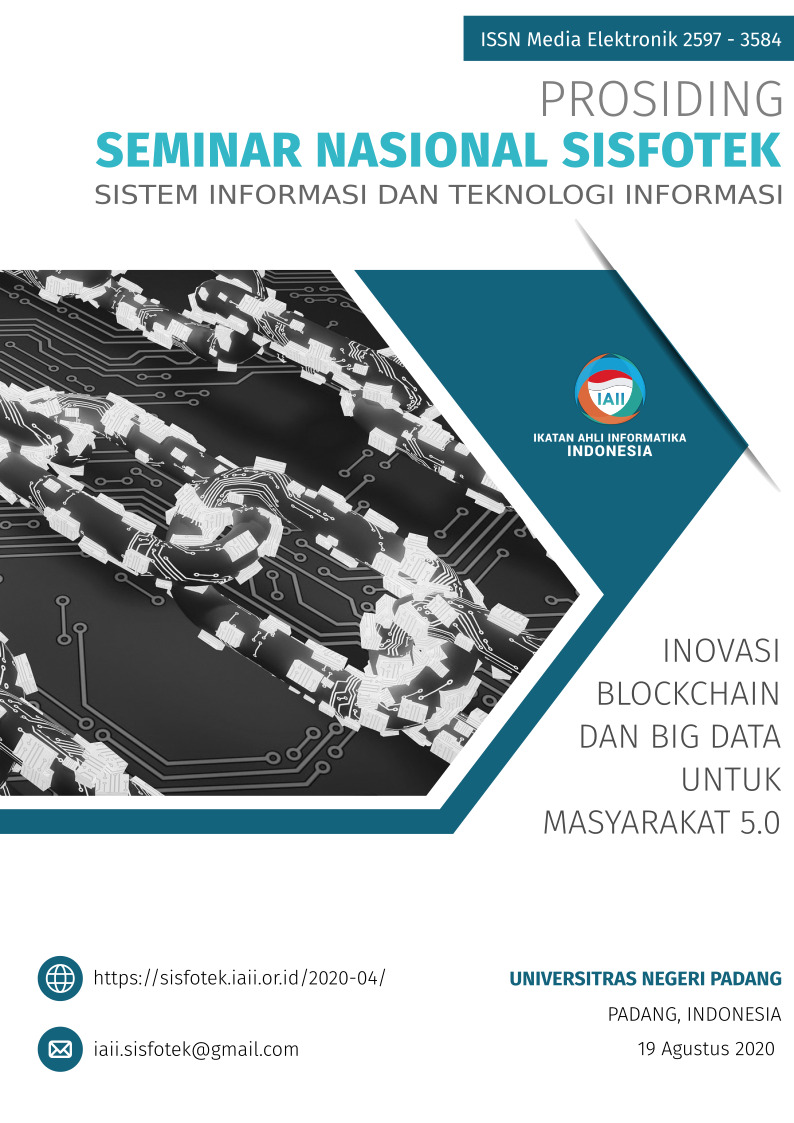 Downloads
How to Cite
Sheila Nurmeila Ashma, Wina Witanti, & Puspita Nurul Sabrina. (2020). Segmentasi Pelanggan Berdasarkan Keluhan Dengan Menggunakan K-Means Cluster Analysis Pada PT Infomedia Nusantara. Prosiding SISFOTEK, 4(1), 276 - 280. Retrieved from http://seminar.iaii.or.id/index.php/SISFOTEK/article/view/233
Section
3. Data dan Diseminasi Informasi
License
Copyright (c) 2020 Prosiding SISFOTEK
This work is licensed under a Creative Commons Attribution 4.0 International License.