Analisa Keekonomian Sistem dengan Optimalisasi Pembangkit EBT dan Pertimbangan Biaya Eksternalitas
Keywords:
Power Plant Planning, Externality Cost, Least Cost Optimization, Balmorel Model, Renewable Energy
Abstract
Power plant development planning challenged by several targets such as increasing renewable energy (RE), reducing greenhouse gas (GHG) emissions and commitment to environmental sustainability while still considering economic principles. Utilization of RE still not optimal due to ability to compete economically with fossil fuel plants. This underlies the need for an analysis of the costs of externalities as compensation for fossil energy use on public health and the environment using the amount of SO2 and Nox. This study use least cost optimization model called Balmorel to modelling optimal alternatives on electricity demand and comparison of investment costs in several scenarios, including the target percentage of RE utilization in the National Energy General Plan (RUEN), The commitment to reduce GHG emissions, and scenarios when externality costs applied on fossil fuels. The result show that the application of externality costs will provide highest percentage of NRE utilization of 60% with an electricity tariff of 7.25 US cents / kWh, exceeding the target of NRE utilization in RUEN of 40.6% in 2040, and being able to fulfill the GHG emission reduction commitment on Nationally Determined Contribution (NDC) in 2030 with 214 million tons of CO2 emissions (60.1% lower than the NDC CM1 target and 58% lower than CM2).
References
Peraturan Pemerintah Nomor 79 Tahun 2014. Kebijakan Energi Nasional. 17 Oktober 2014. Lembaran Negara Republik Indonesia Tahun 2014 Nomor 300. Jakarta.
Peraturan Pemerintah Nomor 22 Tahun 2017. Rencana Umum Energi Nasional. 13 Maret 2017. Lembaran Negara Republik Indonesia Tahun 2017 Nomor 43. Jakarta.
Keputusan Menteri ESDM Nomor 143 K/20/MEM/2019. Rencana Umum Ketenagalistrikan Nasional 2019-2038. Kementerian ESDM. Jakarta.
Kementerian ESDM, 2020. Outlook Energi Indonesia 2019. Jakarta
Frauke, W., Bramstoft, R., et all., 2018. Balmorel open source energy system model. Energy Strategy Review. Vol. 20 (26-34).
Secretary General of the National Energy Council, Ea Energy Analyses and BPPT Engineering, 2017. Technology Data for the Indonesian Power Sector: Catalogue for Generation and Storage of Electricity, Jakarta.
Grita A, Margareta Q, 2018. Mengenal Kebijakan Perencanaan Ketenagalistrikan di Indonesia, Seri Lembar Informasi ICEL, Jakarta.
Ea Energy Analyses, 2017. Consequence of alternative power plant developments - Power sector scenario study in Indonesia, Ea Energy Analyses, Copenhagen.
IESR, 2019. Indonesia Clean Energy Outlook: Tracking Progress and Review of Clean Energy Development in Indonesia. Jakarta: Institute for Essential Services Reform (IESR).
Wijaya, M.E., Limmeechokchai, B., 2010. The Hidden Cost of Fossil Power Generation in Indonesia: A Reduction Approach through Low Carbon Society. Songklanakarin J.Sci.Technol. 32(1), 81-89, Jan-Feb 2010.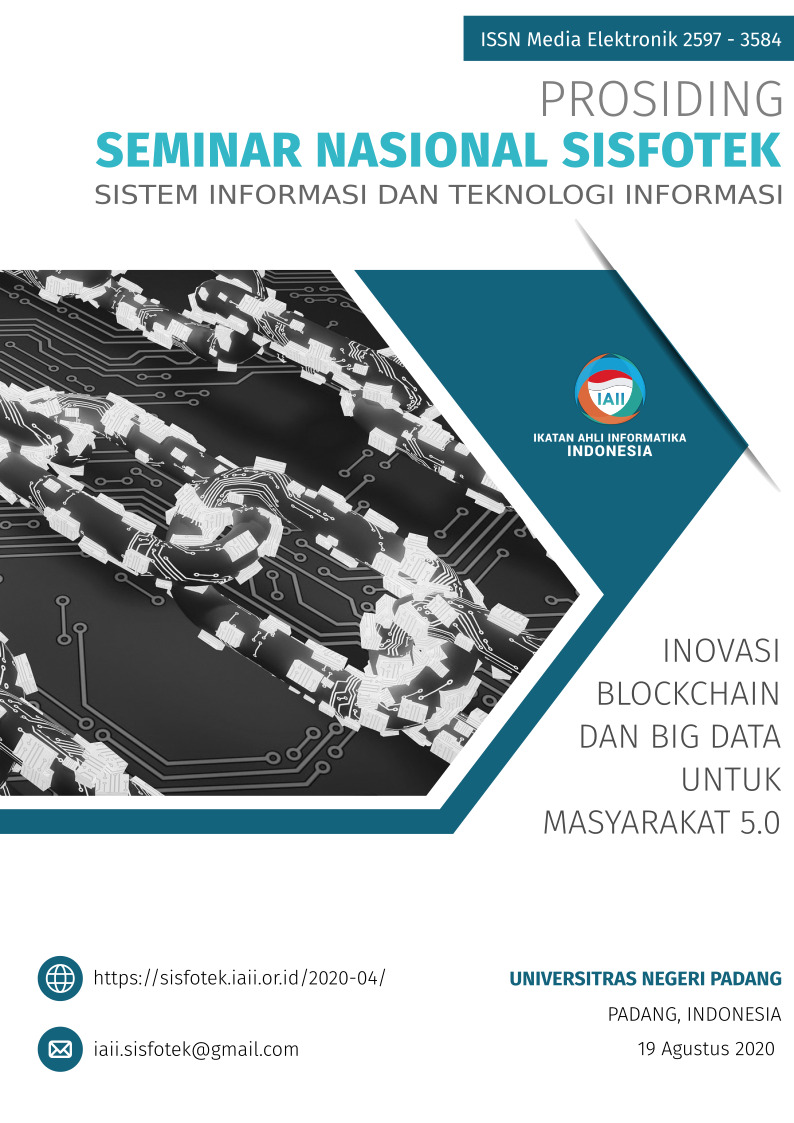 Downloads
How to Cite
Sadmoko H Pambudi. (2020). Analisa Keekonomian Sistem dengan Optimalisasi Pembangkit EBT dan Pertimbangan Biaya Eksternalitas. Prosiding SISFOTEK, 4(1), 297 - 302. Retrieved from http://seminar.iaii.or.id/index.php/SISFOTEK/article/view/237
Section
6. Sistem Enterprise
License
Copyright (c) 2020 Prosiding SISFOTEK
This work is licensed under a Creative Commons Attribution 4.0 International License.