Perancangan Sistem Informasi Pertanahan di PPATS Kecamatan Sukun Kota Malang
Keywords:
waterfall method, website, blackbox
Abstract
PPATS (Temporary Land Deed Officials) are officials involved in human legal needs in the land sector. PPATS has the task of making land deeds and land administration activities at the sub-district level. Currently in Sukun District in the process of delivering information regarding the processes and administrative requirements of inheritance letters, power of attorney and searching for land history files, it is still an offline information system, namely with an announcement board. In this study, a website-based information system will be created that will feature the process of managing inheritance letters, power of attorney, land history, monthly reports and also there are terms and conditions that can display letter formats or provisions for managing land certificates. The method used in this study is the waterfall method which includes the requirements, design, implementation, integration and testing, and operation and maintenance stages. The system is developed based on a website so that it can attract public interest. The blackbox testing method is used in the process of testing system functionality which is designed to find out whether it is as expected or not. Based on the results of these tests, it was concluded that with this system it could facilitate the process of obtaining inheritance and power of attorney, facilitate the process of recording land history, facilitate the monthly reporting process to the Office/OPD, and facilitate conveying information about land to the public.
References
Adani, M. R. (2020). Tahapan Pengembangan Perangkat Lunak dengan Metode Waterfall. Retrieved September 14, 2021, from Desember 29 website: https://www.sekawanmedia.co.id/metode-waterfall/
Hartini, Sari., Dermawan, Juniardi. (2017). Implementasi Model Waterfall Pada Pengembangan Berbasis Web pada Sekolah Dasar Al-Azhar Syifa Budi.Jurnal Komputer dan Informatika 19(2), 142–147.
Ilham, A. A., Azmi, A., Ramadhani, A. R., Falah, D. F. A., & Saifudin, A. (2021). Pengujian Sistem Informasi Parkir PT KISP Berbasis Desktop dengan Metode Black-Box. Jurnal Informatika Universitas Pamulang, 6(1), 96–101.
Lusy, Indah BeatryFeysilya., Andjarwirawan, Justinus. Yulia. (2017). Aplikasi Sistem Informasi Pertanahan Berbasis Website Pada Kantor Pertanahan Kabupaten Kupang Provinsi NTT.Jurnal Infra, 5(2).
Nugraha, F. A., Muryono, S., & Utami, W. (2021). Membangun Sistem Informasi Penggunaan Tanah Berbasis Bidang Tanah di Desa Blimbing Kecamatan Gatak Kabupaten Sukoharjo. Tunas Agraria, 4(1), 146–157.
Purnia, D. S., Rifai, A., & Rahmatullah, S. (2019). Penerapan Metode Waterfall dalam Perancangan Sistem Informasi Aplikasi Bantuan Sosial Berbasis Android. Prosiding Seminar Nasional Sains Dan Teknologi, 1–7.
Rahayu, Sri., Sandro, A., & Kartika, N.W. (2019). Rancang Bangun Aplikasi Sistem Pengolahan Data Pembuatan Akta Tanah pada Kantor Desa Cangkudu Tangerang. ICIT Journal, 5(1), 1-11.
Rizaly, E. N., & Rahman, A. (2021). Pengembangan Sistem Informasi Pariwisata Berbasis Website Untuk Meningkatkan Kesadaran Masyarakat Terhadap Potensi Daerah Kabupaten Dompu. Jurnal Penelitian Dan Pengabdian Masyarakat Bidang Pariwisata, 1(1), 29–38.
Soepandi, H., & Widodo, P. H. (2021). Perancangan Sistem Informasi Pertanahan Buku C Desa Berbasis Web di Desa Satriyan Kec.Tersono Kabupaten Batang. IC-Tech, 16(1), 43–53.
Wahyudin, Y., & Rahayu, D. N. (2020). Analisis Metode Pengembangan Sistem Informasi Berbasis Website: A Literatur Review. Jurnal Interkom: Jurnal Publikasi Ilmiah Bidang Teknologi Informasi Dan Komunikasi, 15(3), 26–40.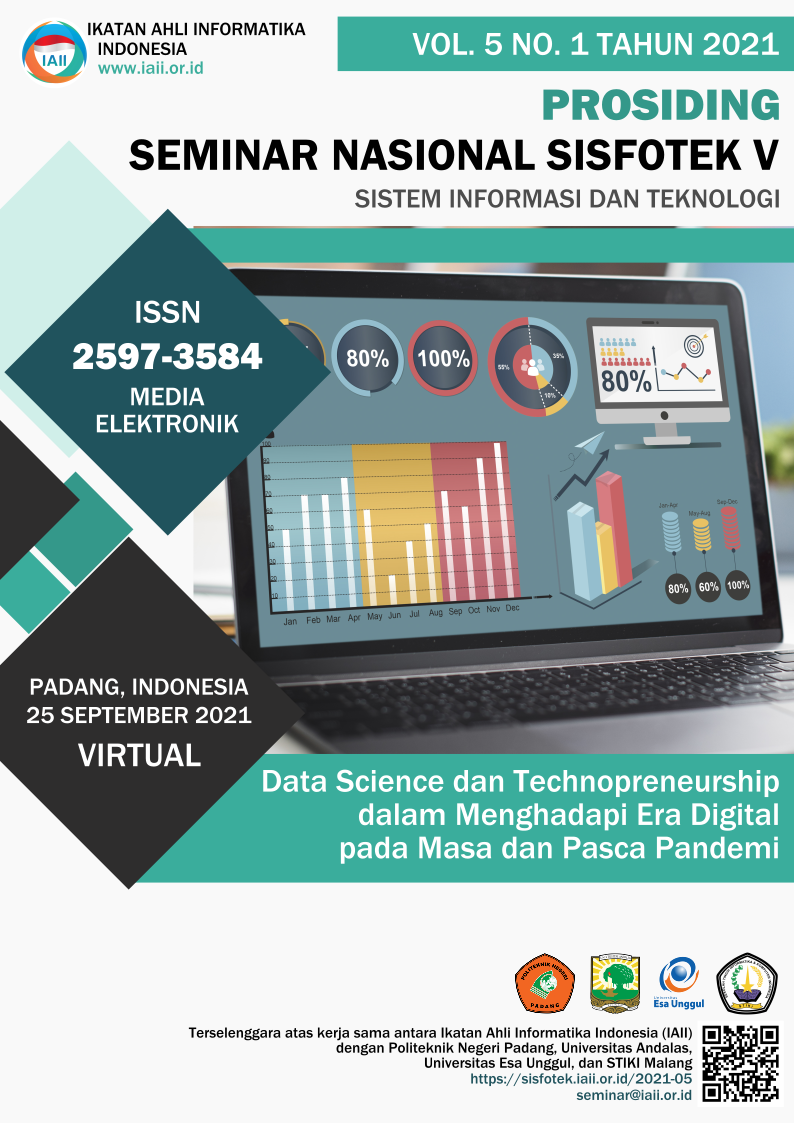 Downloads
How to Cite
Hendy Rama Dhany, Meivi Kartikasari, & Nira Radita. (2021). Perancangan Sistem Informasi Pertanahan di PPATS Kecamatan Sukun Kota Malang. Prosiding SISFOTEK, 5(1), 59 - 63. Retrieved from http://seminar.iaii.or.id/index.php/SISFOTEK/article/view/258
Section
1. Sistem Informasi Manajemen
License
Copyright (c) 2021 Hak cipta pada setiap artikel adalah milik penulis.
This work is licensed under a Creative Commons Attribution 4.0 International License.
http://creativecommons.org/licenses/by/4.0