Analisa Sentimen Publik Terkait Otonomi Khusus (OTSUS) di Papua dengan Pendekatan Sains Data
Keywords:
Sentiment Analysis, Otsus, Machine Learning, Data Science.
Abstract
This study explores conversations on Twitter related to Otonomi Khusus Papua. Twitter users in Indonesia are fewer compared to the USA, even the minimum number of Twitter users in Papua. However, topics related to Otonomi Khusus Papua are intense on Twitter. The author's hypothesis talks about the Otonomi Khusus Papua are not Papuan people. This is interesting for the author to look further at sentiment analysis related to the topic of Otonomi Khusus Papua (otsus) on Twitter. This research uses a data science approach utilizing machine learning with drone emprit. Data retrieved via Twitter API is filtered, retrieved, and analyzed. The results show that Otonomi Khusus Papua topics contain more positive narratives but users who raise these positive narratives are bots.
References
D. Westerman, P. R. Spence, and B. Van Der Heide, "Social Media as Information Source: Recency of Updates and Credibility of Information," J. Comput. Commun., vol. 19, no. 2, pp. 171–183, 2014, doi: 10.1111/jcc4.12041.
APJII, "Survei APJII: Penetrasi Internet di Indonesia Capai 143 Juta Jiwa," Buletin Asosiasi Penyelenggara Jasa Internet Indonesia, vol. Edisi-22 2. p. 3, 2018.
Muchamad Ali Safa'at, "PROBLEM OTONOMI KHUSUS PAPUA,"2014,[Online].Available:http://safaat.lecture.ub.ac.id/files/2014/03/PROBLEM-OTONOMI-KHUSUS-PAPUA.pdf.
Widjojo Muridan S 2009 Papua Road Map Nego tiating the Past Improving the Present and Se curing the Future Jakarta LIPI Yayasan TIFA dan Yayasan Obor.
Mailoa, Evangs. "Analisis Node Dengan Centrality Dan Follower Rank Pada Twitter ". Jurnal RESTI (Rekayasa Sistem dan Teknologi Informasi) 4, no. 5 (October 30, 2020): 937-942.Accessed August 2, 2021. http://jurnal.iaii.or.id/index.php/RESTI/article/view/2398.
P. G. Pratama dan N. A. Rakhmawati, "Social bot detection on 2019 indonesiapresident candidates supporters tweets," Procedia Comput. Sci. 161, hal. 813–820, 2019.
Philip N. Howard; Samantha Bradshaw, "Troops, Trolls and Troublemakers: A Global Inventory of Organized Social Media Manipulation," 2017. doi: 10.1016/S0140-6736(59)90596-3.
C. Davis, E. Ferrara, O. Varol, F. Menczer, and A. Flammini, "BotOrNot: A System to Evaluate Social Bots," Commun. ACM, vol. 59, no. 7, pp. 96–104, 2016, doi: 10.1145/2818717.
Varol, O., Ferrara, E., Davis, C. A., Menczer, F., & Flammini, A. (2017). Online human-bot interactions: Detection, estimation, and characterization. Proceedings of the 11th International Conference on Web and Social Media, ICWSM 2017,280–289.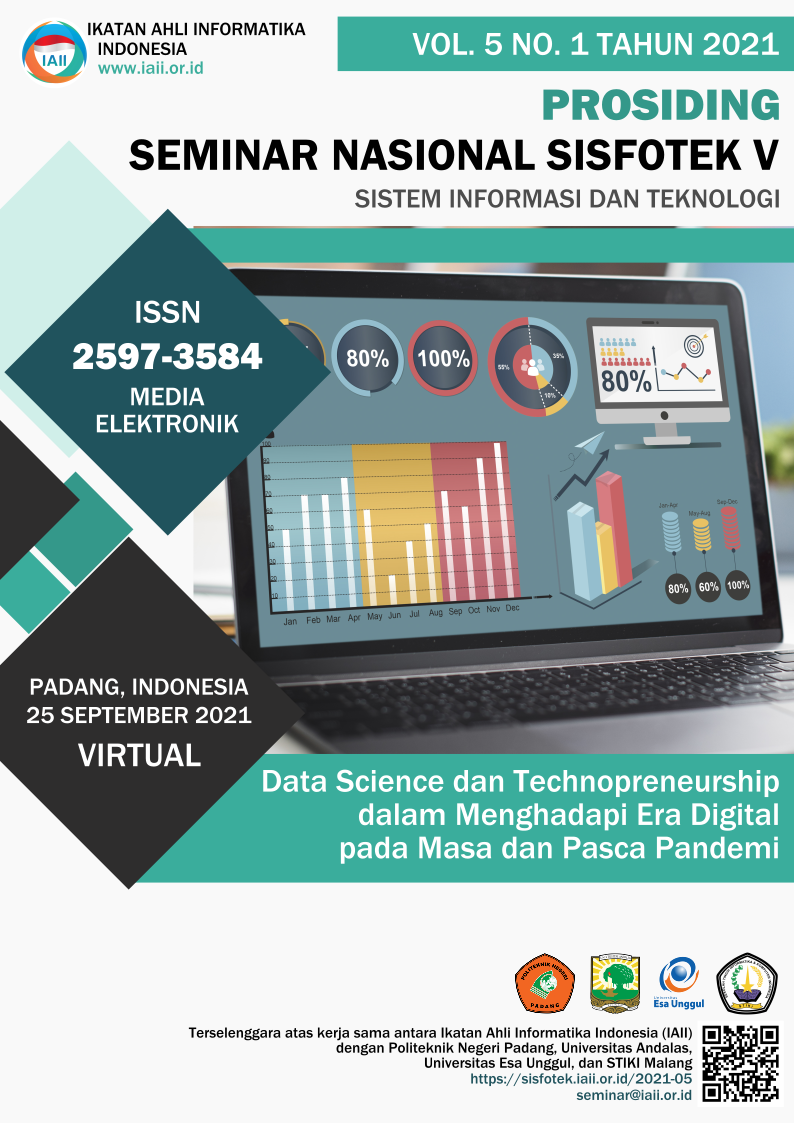 Downloads
How to Cite
Harun B S O. Mosioi, & Evangs Mailoa. (2021). Analisa Sentimen Publik Terkait Otonomi Khusus (OTSUS) di Papua dengan Pendekatan Sains Data. Prosiding SISFOTEK, 5(1), 153 - 156. Retrieved from http://seminar.iaii.or.id/index.php/SISFOTEK/article/view/275
Section
3. Data dan Diseminasi Informasi
License
Copyright (c) 2021 Hak cipta artikel milik penulis.
This work is licensed under a Creative Commons Attribution 4.0 International License.
http://creativecommons.org/licenses/by/4.0