Sistem Monitoring Kenaikan Kadar Alkohol Pada Molasses Berbasis Mikrokontroler
Keywords:
MQ-3, Thermocouple, Arduino UNO Microcontroller, LCD, Buzzer.
Abstract
Sugarcane is an agricultural product that has a major role in the development of agriculture in Indonesia. The potential production conditions of sugarcane can produce molasses. Molasses is a by-product of the manufacture of cane sugar. Automatic temperature regulation in the distillation process, namely the separation of chemical substances to produce bioethanol from molasses, namely the temperature at the boiling point of bioethanol or alcohol. From the reference I got, molasses (molasses) contains 50-60% sugar, molasses contains sugar content to produce ethanol (Alcohol). Ethanol from distillation is to separate chemical raw materials which are affected by temperature at the time of distillation, the constant temperature at the time of distillation is at 298 K (25 ° C or 77 ° F). This tool uses a control system to control the quality of ethanol by using an electronic nose. in the form of an MQ-3 sensor as a reading of molasses vapor and an LCD as monitoring the increase in alcohol temperature.
References
B. A. B. Ii and T. Pustaka, "2?? 5," pp. 5–22.
A. Rochani, S. Yuniningsih, and Z. Ma'sum, "Pengaruh Konsentrasi Gula Larutan Molases Terhadap Kadar Etanol Pada Proses Fermentasi Agus," J. Reka Buana, vol. 1, no. 1, pp. 43–48, 2016.
V. A. Suoth, H. Indra, and R. Mosey, "Rancang Bangun Sistem Pengukuran Kadar Alkohol Dan Suhu Berbasis Mikrokontroler Arduino UNO Untuk Destilasi Minuman Beralkohol," vol. 5, no. 2, pp. 91–94, 2016.
I. G. Surya Merta, I. G. A. Widagda, and I. B. Alit Paramarta, "Perancangan Alat Ukur Kadar Alkohol Menggunakan Sensor Mq-3 Berbasis Mikrokontroler Atmega16," Bul. Fis., vol. 18, no. 2, p. 74, 2017, doi: 10.24843/bf.2017.v18.i02.p06.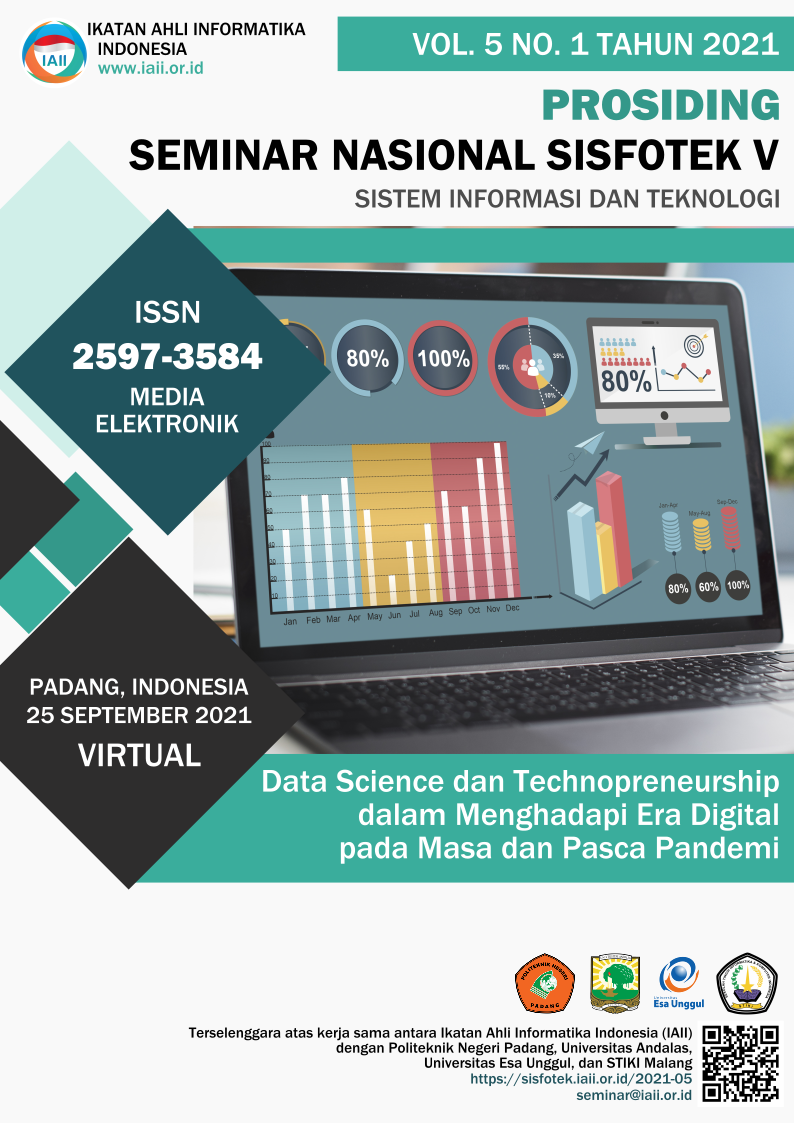 Downloads
How to Cite
Tuti Angraini, Roza Susanti, Efendi, Afit Arifin, & Rikzan Kurnia Azriful. (2021). Sistem Monitoring Kenaikan Kadar Alkohol Pada Molasses Berbasis Mikrokontroler. Prosiding SISFOTEK, 5(1), 296 - 301. Retrieved from http://seminar.iaii.or.id/index.php/SISFOTEK/article/view/302
Section
5. Teknologi & Komputer
License
Copyright (c) 2021 Hak cipta artikel milik penulis.
This work is licensed under a Creative Commons Attribution 4.0 International License.
http://creativecommons.org/licenses/by/4.0