Perancangan Temperatur Badan Mandiri Yang Terhubung Dengan Pintu Dan Wastafel Otomatis Dengan Arduino
Keywords:
COVID-19, human, automatic, body temperature, disease.
Abstract
In early 2020, the world was shocked by an outbreak of a new pneumonia that started in Wuhan, Hubei Prov-ince, which then spread rapidly to more than 190 countries and regions. This outbreak is named coronavirus disease 2019 (COVID-19) caused by Severe Acute Respiratory Syndrome Coronavirus-2 (SARS-CoV-2). The spread of this disease has had a wide social and economic impact. Meanwhile, in an effort to break the chain of the virus, by avoiding people who are sick with fever and in direct contact with humans, therefore ideas and ideas were created to try to build a body temperature detection device for minimarkets or public places that do not have officers to check. body temperature of incoming visitors. It also reduces physical contact between hu-mans, which will later be connected to the automatic door and water sink. The purpose of building this tool is to support and participate in stopping the spread of the virus so that it does not spread and ends soon.
References
Gunawan, G. F., Palandi, J. F., & subari. (2019). Prototipe Roip Dengan Menggunakan Web-Rtc, Web-Usb, Dan Arduino-Leonardo. LAPORAN AKHIR PENELITIAN MANDIRI, 1-21.
Ichwan, M. (2013). Pembangunan Prototipe Sistem Pengendalian Peralatan Listrik Pada Platform Android. JURNAL INFORMATIKA, 16.
Ahmad Hilal, S. M. (2013). Pemanfaatan Motor Servo Sebagai Penggerak Cctv Untuk. GEMA TEKNOLOGI Vol. 17 No. 2 Periode Oktober 2012, 95-99.
Saputra, D. I. (2020). Perancangan Dan Implementasi Rapid Temperature Screening Contactless Dan Jumlah Orang Berbasis Iot Dengan Protokol Mqtt. JOURNAL OF ENERGY AND ELECTRICAL ENGINEERING (JEEE), 21.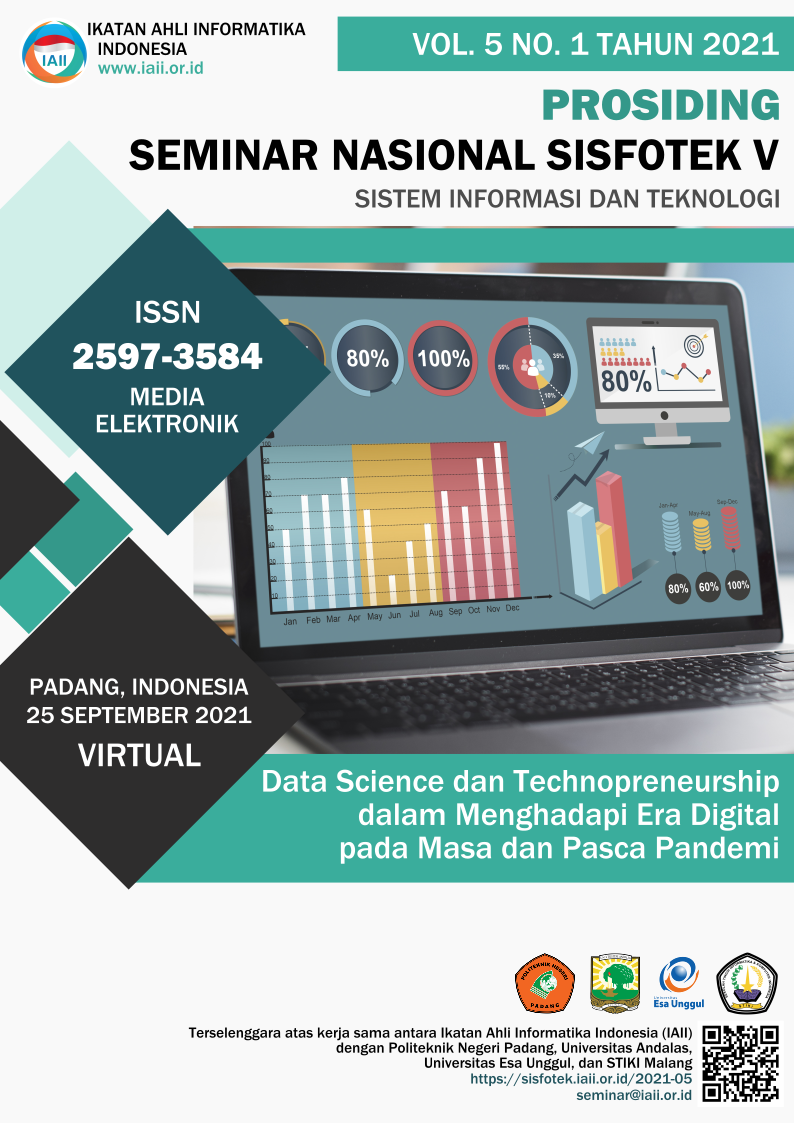 Downloads
How to Cite
Heru Rudianto, & Daniel Rudiaman Sijabat. (2021). Perancangan Temperatur Badan Mandiri Yang Terhubung Dengan Pintu Dan Wastafel Otomatis Dengan Arduino. Prosiding SISFOTEK, 5(1), 302 - 306. Retrieved from http://seminar.iaii.or.id/index.php/SISFOTEK/article/view/303
Section
3. Data dan Diseminasi Informasi
License
Copyright (c) 2021 Hak cipta artikel milik penulis.
This work is licensed under a Creative Commons Attribution 4.0 International License.
http://creativecommons.org/licenses/by/4.0