Penerapan Teknologi Virtual Reality Pada Property Perumahan
Keywords:
Virtual Reality, vr housing, digital property, 3D house.
Abstract
Virtual Reality presents high technology that can provide a virtual feel like what happens in real life with good graphic quality to complement traditional methods in terms of performance and product. In its development, Virtual Reality (VR) is also implemented in the property industry, both as a medium for property product promotion services and as a simulation medium for users to surf in the virtual world, getting to know the property products offered without having to visit the actual location. To market and sell products, most property businesses still use brochures in marketing and selling products. So it costs more and takes a lot of time. This research starts from the planning stage, collecting information and data needed in the design, and building the system by analyzing the application that includes the needs or requirements related to what will be developed. the next stage is to design the assets needed in making the application and then try it out. This research produces Virtual Reality application as a marketing multimedia in property business that can present complete information by presenting reality in virtual form. Virtual-Reality applications can be used to make it easier to market and sell products, able to provide detailed information so that it is easier for potential buyers to get information, view visuals and choose the desired product virtually. The results of the questionnaire that have been filled out by the user, the conclusion from the research on the application of VR Perumahan is in the "Very Positive" category with a total percentage of 223 which is between 195 to 240.
References
F. Zuli, "Rancang Bangun Augmented Dan Virtual Reality Menggunakan Algoritma Fast Sebagai Media Informasi 3D Di Universitas Satya Negara Indonesia," Jurnal Algoritma, Logika dan Komputasi, Vol.I (No. 2 ) : 94 -104, pp. 94-104, 29 April 2018.
H. T. T. Saurik, D. D. Purwanto dan J. I. Hadikusuma, "Teknologi Virtual Reality untuk Media Informasi Kampus," Jurnal Teknologi Informasi dan Ilmu Komputer (JTIIK), Vol. 6, No. 1, pp. 71-76, 2019.
M. Dwiny, H. A. Mooduto dan D. Setiawan, "Visualisasi 3D Gedung dengan Konsep Virtual Reality Berbasis Android: Studi Kasus," Jurnal Inovasi Vokasional dan Teknologi INVOTEK, pp. 59-66, 2018.
P. Putra, J. Jauhari, P. P. L. Susilo dan A. Meiriza, "Pengembangan Sistem E-Commerce Penjualan Rumah Dengan Pemanfaatan Teknologi Virtual Reality Di Kota Palembang," Jurnal Sistem Informasi (JSI), vol. 10, no. 1, pp. 15-22, 2018.
N. Safaat, Pemograman Aplikasi Mobile Smartphone Dan Tablet Pc Berbasis Android, Bandung: E-Book Informatika, 2012.
P. M. Herlambang dan L. Aryoseto, "Potensi Virtual Reality Berbasis Smartphone sebagai Media Belajar Mahasiswa Kedokteran," CDK Journal, pp. 412-413, 2016.
R. F.S., S. A. dan B. M.S, "Aplikasi 3D Virtual Reality Sebagai Media Pengenalan Kampus Politeknik Negeri Indramayu Berbasis Mobile," Jurnal Informatika dan Komputer (JIKO), pp. 75-82, 2017.
R. M. P. Siregar dan E. Sudarmilah, , "Rancang Bangun Virtual Reality Educational Game Penanggulangan Sampah berbasis Android untuk Anak Usia Sekolah Dasar," JUITA, pp. 49-54, 2019.
R. R. Susanto, F. E. Purwiantono dan K. Wahyu, "Game ID Card Puzzle Berbasis Virtual Reality Untuk Mengenalkan Kebudayaan Tradisional Indonesia," Information System For Educators And Professionals, pp. 13-22, 2018.
M. Syani dan A. Hidayat, "Perancangan Virtual Reality Pengenalan Senjata Tradisional Indonesia," Jurnal Masyarakat Informatika Indonesia, pp. 41-51, 2018.
A. Ramadhani dan H. A. Ahmad, "Penerapan Teknologi 360° Video dan Virtual Reality Pada Pertunjukan Wayang Golek Cepak Tegal," Seminar Nasional IPTEK Terapan (SENIT) 2017, pp. 17-23, 2017.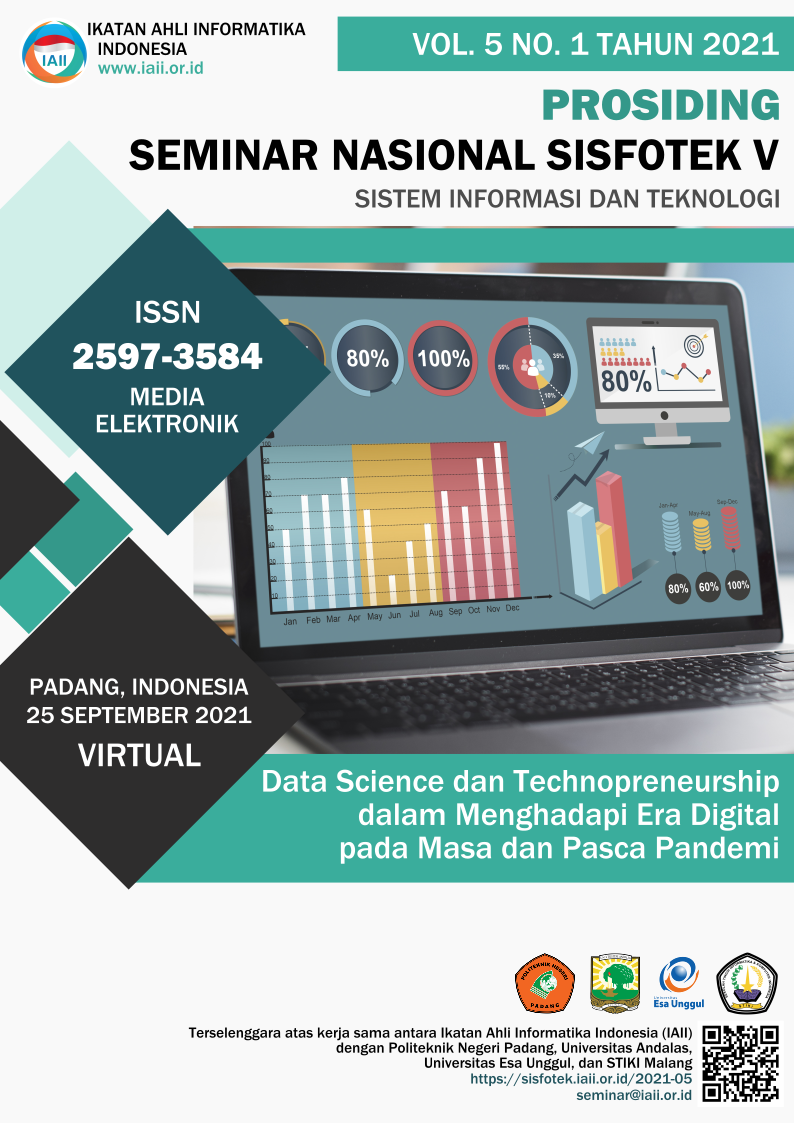 Downloads
How to Cite
Robert Saputra, Subari, & Saiful Yahya. (2021). Penerapan Teknologi Virtual Reality Pada Property Perumahan. Prosiding SISFOTEK, 5(1), 307 - 315. Retrieved from http://seminar.iaii.or.id/index.php/SISFOTEK/article/view/304
Section
3. Data dan Diseminasi Informasi
License
Copyright (c) 2021 Hak cipta artikel milik penulis.
This work is licensed under a Creative Commons Attribution 4.0 International License.
http://creativecommons.org/licenses/by/4.0