Implementasi Metode Sambung Ayat Alquran Juz 30 dalam Media Pembelajaran Tahfiz
Keywords:
learning media, quran, r&d
Abstract
Al-Qur'an learning in children is important because religion is one of the foundations that must be built from an early age. This study focuses on developing learning media that can help students memorize the Al-Quran by using the verse-connecting method using the R&D (Research and Development) research method, and taking the subject of teaching staff at TPQ Al-Jihad Montasik. The results of this study on the application of learning media were based on the validation of media experts and material experts with very valid criteria with a presentation of 100% media experts and 92% material experts. Then the results of the learning media trial with good criteria with a percentage of 68%. The results of the study indicate that in terms of the use and use of learning media can be applied and feasible to help learning in TPQ.
References
S. PRAMUDANA, "PENERAPAN PEMBELAJARAN AL-QUR'AN MELALUI METODE YANBU'A DI TPQ AL-MUBAROKAH BORO KEDUNGWARU TULUNGAGUNG TAHUN 2015/2016," Bab Ii Kaji. Pustaka 2.1, no. 2004, pp. 6–25, 2015.
I. S. Satria Adhi, Isa Akhlis, "Pengembangan Media Pembelajaran Berbasis Android pada Materi Gerak Parabola Untuk Siswa SMA," UPEJ Unnes Phys. Educ. J., vol. 6, no. 3, pp. 38–43, 2017.
S. Koriaty and M. D. Agustani, "Pengembangan Model Pembelajaran Game Edukasi Untuk Meningkatkan Minat Siswa Kelas X TKL SMK Negeri 7 Pontianak," J. Edukasi, vol. 14, no. 2, pp. 277–288, 2016.
B. K. Sari, "Desain Pembelajaran Model Addie Dan Implementasinya Dengan Teknik Jigsaw," Pros. Semin. Nas. Pendidik., pp. 87–102, 2017.
I. N. P. T. Tegeh, I Made; Jampel, "Pengembangan Buku Ajar Model Penelitian Pengembangan Dengan Model Addie," J. Dimens. Pendidik. Dan Pembelajaran, vol. 3, no. 1, pp. 24–29, 2015.
R. Susilana, Modul Populasi dan Sampel. 2015.
H. Mustika and L. Buana, "Penerapan Model Pembelajaran Probing Prompting Terhadap Kemampuan Pemecahan Masalahan Matematika Siswa," MES (Journal od Math. Educ. Sci., vol. 2, no. 2, p. 32, 2017.
P. ELA, "PENGEMBANGAN MEDIA PEMBELAJARAN BERBASIS CONSTRUCT 2 UNTUK SISWA KELAS V. Diss. UIN RADEN INTAN LAMPUNG.," 2022.
B. Djo and H. Suhendi, "Perancangan Game Tambang Batu Bara Menggunakan Scirra Construct 2 Di Pt. Aluna Kusumah Lestari," eProsiding Tek. Inform., vol. 2, no. 1, pp. 307–312, 2021.
D. Destiana, Y. Suchyadi, and F. Anjaswuri, "Pengembangan Instrumen Penilaian Untuk Meningkatkan Kualitas Pembelajaran Produktif Di Sekolah Dasar," J. Pendidik. dan Pengajaran Guru Sekol. Dasar, vol. 3, no. 2, pp. 119–123, 2020.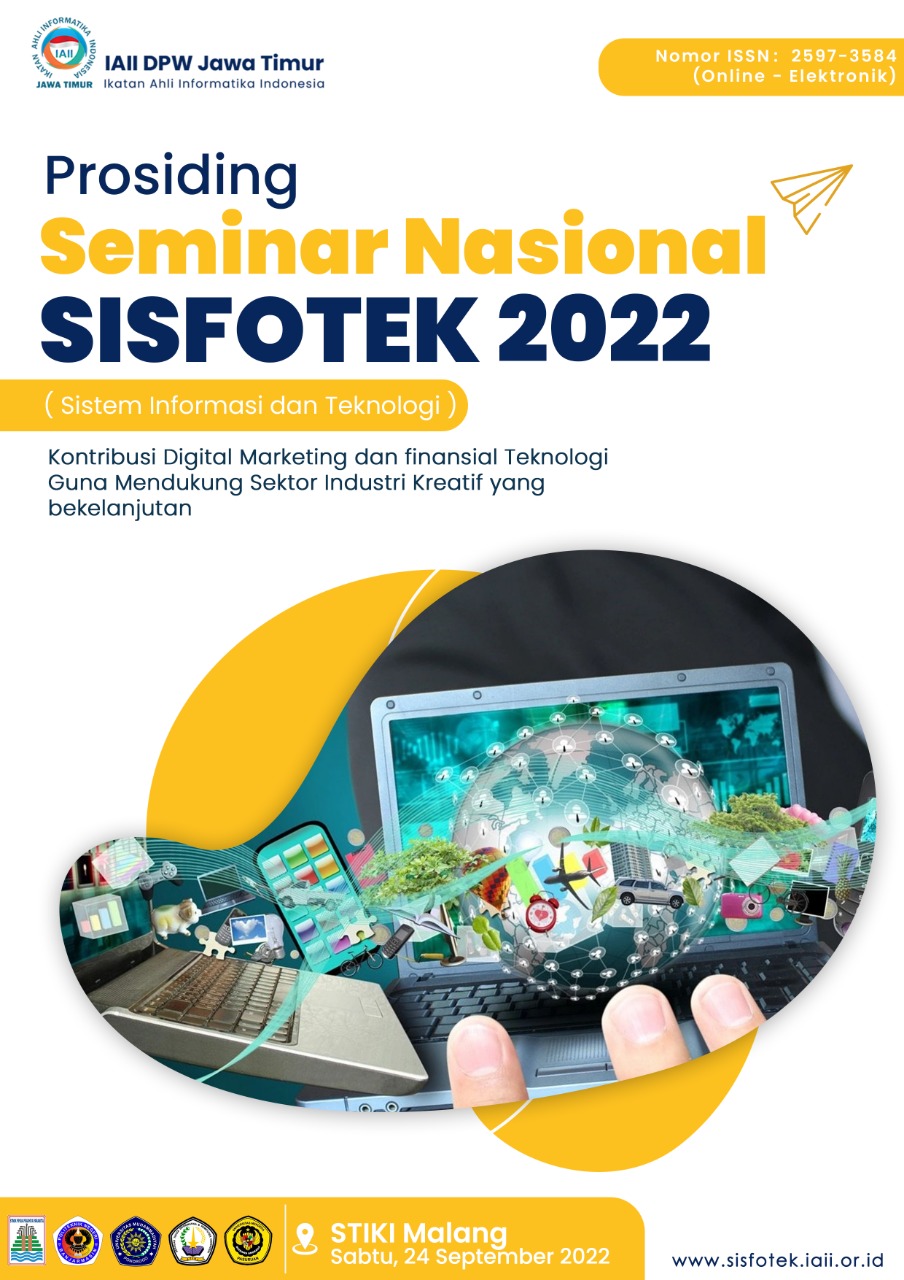 Downloads
How to Cite
Mira Maisura, Muhammad Hazaqil Afif, & Khairan. (2022). Implementasi Metode Sambung Ayat Alquran Juz 30 dalam Media Pembelajaran Tahfiz . Prosiding SISFOTEK, 6(1), 86-91. Retrieved from http://seminar.iaii.or.id/index.php/SISFOTEK/article/view/329
Section
2. Rekayasa Sistem Informasi
License
Copyright (c) 2022 Mira Maisura
This work is licensed under a Creative Commons Attribution 4.0 International License.
http://creativecommons.org/licenses/by/4.0