Implementasi Metode Rule Based dan TOPSIS pada Sistem Seleksi Kinerja Divisi Berdasarkan Corporate Culture
Abstract
Corporate culture can be used as an effective driving force in achieving goals in accordance with the organization's vision and mission. An effective work culture can unite the ways of thinking, behaving and acting throughout the organization, making it easier to establish and implement the vision, mission and strategy in the corporation, and able to strengthen teamwork within the corporation, and eliminate internal frictions that arise. As one of the steps to maintain the existence of the company amid uncertain global conditions, it is necessary to evaluate the organization of its divisions to always cling to Corporate Culture. Based on the evaluation evaluation conducted previously, almost 50% of employees at PT XYZ Laboratories disagreed with the research conducted by the division. Therefore, it is necessary to develop a system that can act as a transparency in management decision making. By using the rule based method that is used as a selection method and the TOPSIS method that is carried out for division decision making is chosen, it is hoped that this system can be useful and in accordance with management needs. After going through the testing process, in general this system produces a total percentage of 100% on the success of the item test in the testing process of the 10 items tested. Thus the application meets the requirements for making the program, which is readable and valid.
References
[1] AB Susanto. 1997. Budaya Perusahaan: Seri Manajemen dan Persaingan Bisnis, PT. Elex Media Komputindo, Jakarta.
[2] A.S., Rosa dan Shalahuddin, M. 2015. Rekayasa Perangkat Lunak Terstruktur Dan Berorientasi Objek. Informatika. Bandung.
[3] Ligeza, Antoni. 2006. Logical Foundations for Rule-Based Systems . Springer - Verlag Berlin Heidelberg. Berlin.
[4] Wang, Xiogang., dkk. (2010). A Production Rule-based Knowledge System for Software Quality Evaluation. IEEE
[5] Jacob, Robert J,. & Froshcher J. (1990). A Software Engineering Methodology for Rule-Based Systems. IEEE Transactions On Knowledge And Data Engineering.
[6] Wum, Li-Yun., & Yang, Yu-Zhong. (2008) . Topsis Method For Green Vendor Selection In Coal Industry Group. Proceedings of the Seventh International Conference on Machine Learning and Cybernetics, Kunming.
[7] Fitriasari, Novi S., Fitriani, Afifah S., & Sukamto, Ariani R. (2017). Comparison of Weighted Product Method and Technique for Order Preference by Similarity to Ideal Solution Method: Complexity and Accuracy. International Conference on Science in Information Technology (ICSITech).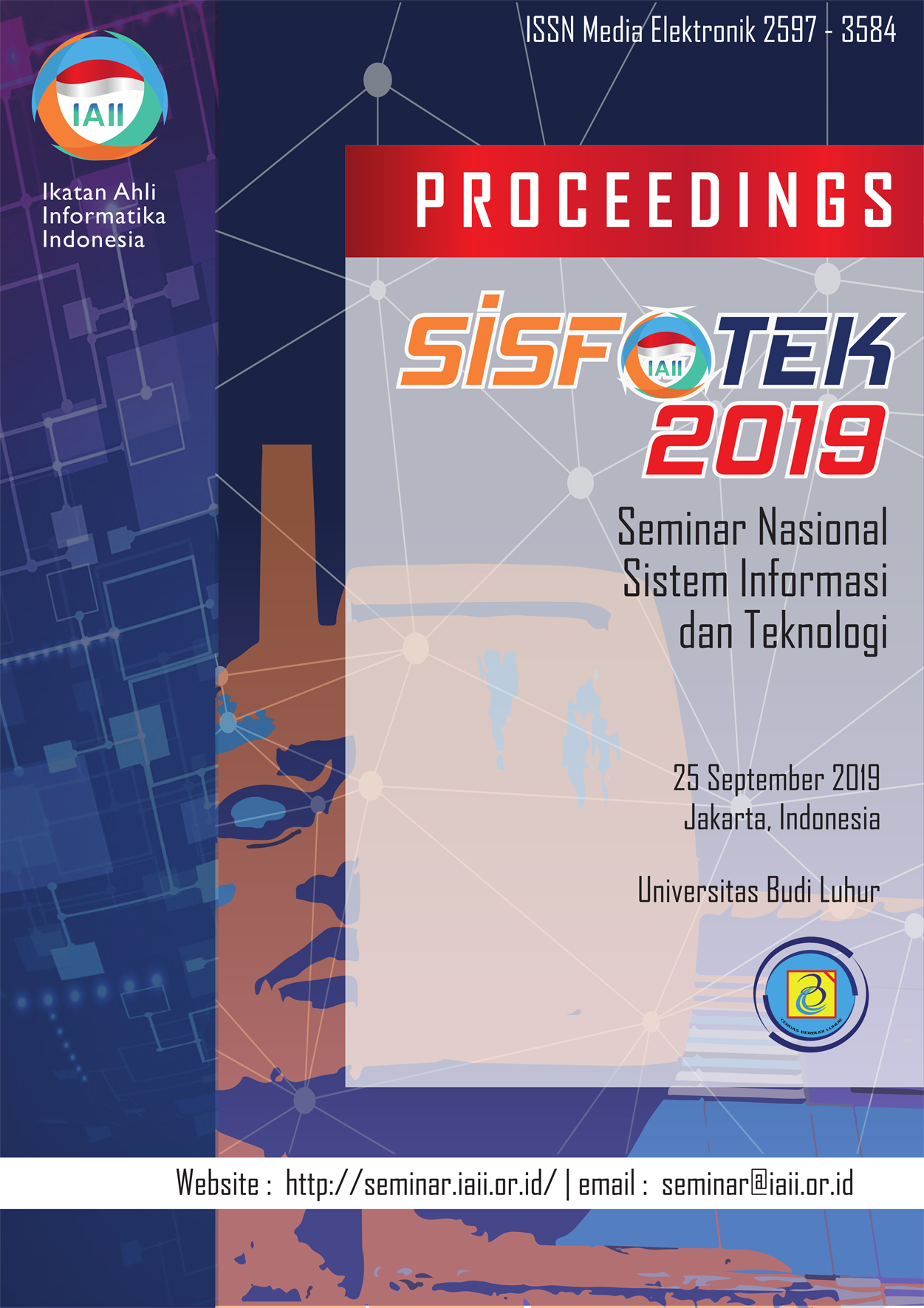 Downloads
How to Cite
Pirnando, A. A., Dewanto, I. J., & Winarno, W. (2019). Implementasi Metode Rule Based dan TOPSIS pada Sistem Seleksi Kinerja Divisi Berdasarkan Corporate Culture. Prosiding SISFOTEK, 3(1), 1 - 5. Retrieved from http://seminar.iaii.or.id/index.php/SISFOTEK/article/view/95
Section
2. Rekayasa Sistem Informasi
License
http://creativecommons.org/licenses/by/4.0