Implementasi Port Forwarding Untuk Keamanan Data Server (Studi Kasus: Dinas Pendidikan Kab. Pasuruan)
Keywords:
dinas pendidikan kab. pasuruan, port forwarding, server security, windows server 2008, linux server
Abstract
District Education Office. Pasuruan has a windows-based website application that uses Windows server 2008. The server was hijacked by hackers by changing the database configuration and changing the website display script. Hijacking occurs because of the large number of open ports that are not used on Windows Server 2008. The more open ports, the more vulnerable the server is to penetrate. Even after installing a firewall on Windows Server 2008, hackers can still penetrate it. This can be overcome by migrating to a new server, but it cannot be done because the server is connected to the Windows-based Central Ministry server for the sake of data decentralization. To overcome this problem, Windows Server 2008 is paired with a Linux server as a firewall router that is configured using the port forwarding method. The results of the study show that port forwarding can provide security on Windows Server 2008. Clients from outside networks cannot access Windows Server 2008 directly, so clients cannot find out the original IP address or open ports which can be a gap to penetrating the network. Windows server 2008. Clients from the network can access website applications on Windows server 2008 through an intermediary router.
References
P. Riska, P. Sugiartawan dan I. Wiratama, "Sistem Keamanan Jaringan Komputer dan Data Dengan Menggunakan Metode Port Knocking," Jurnal Sistem Informasi dan Komputer Terapan Indonesia (JSIKTI), p. 53, 2018.
S. Khadafi, S. Nurmuslimah dan F. K. Anggakusuma, "IMPLEMENTASI FIREWALL DAN PORT KNOCKING SEBAGAI KEAMANAN DATA TRANSFER PADA FTP SERVER BERBASISKAN LINUX UBUNTU SERVER," Jurnal Ilmiah NERO Vol. 4 No. 3, p. 182, 2019.
F. A. Purwaningrum, A. Purwanto dan E. A. Darmadi, "OPTIMALISASI JARINGAN MENGGUNAKAN FIREWALL," Jurnal IKRA-ITH Informatika, p. 21, 2018.
A. Nugroho dan M. Kusban, "Eksploitasi Sistem Keamanan RPC (Remote Procedure Call) pada Jaringan Windows Server 2008," Universitas Muhammadiyah Surakarta, Surakarta, 2015.
E. S. Jullev A dan B. M. Susanto, "Pemanfaatan Iptables Sebagai Intrusion Detection System (IDS) pada Linux Server," Seminar Nasional Hasil Penelitian, p. 349, 2017.
L. S. Dry dan Z. Munir, "Rancang Bangun IP PUBLIC Berbasis VPN Server dan Port Forwarding Untuk Mail Server Pada CV Pacific Computer Batam," Jurnal Sistem Informasi dan Manajemen STMIK GICI, p. 1, 2017.
S. dan W. Sulistyo, "Model Keamanan Jaringan Menggunakan Firewall Port Blocking," Krea-TIF: Jurnal Teknik Informatika, p. 10, 2022.
S. Sumardi dan M. T. Asri Zaen, "PERANCANGAN JARINGAN KOMPUTER BERBASIS MIKROTIK ROUTER OS PADA SMAN 4 PRAYA," JIRE (Jurnal Informatika & Rekayasa Elektronika), p. 52, 2018.
H. Pratama dan N. F. Puspitasari, "Penerapan Protokol L2TP/IPSec dan Port Forwarding untuk Remote Mikrotik pada Jaringan Dynamic IP," Citec Journal, p. 52, 2020.
nmap, "Port Scanning Basics," nmap.org, 20 07 2022. [Online]. Available: https://nmap.org/book/man-port-scanning-basics.html. [Diakses 27 07 2022].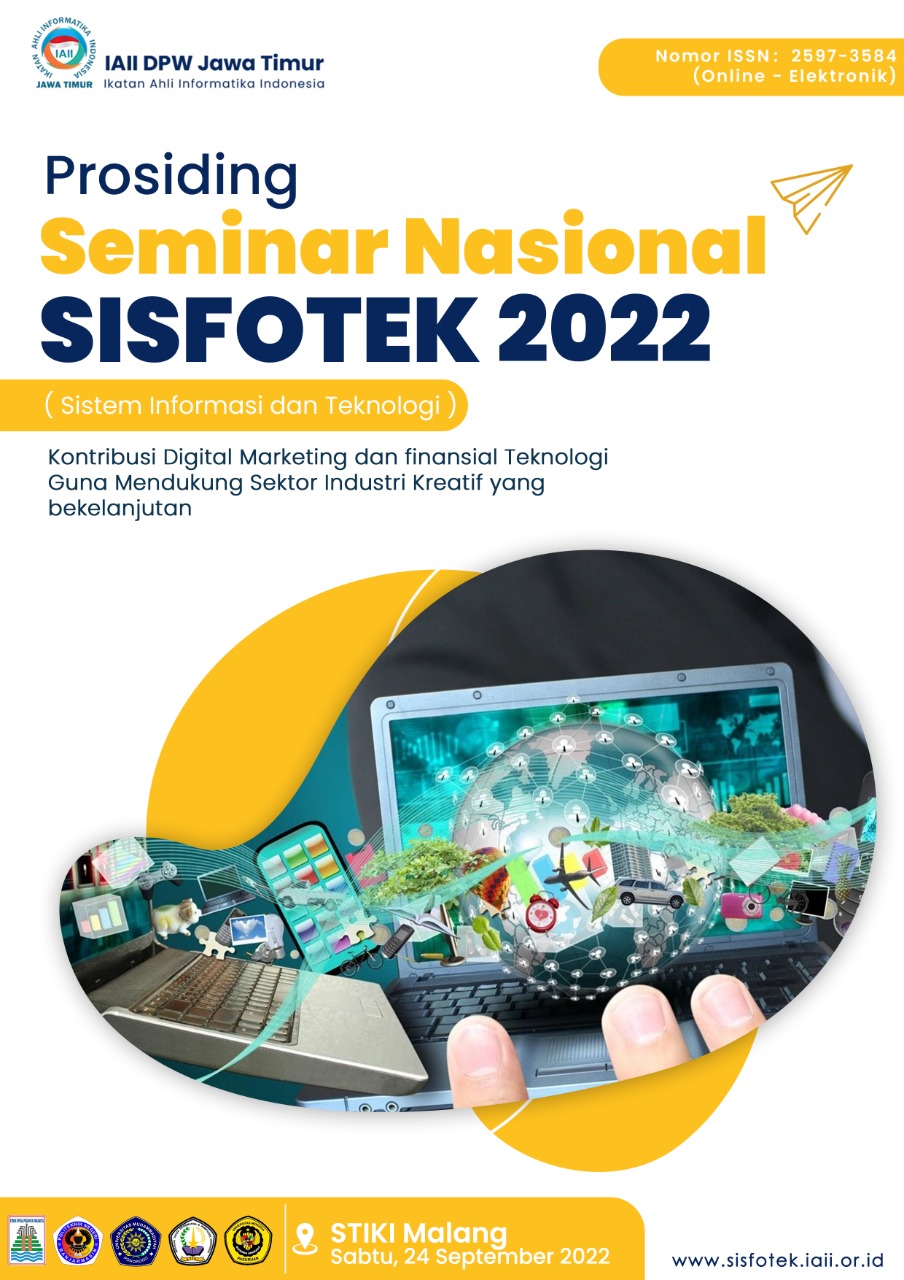 Downloads
How to Cite
Siska Dea, Dian Wahyuningsih, & Mahmud Yunus. (2022). Implementasi Port Forwarding Untuk Keamanan Data Server (Studi Kasus: Dinas Pendidikan Kab. Pasuruan). Prosiding SISFOTEK, 6(1), 123-128. Retrieved from https://seminar.iaii.or.id/index.php/SISFOTEK/article/view/307
Section
4. Keamanan Teknologi Informasi
License
Copyright (c) 2022 Siska Dea
This work is licensed under a Creative Commons Attribution 4.0 International License.
http://creativecommons.org/licenses/by/4.0