Sistem Informasi Presensi Guru dan Karyawan Non-ASN Pada SMAN 4 Banjarmasin Berbasis Android dan Web
Keywords:
presence information system, android application, website
Abstract
The COVID-19 pandemic requires a teaching-learning process and some work is done online from home and offline from the office. This change in behavior certainly requires adjustments in terms of previous physical presence through fingers, changed online to reduce physical contact between fellow teachers and employees at SMAN 4 Banjarmasin. The launch of the mobile-based APIK application by the South Kalimantan Provincial Government in February 2022 as a response to the performance of ASN in the South Kalimantan Provincial Government during the current pandemic, leaving several problems in the education unit of SMAN 4 Banjarmasin. This happens because of a total of 65 teachers and employees there are 69% (45 people) of Non ASN whose performance is certainly not recorded in the APIK application, especially attendance. This study aims to develop an Android and web-based attendance information system at SMAN 4 Banjarmasin as a school response to fill in the achievements of teachers and non-ASN employees. The method of developing information systems using the waterfall method begins with the stages of analysis, design, implementation and maintenance of the system, with data collection using observations, interviews and literature studies. The results of the analysis used for applications that will be used for operational, technical, legal and economic results are positive and indicate that the development of information systems is feasible to continue. At the implementation stage, through testing the functionality of the presence information system with behavioral testing techniques, it shows that all functional requirements set at the beginning of development have been achieved. The output of this research in the form of an Android and web-based presence application has been launched on the official google playstore page.
References
Adelin, "Pemprov Kalsel Hadirkan APIK Tingkatkan Disiplin ASN," 7 February 2022. [Online]. Available: https://diskominfomc.kalselprov.go.id/2022/02/07/pemprov-kalsel-hadirkan-apik-tingkatkan-disiplin-asn/.
H. Jogiyanto, "Analisa dan Desain Sistem Informasi: Pendekatan Terstruktur Teori dan Praktik Aplikasi Bisnis," Yogyakarta, Andi, 2005.
Hoffer, A. Jeffrey, Prescott, B. Marry, McFadden and R. Fred, "Modern Database Management," Prentice Hall, 2005, p. 5.
Jogiyanto, HM, Pengenalan Komputer, Yogyakarta: Andi Offset, 1995.
H. Abdi, "Presensi adalah Kehadiran Seseorang di Suatu Tempat, Kenali Perbedaanya dengan Absensi," December 2021. [Online]. Available: https://hot.liputan6.com/read/4726212/presensi-adalah-kehadiran-seseorang-di-suatu-tempat-kenali-perbedaanya-dengan-absensi.
Ibnu, "Presensi: Pengertian, Jenis dan Kelebihannya Untuk Perusahaan," 23 may 2022. [Online]. Available: https://accurate.id/marketing-manajemen/presensi/#:~:text=Sederhananya%2C%20sistem%20presensi%20adalah%20suatu,karyawan%20dari%20jumlah%20kehadiran%20mereka.
R. Mantala, "Pengembangan Sistem Informasi Pariwisata Kota Banjarmasin Berbasis Android," Ad-Tadbir, pp. 81-92, 2017.
J. P. Cardle, Beginner's Guide To Mobile App Development in Android Studio, Manchester: Manchester Academic Publishers, 2017.
R. Mantala and M. Firdaus, "Pengaruh Customer Experience Terhadap Customer Satisfaction Pada Pengguna Smartphone Android," Jurnal Wawasan Manajemen, pp. 153-164, 2016.
E. Barlian, Penelitian Kualitatif & Kuantitatif, Padang: Sukabina Press, 2016.
Pressman, Rekayasa Perangkat Lunak: Pendekatan Praktisi, Yogyakarta: Andi, 2015.
A. Rozaq, Konsep Perancangan Sistem Informasi Bisnis Digital, Banjarmasin: Poliban Press, 2020.
Y. Parassa, M. U. Pesik and R. Mantala, "Implementasi Pengujian Model Responsive Website Obyek Wisata Provinsi Sulawesi Utara," in Prosiding Seminar Nasional ASBIS 2017, Banjarmasin, 2017.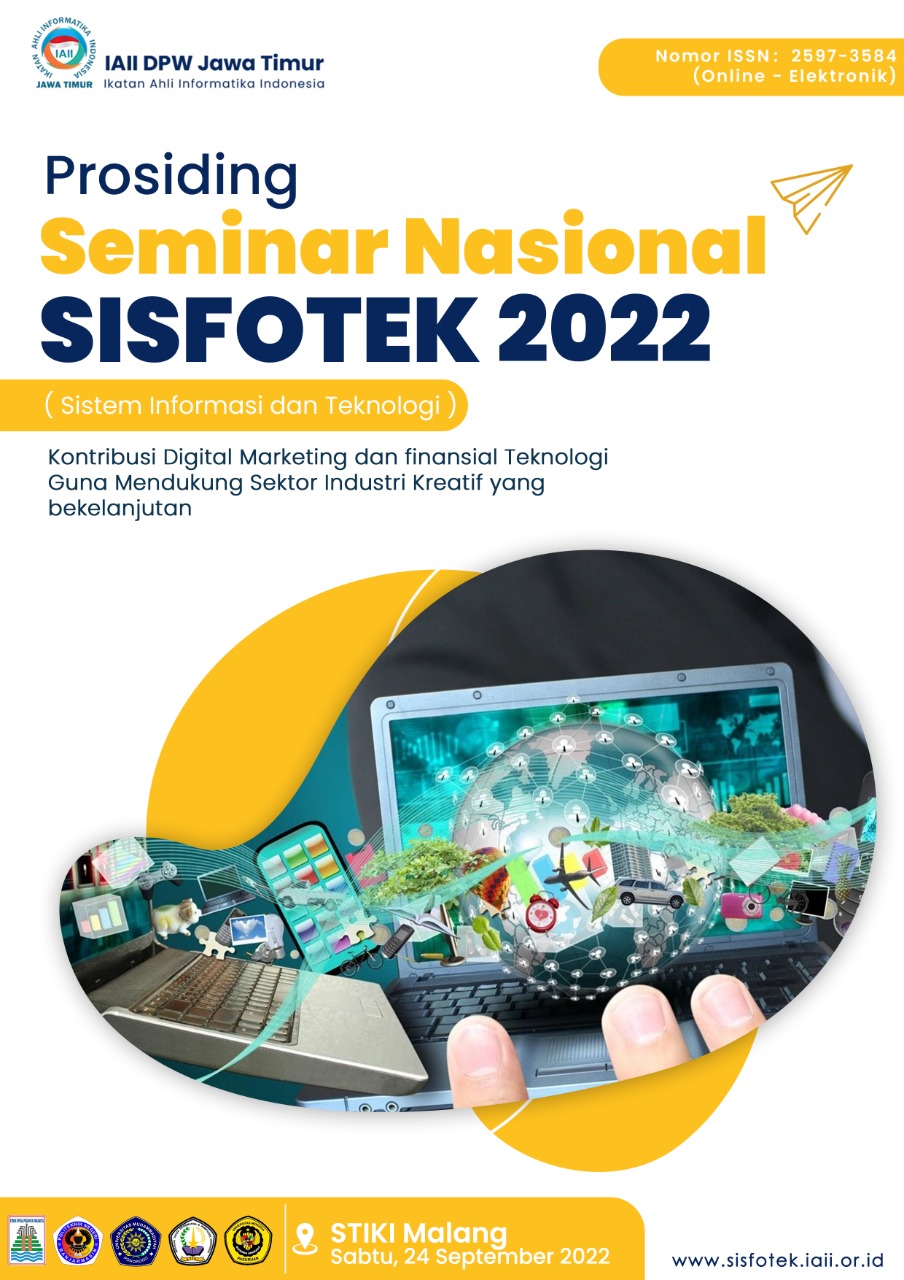 Downloads
How to Cite
Firda Tsalsabila, Muhammad Afif Rahman, Abdul Rozaq, & Ronny Mantala. (2022). Sistem Informasi Presensi Guru dan Karyawan Non-ASN Pada SMAN 4 Banjarmasin Berbasis Android dan Web. Prosiding SISFOTEK, 6(1), 1-9. Retrieved from https://seminar.iaii.or.id/index.php/SISFOTEK/article/view/311
Section
1. Sistem Informasi Manajemen
License
Copyright (c) 2022 Firda Tsalsabila
This work is licensed under a Creative Commons Attribution 4.0 International License.
http://creativecommons.org/licenses/by/4.0