Pengembangan Aplikasi Berbagi Makanan Berbasis Android
Keywords:
Apps, food sharing, food waste, hunger
Abstract
Indonesia ranks 2nd in the case of food waste contributors in the world with an average of 300kg of food waste for one person in one year, Indonesia also ranks 70th in cases of serious hunger levels in 2019. With this problem the author created a food sharing application that aims to reduce food waste and increase a sense of caring among others by distributing food that is still edible to people in need easily through this food sharing application. The results of this study are mobile applications that have been tested by application users. From the results of the questionnaire processing, it was found that 98.07% with this value, this food sharing application can be said to be feasible to be applied in Malang City and its surroundings. guide, about app, uploaded food and changed password.
References
Abdul Rozaq, B. D. P., Brata, A. H. & Pramono, D., 2019. Pengembangan Aplikasi Food Sharing berbasis Android. Jurnal Pengembangan Teknologi Informasi dan Ilmu Komputer, 3(10), pp. 9620-9626.
F. S. I., 2018. FOOD SUSTAINABILITY INDEX. [Online] Available at: https://foodsustainability.eiu.com/country-profile/id/ [Accessed 8 September 2020].Amurwani Dwi, R. G. (2014). Sejarah Indonesia. Jakarta: Kementerian Pendidikan dan Kebudayaan.
G. H. I., 2019. Global Hunger Index. [Online] Available at: www.globalhungerindex.org[Accessed 17 September 2020].
Prastowo, D. E., 2017. Pengembangan Aplikasi Berbagi Makanan (Food Sharing) Berbasis Web Untuk Membantu Mengurangi Makanan Sisa, Surabaya: Institut Teknologi Sepuluh Nopember.
Ayesha Anzer, H. A. T. a. W., 2018. A Food Wastage Reduction Mobile Application, United Arab Emirate: Abu Dhabi University.
Grace Phiri., P. T., 2019. Sustainable Household Food Management Using Smart Technology, United Kingdom: Leeds Beckett University.
OLIO, 2020. OLIO. [Online] Available at: www.olioex.com [Accessed 3 December 2020].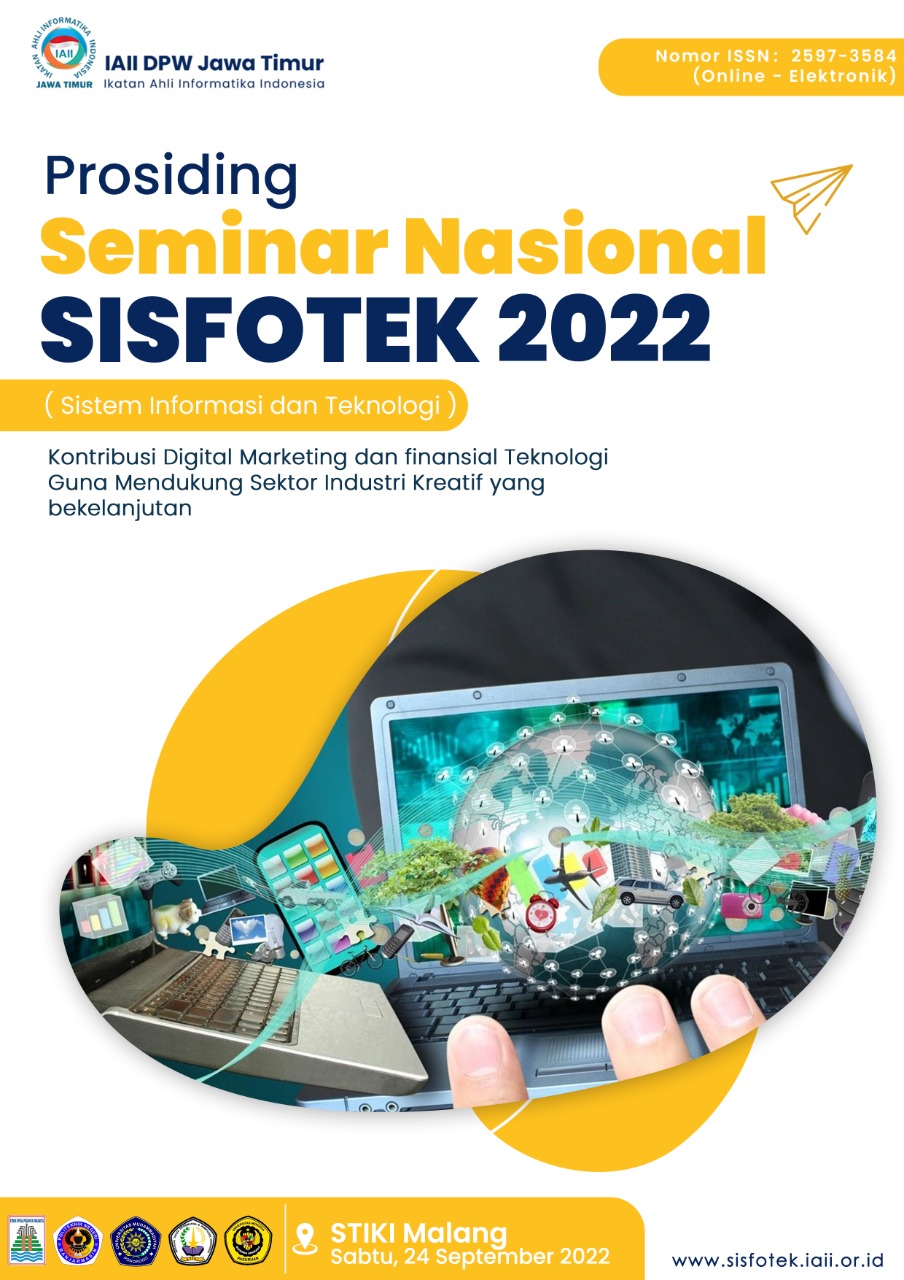 Downloads
How to Cite
Shania Saraswati, Siti Aminah, & Bagus Kristomoyo Kristanto. (2022). Pengembangan Aplikasi Berbagi Makanan Berbasis Android. Prosiding SISFOTEK, 6(1), 92-97. Retrieved from https://seminar.iaii.or.id/index.php/SISFOTEK/article/view/331
Section
2. Rekayasa Sistem Informasi
License
Copyright (c) 2022 Shania Saraswati
This work is licensed under a Creative Commons Attribution 4.0 International License.
http://creativecommons.org/licenses/by/4.0