Sistem Pengelolaan Data Rambu Transportasi Darat Wilayah III Provinsi Sumatera Barat Berbasis Web GIS
Keywords:
GIS, road signs, website
Abstract
Traffic road equipment is one of the most important things for road users, in fact many traffic signs are damaged and not maintained, this can be caused by natural factors such as covered with leaves which make it invisible and dull due to sunlight. responsible for the installation, maintenance and repair of equipment at each point of the national road. The method chosen in this study is the waterfall because each step of the research carried out must be sequential and structured to avoid the risk of errors in each sequence of processes carried out. The convenience for related parties is the existence of a system in processing survey data on road equipment maintenance, road equipment maintenance data for each time period, and maps using google maps, as well as complaint forms provided to the public if there is damage to road equipment.
References
S. B. Arianto and D. Heriwibowo, "Evaluasi Kebutuhan Rambu Lalu Lintas Pada Ruas Jalan Perbatasan Antara Kabupaten Bantul-Gading Di Gunungkidul, Yogyakarta," J. Penelit. Transp. Darat, vol. 18, no. 1, p. 1, 2017, doi: 10.25104/jptd.v18i1.107.
K. Perhubungan, "Pm 154 Tahun 2016." 2016.
Ansori, "Laporan Kinerja Badan penelitian dan Pengembangan Perhubungan," Lakip, vol. 3, no. April, pp. 49–58, 2015.
I. Gunawan, K. Hamdi, and B. Sunaryo, "Sistem Informasi Pencarian Korban Pasca Bencana Berbasis Web pada BNPB Kota Padang," Semin. Nas. Sist. Inf. dan Teknol. 2019, vol. 3, pp. 195–200, 2019.
R. A. J. Rustijan, "Manajemen Keselamatan Jaringan Jalan," pp. 1–46, 2011.
C. Tristianto, "Penggunaan Metode Waterfall Untuk Pengembangan Sistem Monitoring Dan Evaluasi Pembangunan Pedesaan," J. Teknol. Inf. ESIT, vol. XII, no. 01, pp. 7–21, 2018.
D. S. Purnia, A. Rifai, and S. Rahmatullah, "Penerapan Metode Waterfall dalam Perancangan Sistem Informasi Aplikasi Bantuan Sosial Berbasis Android," Semin. Nas. Sains dan Teknol. 2019, pp. 1–7, 2019.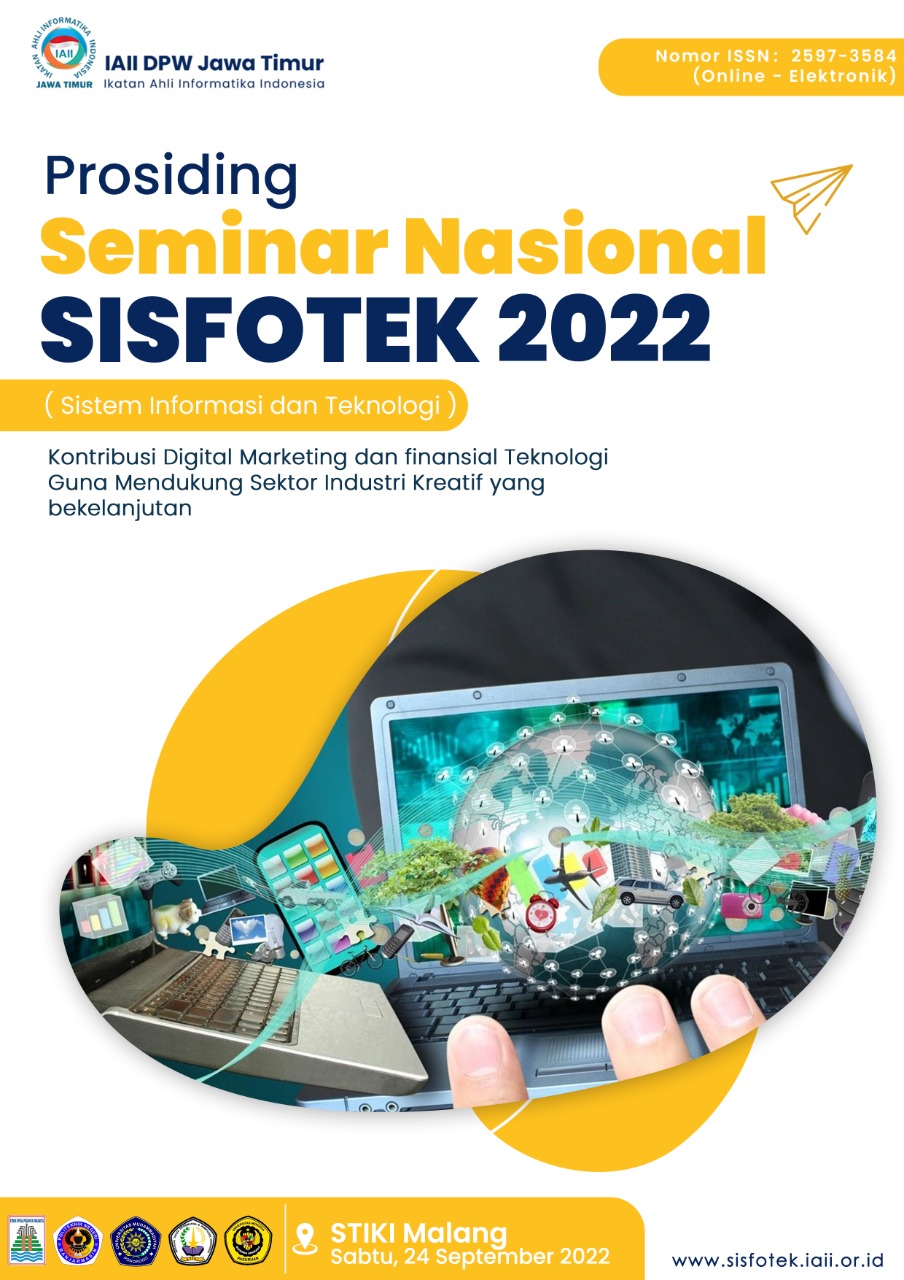 Downloads
How to Cite
Khairil Hamdi, Yuhefizar, & Rezky Wahyudi. (2022). Sistem Pengelolaan Data Rambu Transportasi Darat Wilayah III Provinsi Sumatera Barat Berbasis Web GIS. Prosiding SISFOTEK, 6(1), 117-122. Retrieved from https://seminar.iaii.or.id/index.php/SISFOTEK/article/view/337
Section
3. Data dan Diseminasi Informasi
License
Copyright (c) 2022 Khairil Hamdi
This work is licensed under a Creative Commons Attribution 4.0 International License.
http://creativecommons.org/licenses/by/4.0