Analisis Aplikasi CAT (ComputerAssisted Test) Perangkat Desa Dengan Metode Webuse
Keywords:
web analysis, computer assisted test, webuse.
Abstract
Utilization of technology is useful for the smooth running of human activities. One of the uses of technology is that it can be used as a test aid in the context of recruiting civil servants. The tool that can be used is the CAT (Computer Assisted Test) application. This application is used to replace manual and conventional methods so that effectiveness and efficiency in various ways can be obtained. The used of this CAT application needs to be evaluated in order to obtain a good and quality application. One evaluation technique that can be done is to find the usability level or the level of usability of the application. Testing can be done by using the webuse method of assessment. This study used a questionnaire as an instrument of research data collection. Respondents in this study were users or admins who used the CAT application. The result of the research shows that the variable of Content, Organization, & Readability get an average point of usability 0.74 with usability level is "Good". variable Navigation and Links get an average point of usability 0.32 with usability level is "Poor". While the User Interface Design gets an average point of usability 0.60 with usability level is "Moderate". Meanwhile, the Performance and Effectiveness gets an average point of usability of 0.36 with usability level is "Poor".
References
N. Aini, R. I. Zainal and A. , "Evaluasi Website Pemerintah Kota Prabumulih Melalui Pendekatan Website Usability Evaluation (Webuse)," JURNAL ILMIAH BETRIK : Besemah Teknologi Informasi Dan Komputer, vol. 10, no. 1, pp. 1-6, 2019.
R. Arofah and D. F. Suyatno, "Evaluasi Pemanfaatan Website Rapor Online menggunakan Metode WEBUSE (Studi Kasus: SD Kecamatan Bubutan Surabaya)," Journal of Emerging Information System and Business Intelligence (JEISBI), vol. 2, no. 1, pp. 40-46, 2021.
F. Aziz, R. Irmawati, D. Mulyanto, J. Nurrahman and M. Tabrani, "Usability Evaluation of the Website Services Using the WEBUSE Method (A Case Study: Covid19.go.id)," Journal of Physics: Conference Series, vol. 1641, no. 1, 2020.
A. Chariah, S. Ariski, A. Nugroho and A. Suhariyanto , "IMPLEMENTASI SISTEM MERIT PADA APARATUR SIPIL NEGARA DI INDONESIA," Jurnal Borneo Administrator, vol. 16, no. 3, p. 383–400, 2020.
N. U. Handayani, W. D. Kusuma, Z. F. Rosyada, Y. Widharto and A. Hanifah, "Usability Evaluation of "Inventory Information System" Design of Disaster Management in Yogyakarta Province - Indonesia," ACM International Conference Proceeding Series, 2020.
Y. Ichsani, "EVALUASI PERFORMA USABILITY SITUS-SITUS WEB PERGURUAN TINGGI NEGERI DI INDONESIA YANG TERAKREDITASI " A " TAHUN 2013 SERTA PERBANDINGAN KONDISI SITUS WEB TAHUN 2014 DAN 2017," Jurnal Teknik Informatika, vol. 10, no. 2, p. 93–108., 2017.
J. Karaman, "Analisis Usability Aplikasi Cizgi Rent A Car Berbasis Mobile Menggunakan Metode WEBUSE," Journal of Computer, Information System, & Technology Management, vol. 3, no. 2, p. 93–100, 2020.
K. T. Martono, O. D. Nurhayati and E. D. Widianto, "Usability Analysis with Webuse Model in Information System Design in Monitoring Child Growth and Development," IOP Conference Series: Materials Science and Engineering, vol. 803, no. 1, p. 3–8, 2020.
N. Oktaviani, "Analisa Website Media Elektronik Di Sumsel Melalui Penerapan Usability Pada Evaluasi Metode Webuse," Seminar Nasional Inovasi Teknologi, pp. 223-230, 2017.
D. Pratiwi, M. C. Saputra and N. H. Wardani, "Penggunaan Metode User Centered Design (UCD) dalam Perancangan Ulang Web Portal Jurusan Psikologi FISIP Universitas Brawijaya," Jurnal Pengembangan Teknologi Informasi Dan Ilmu Komputer, vol. 2, no. 7, p. 2448–2458, 2017.
F. Putrawansyah, "Aplikasi Computer Assisted Test (CAT) Pada Penerimaan Mahasiswa Baru Sekolah Tinggi Teknologi Pagar Alam (S [3]TTP)," JURNAL RESTI, vol. 1, no. 1, pp. 1-8, 2017.
Z. M. Rusdi, "PENGARUH SISTEM REKRUTMEN CPNS BERBASIS COMPUTER ASSISTED TEST (CAT) DAN SISTEM REKRUTMEN CPNS KONVENSIONAL TERHADAP PERILAKU KONTRA PRODUKTIF," Jurnal Sains Manajemen, vol. 3, no. 2, p. 60–68, 2017.
A. Tedyyana, "Implementasi Secure Socket Layer Pada Aplikasi Computer Assisted Test Komisi Pemilihan Umum Bengkalis," Jurnal Teknologi Informasi Dan Komunikasi Digital Zone, vol. 11, no. 1, p. 71–80, 2020.
J. B. B. Sinaga, "OPINI PESERTA SELEKSI CALON APARATUR SIPIL NEGARA (ASN) TERHADAP SISTEM COMPUTER ASSISTED TEST (CAT)," Jurnal Manajemen Sumber Daya Aparatur, vol. 3, no. 1, p. 63–76, 2019.
M. Sulistiyono, "EVALUASI HEURISTIC SISTEM INFORMASI PELAPORAN KERUSAKAN LABORATORIUM UNIVERSITAS AMIKOM YOGYAKARTA," Jurnal Ilmiah DASIurnal Ilmiah DASI, vol. 18, no. 1, p. 37–43, 2017.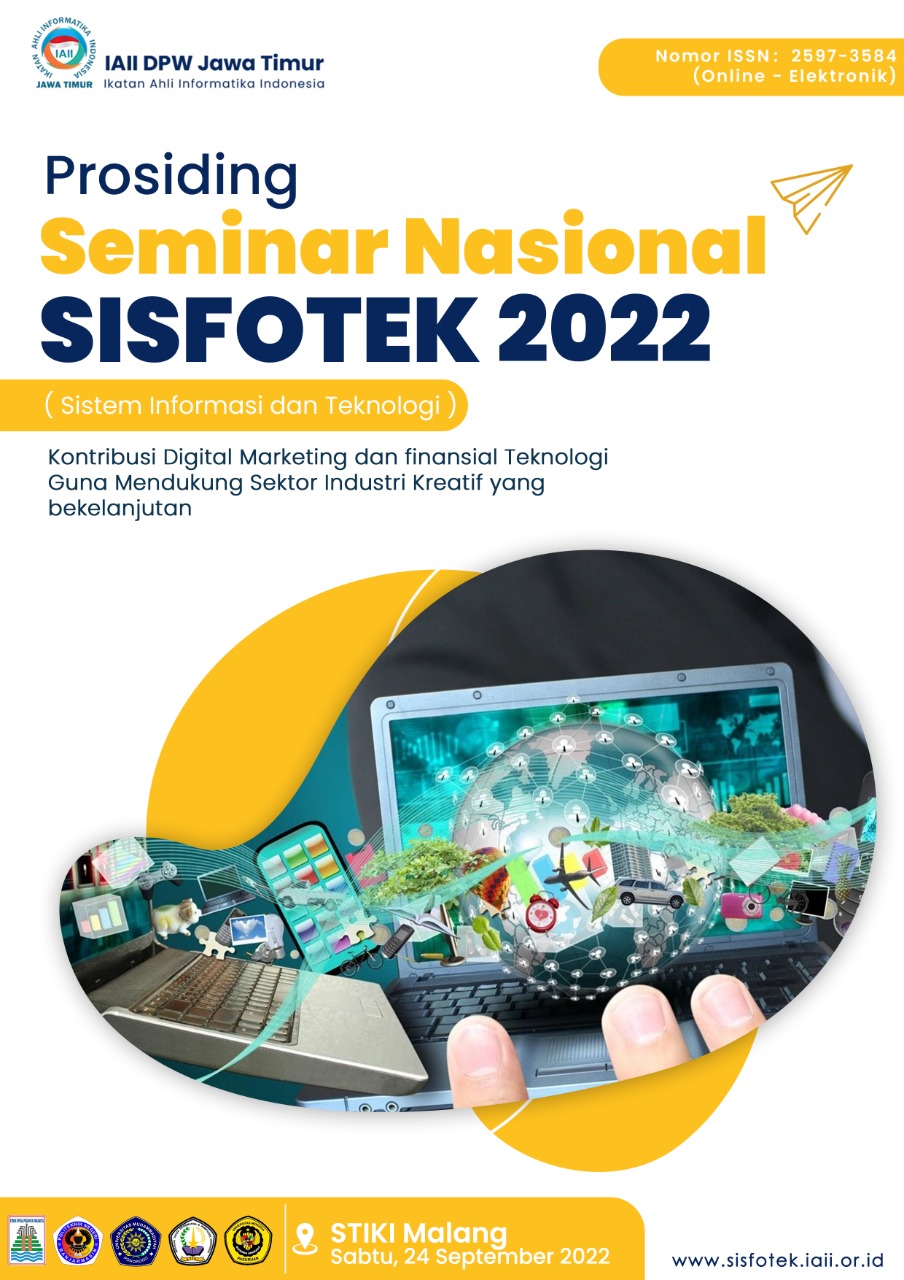 Downloads
How to Cite
Jamilah Karaman, Fauzan Masykur, & Ellisia Kumalasari. (2022). Analisis Aplikasi CAT (ComputerAssisted Test) Perangkat Desa Dengan Metode Webuse. Prosiding SISFOTEK, 6(1), 135-140. Retrieved from https://seminar.iaii.or.id/index.php/SISFOTEK/article/view/342
Section
5. Teknologi & Komputer
License
Copyright (c) 2022 Jamilah Karaman
This work is licensed under a Creative Commons Attribution 4.0 International License.
http://creativecommons.org/licenses/by/4.0