Pemasaran Produk UMKM Pada RSK Pusat Oleh-Oleh Kalimantan Selatan Berbasis Website
Keywords:
MSMEs, RSK Pusat Oleh-Oleh Kalsel, product, marketing, website
Abstract
Small, Medium and Micro Enterprises (MSMEs) are a pillar of the economy in Indonesia. Indonesia's high number of MSMEs cannot be separated from the several threat and current conditions. One of them is the global challenge, which requires every MSMEs to be able to have a healthy competition. One of the supporting factors to increase it is the use of information technology. However, currently, there are still many MSMEs that have not been able to utilize information technology properly. In South Kalimantan, especially in Banjarmasin, there is already a forum to help improve the competitiveness of MSMEs, namely the RSK Pusat Oleh-Oleh Kalsel. RSK Pusat Oleh-Oleh Kalsel is a place for selling and promoting MSMEs products around Banjarmasi. However, data collection at the RSK Pusat Oleh-Oleh Kalsel is still done manually and does not have a product catalogue website yet. The purpose of this research is to build a website catalogue of MSMEs products in Banjarmasin at the RSK Pusat Oleh-Oleh Kalsel so that the market reach is wider by digital marketing. The method used in this research is waterfall method or commonly referred to as the classic life cycle model. The source of the data is obtained from primary and secondary data. The result of this research is the establishment of MSMEs Product Marketing at the RSK Pusat Oleh-Oleh Kalsel Based on a Website, which will be used as a medium for delivering product information that is available effectively and efficiently.
References
Sudaryanto. 2011. Perlunya pendidikan TIK bagi pengelola atau pengusaha agribisnis untuk meningkatkan pendapatan usahatani. Jurnal Internasional Pendidikan dan Pengembangan Menggunakan Teknologi Informasi dan Komunikasi, 7(1), 56-67.
Akbar, Alfian, & sitohang. 2015. Pengaruh Kompensasi, Motivasi, Disiplin Kerja Terhadap Kinerja Karyawan CV, Cemara Production Surabaya. Jurnal Sekolah Tinggi Ilmu Ekonomi Indonesia (STIESIA) Surabaya.
Octavia, A, Zulfanetti, & Erida. 2017. Meningkatkan Daya Saing Daerah Melalui Peningkatan Kinerja Bisnis Usaha Mikro, Kecil dan Menengah di Provinsi Jambi. Jurnal Perspektif pPembiayaan dan Pembangunan Daerah, 4(3): 155-166.
Siregar, AR. 2008. Penggunaan Sistem dan Teknologi Informasi Untuk Usaha Kecil dan Menengah. 1-13.
Criswan Sungkono, & Machmudin Eka P. 2008. Sistem Informasi Manajemen. Jakarta: Salemba Empat.
Barlian, E. 2016. Penelitian Kualitatif & Kuantitatif. Padang: Sukabina Press.
Pressman. 2015. Rekayasa Perangkat Lunak: Pendekatan Praktisi. Yogyakarta: Andi.
Laudon, Kenneth C, Laudon, & Jane P. 2012. Manajemen Information Systems - Managing The Digital Firm. Pearson Prentice Hall
Ragil, W. 2010. Analisis Menggunakan Metode Pieces. Jakarta.
Rozaq, A. 2020. Konsep Perancangan Sistem Informasi Bisnis Digital. Banjarmasin: Poliban Press.
Rozaq, A. (2019). Sistem Basis Data MySQL Pada Konsep Jaringan Klien Server. Banjarmasin: Poliban Press.
.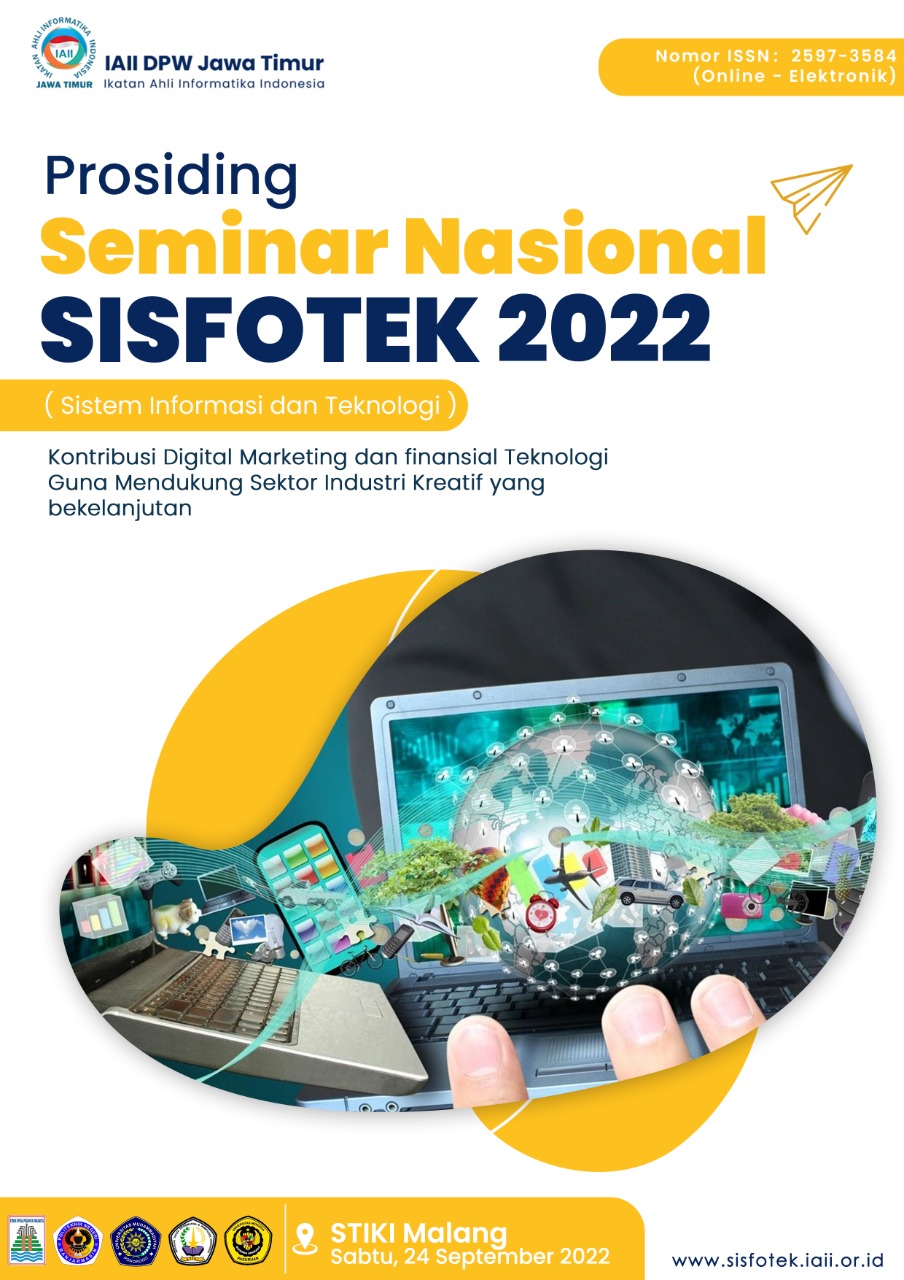 Downloads
How to Cite
Nisrina Adila Rahmi, Suci Devi Triana, Abdul Rozaq, & Agus Irawan. (2022). Pemasaran Produk UMKM Pada RSK Pusat Oleh-Oleh Kalimantan Selatan Berbasis Website. Prosiding SISFOTEK, 6(1), 178-184. Retrieved from https://seminar.iaii.or.id/index.php/SISFOTEK/article/view/364
Section
7. Pengabdian kepada Masyarakat
License
Copyright (c) 2022 Nisrina Adila Rahmi
This work is licensed under a Creative Commons Attribution 4.0 International License.
http://creativecommons.org/licenses/by/4.0