Desain Branding Kemasan Produk UMKM Yang Menarik dan Ekonomis
Keywords:
packaging design, UMKM, branding design, visual communication design
Abstract
Currently, UMKM (Usaha Mikro, Kecil, dan Menengah) are community activities that have been widely applied by Indonesian people in various regions. Many UMKM actors produce products in the form of food, merchandise, fashion, cosmetics, skin care, Make Up Artist (MUA), baby equipment, furniture and do not have sufficient knowledge in designing attractive and economical product packaging branding. An attractive packaging design and in accordance with aesthetics is needed to introduce and attract potential buyers to the products being sold, especially in the design of colors, images and writing used as the brand/logo of the products being sold or an attractive packaging in marketing their products. How to visually design a product packaging is actually not too far from the science of human and computer interaction, because it also uses concepts and theories in visual communication design. The problem that is often encountered in designing a branding is how to create an attractive logo and letters, making the packaging design look more aesthetically pleasing and attractive to buyers. By knowing the steps for making packaging designs on a trademark/brand of an UMKM product, it can produce the stages and provisions on how to design an attractive and economical branding of packaging. It is hoped that the results of this study can help UMKM actors, especially as a guide in making brands and packaging.
References
Ilham M., 2018, 10 Ide Usaha Kecil Menengah Terbaik dan Cara Mudah Mengelolanya, https://www.niagahoster.co.id/blog/ide-usaha-kecil-menengah/
Subadmin, 2020, Manfaat Kemasan Dalam Membranding Produk, https://disdagin.kulonprogokab.go.id/detil/1026/manfaat-kemasan-dalam-membranding-produk
I P. Agus M. U. P., I P. Arya J.,
I G. Agus I. B. A., 2022, Perancangan Branding Untuk Usaha MikroKecil Dan Menengah (UMKM) Giri Alam Coffee Di HNS Studio Bali, pp. 1-13. http://repo.isi-dps.ac.id/4766/
Prasetyo, 2022, Contoh Desain Kemasan Simple untuk Bisnis UMKM, https://dikemas.com/contoh-desain-kemasan-simple-untuk-bisnis-umkm
Dyah A. P., dan Tim KKN Kecamatan Wonoasih, 2021, Branding Produk Label Kemasan Sebagai Upaya Pengembangan Daya Tarik Pemasaran Pada Umkm Rengginang Di Kelurahan Pakistaji Wonoasih Kota Probolinggo, Jurnal Abdi Panca Marga, Vol. 2, No. 1, Mei 2021 e-ISSN 2746-4105, pp. 34-38. https://ejournal.upm.ac.id/index.php/abdipancamarga
Yani Hendrayani1 dan Hermina Manihuruk2, 2020, Redesain Kemasan Dalam Meningkatkan Brand Awarness Produk Unggulan UKM Cilodong Berkarya, Jurnal Bakti Masyarakat Indonesia, Vol. 3, No. 1, Mei 2020, ISSN 2620-7710 (Versi Cetak) ISSN 2621-0398, (Versi Elektronik), pp. 212-220.
Nadia Sigi Prameswari, Muhammad Dziaa'ul Haq, Gunadi, Pratama Bayu Widagdo, 2021, Strategi Pembentukan Citra Produk UKM melalui Perancangan Desain Kemasan Stick Snack "Sabilla Djaya", Jurnal Desain Komunikasi Visual dan Intermedia Volume 03, Nomor 01, Maret 2021, ISSN 2656-9973, E-ISSN 2686-567X, pp. 1 – 9.
https://jurnal.machung.ac.id/index.php/citradirga/article/view/357
Zayyinul H. Z., Satriardi, Dedi D, Denny A. A., St. Nova M., Faradila A. Y., 2017, Pelatihan Desain Kemasan Produk UMKM Di Kecamatan Tambang, Kabupaten Kampar, Jurnal Pengabdian Untuk Mu negeRI Vol.1, No.2, November 2017, ISSN : 2550-0198, pp. 12-15.
https://ejurnal.umri.ac.id/index.php/PengabdianUMRI/article/view/22
Desiana N. I. K., Wisnu I, K,, R. Widyo Wibisono.T, 2022, Analisis Desain Kemasan Produk UMKM Makanan Tradisional Lemper Berbahan Alami Memiliki Daya Tarik
Dan Ketahanan Mutu Produk, JURNAL NAWALA VISUAL, Vol.4 No.1-Mei 2022, ISSN 2684-9798, E-ISSN 2684-9801, pp. 41-49' http://jurnal.idbbali.ac.id/index.php/nawalavisual
Koes P., 2021, Pengembangan Produk UMKM Melalui esain Kemasan dan Brand, https://distingsi.com/pengembangan-prodak-umkm-melalui-desain-kemasan-dan-brand/
Rahina N., 2015, Peran Desain Grafis Pada Label Dan Kemasan Produk Makanan UMKM, Jurnal Seni Imajinasi, Vol. IX No. 2 - Juli 2015, pp. 128-136.
https://journal.unnes.ac.id/nju/index.php/imajinasi/article/view/8846/5795
Rini A., Yoyok S. D., Dodit S., 2021, Pelatihan Desain Logo Dan Kemasan Produk UMKM Di Wilayah Sekarpuro Kecamatan Pakis Kabupaten Malang, Jurnal Aplikasi Dan Inovasi Ipteks SOLIDITAS, Volume 4 Nomor 1, April Tahun 2021, ISSN Cetak : 2620-5076,ISSN Online : 2620-5068,pp. 69-76. DOI : 10.31328/js.v4i1.1732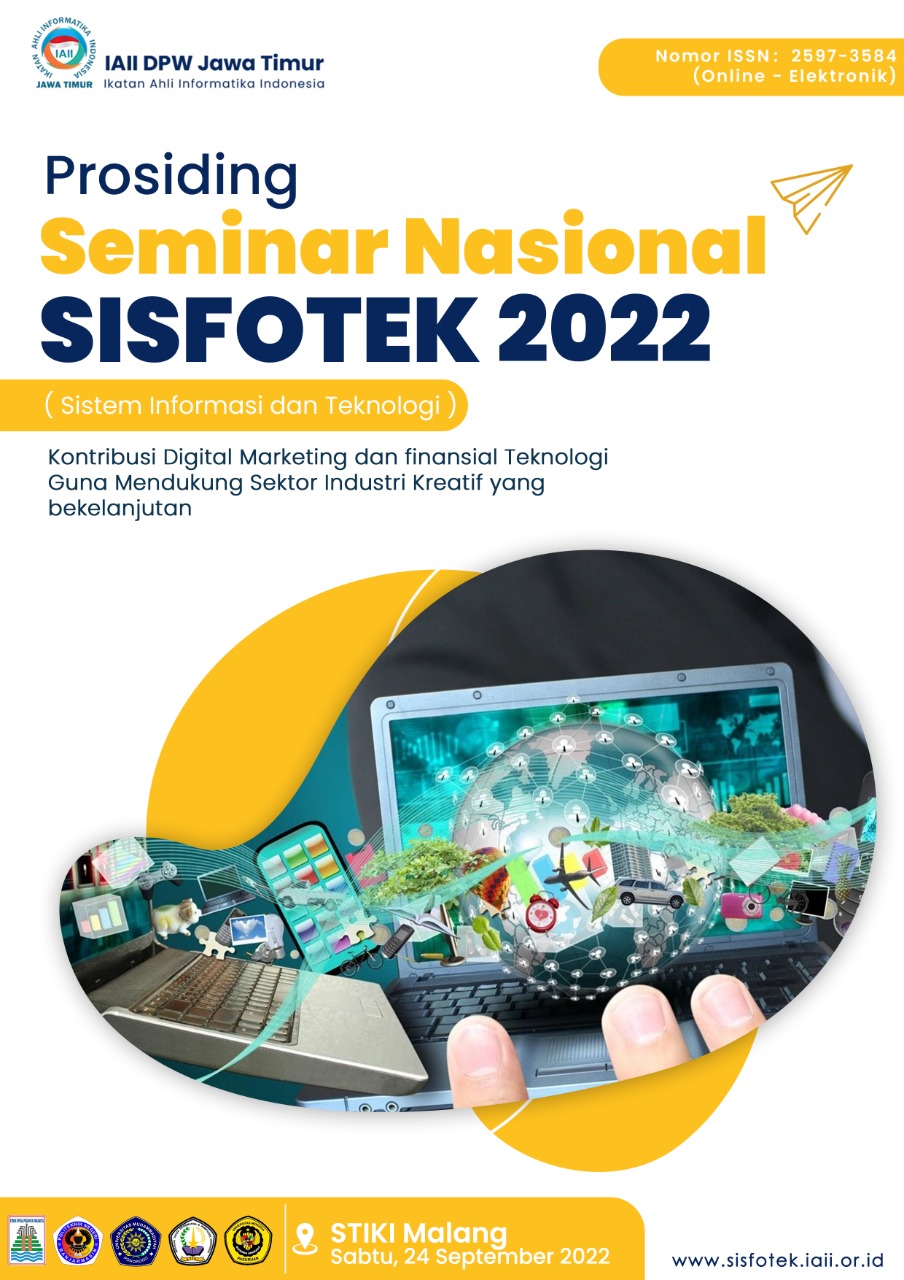 Downloads
How to Cite
Siswanto, Ari Saputro, M. Anif, & Basuki Hari Prasetyo4. (2022). Desain Branding Kemasan Produk UMKM Yang Menarik dan Ekonomis. Prosiding SISFOTEK, 6(1), 194-201. Retrieved from https://seminar.iaii.or.id/index.php/SISFOTEK/article/view/367
Section
7. Pengabdian kepada Masyarakat
License
Copyright (c) 2022 Siswanto
This work is licensed under a Creative Commons Attribution 4.0 International License.
http://creativecommons.org/licenses/by/4.0