Implementasi Algoritma Genetika Untuk Penjadwalan Ujian Pada Universitas Handayani Makassar
Keywords:
scheduling, genetic algorithm, test
Abstract
This research relates to Handayani University Makassar formerly STMIK Handayani Makassar. The university offers various programs in the field of computer science and IT management. One of the main problems faced is that the preparation of the exam schedule is currently still done manually using Microsoft Excel, prone to errors and time consuming. This research aims to develop an automated system for preparing exam schedules using genetic algorithms. Genetic algorithm is a computer method that helps find optimal solutions in exam scheduling. The results of this study are expected to help improve the efficiency and accuracy of the preparation of the exam schedule at Handayani University Makassar.
References
V. Asih, A. Saputra, and R. T. Subagio, "Penerapan Algoritma Fisher Yates Shuffle Untuk Aplikasi Ujian Berbasis Android," J. Digit, vol. 10, no. 1, p. 59, 2020, doi: 10.51920/jd.v10i1.156.
B. Sembiring and H. K. Siburian, "Ahp penerapan alogaritma pada proses menurunkan berat baan menggunakan aplikasi deit sehat berbasis mobile," J. Inf. dan Teknol. Ilm., vol. 8, no. 2, pp. 53–56, 2021, [Online]. Available: file:///C:/Users/Pranumerando/Documents/SKRIPSI/jurnal/pengertian algo genetika.pdf
M. Institut and B. Iib, "Teknika 16 (01): 133 – 140," vol. 16, no. 01, pp. 133–140.
M. Khadafi et al., "STAF PADA SWALAYAN DENGAN MENGGUNAKAN," no. 2011, pp. 59–66, 2021.
A. Pratomo and R. Mantala, "Pengembangan Aplikasi Ujian Berbasis Komputer Beserta Analisis Uji Guna Sistem Perangkat Lunaknya Menggunakan Metode Sumi (Software Usability Measurement Inventory)," J. Positif, vol. 2, no. 1, pp. 1–11, 2016.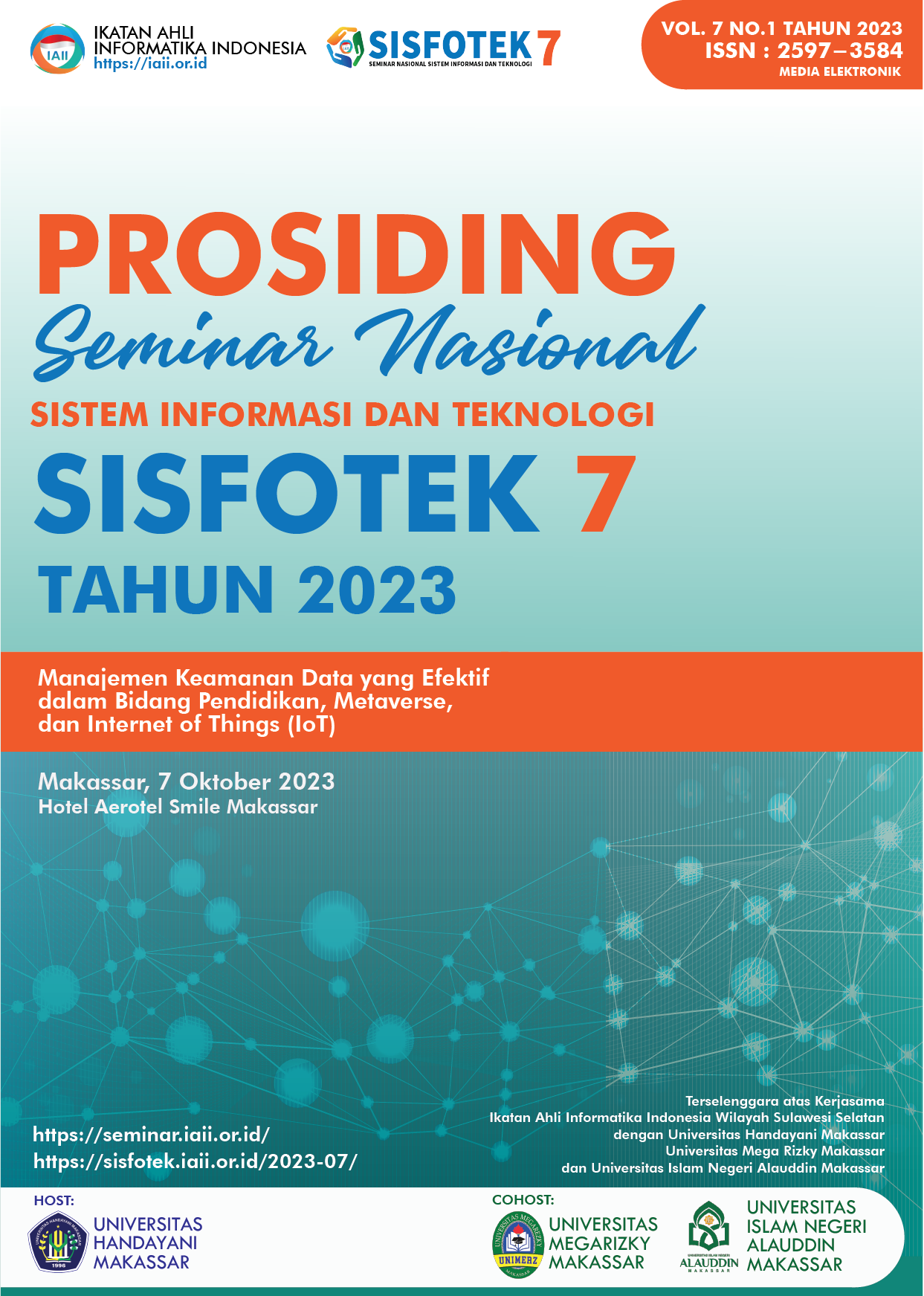 Downloads
How to Cite
Syahrul Saleh, Najirah Umar, & M Adnan Nur. (2023). Implementasi Algoritma Genetika Untuk Penjadwalan Ujian Pada Universitas Handayani Makassar. Prosiding SISFOTEK, 7(1), 154 - 156. Retrieved from https://seminar.iaii.or.id/index.php/SISFOTEK/article/view/402
Section
3. Data dan Diseminasi Informasi
License
Copyright (c) 2023 Seminar Nasional Sistem Informasi dan Teknologi (SISFOTEK)
This work is licensed under a Creative Commons Attribution 4.0 International License.
http://creativecommons.org/licenses/by/4.0