Perancangan Aplikasi Media Pembelajaran Seni Tari bagi Siswa Tunarungu berbasis Android
Keywords:
Learning Media, deaf, dance, Metronome, android
Abstract
In its implementation, teaching dance for deaf students at SLB-B YPPLB Makassar, still has obstacles, namely a complicated control process and teaching dance consistency which still uses conventional methods, namely hand clapping. So, in this research, the author makes an application as a forum for learning dance that will be used by students where there is dance introduction material, learning dance consistency exercises through visual media, and receiving feedback from the teacher. Based on questionnaires that have been filled out by students, it can be concluded that the application made is in accordance with the dance learning method and makes it easier for them in the process of learning dance tempo.
References
Iftitah, "jnwe," KataData, 2022.
I. Sabri, "Peran Pendidikan Seni Di Era Society 5 . 0 untuk Revolusi Industri 4.0," Semin. Nas. Pascasarj. 2019, vol. 2, no. 1, pp. 342–347, 2019, [Online]. Available: https://proceeding.unnes.ac.id/index.php/snpasca/article/view/302
) Kasiyan et al., "Pelatihan Penulisan Karya Ilmiah Untuk Peningkatan Profesionalisme Guru Writing Training of Scientific Works for Improving Professionalism for Teachers," J. Pengabdi. Dan Pemberdaya. Masy., vol. 3, no. 1, pp. 47–54, 2019.
L. Mareza, "Cultural Art And Craft Education As A General Intervention Strategy For Special Needs Children," Scholaria, vol. 7, no. 1, pp. 35–38, 2017.
O. Dermawan, "Strategi Pembelajaran Bagi Anak Berkebutuhan Khusus Di Slb," Psympathic J. Ilm. Psikol., vol. 6, no. 2, pp. 886–897, 2018, doi: 10.15575/psy.v6i2.2206.
F. Nofiaturrahmah, "Profesionalitas Guru Pai Dalam Pengelolaan Pembelajaran Di Sma Negeri 6 Yogyakarta," Quality, vol. 5, no. 1, p. 57, 2018, doi: 10.21043/quality.v5i1.3166.
N. M. D. Widiastuti, "Inovasi Aplikasi Media Pembelajaran Tari Bali Berbasis Android," Mudra J. Seni Budaya, vol. 33, no. 2, p. 287, 2018, doi: 10.31091/mudra.v33i2.336.
Admin, "MENGENAL FUNGSI METRONOME SERTA PERAN PENTINGNYA DALAM MUSIK," superlive, 2022. https://www.superlive.id/news/mengenal-fungsi-metronome-serta-peran-pentingnya-dalam-musik
StatCounter, "No Title," gs.statcounter.com, 2022. https://gs.statcounter.com/os-market-share/mobile/indonesia
K. McCusker and S. Gunaydin, "Research using qualitative, quantitative or mixed methods and choice based on the research.," Perfusion, vol. 30, no. 7, pp. 537–542, Oct. 2015, doi: 10.1177/0267659114559116.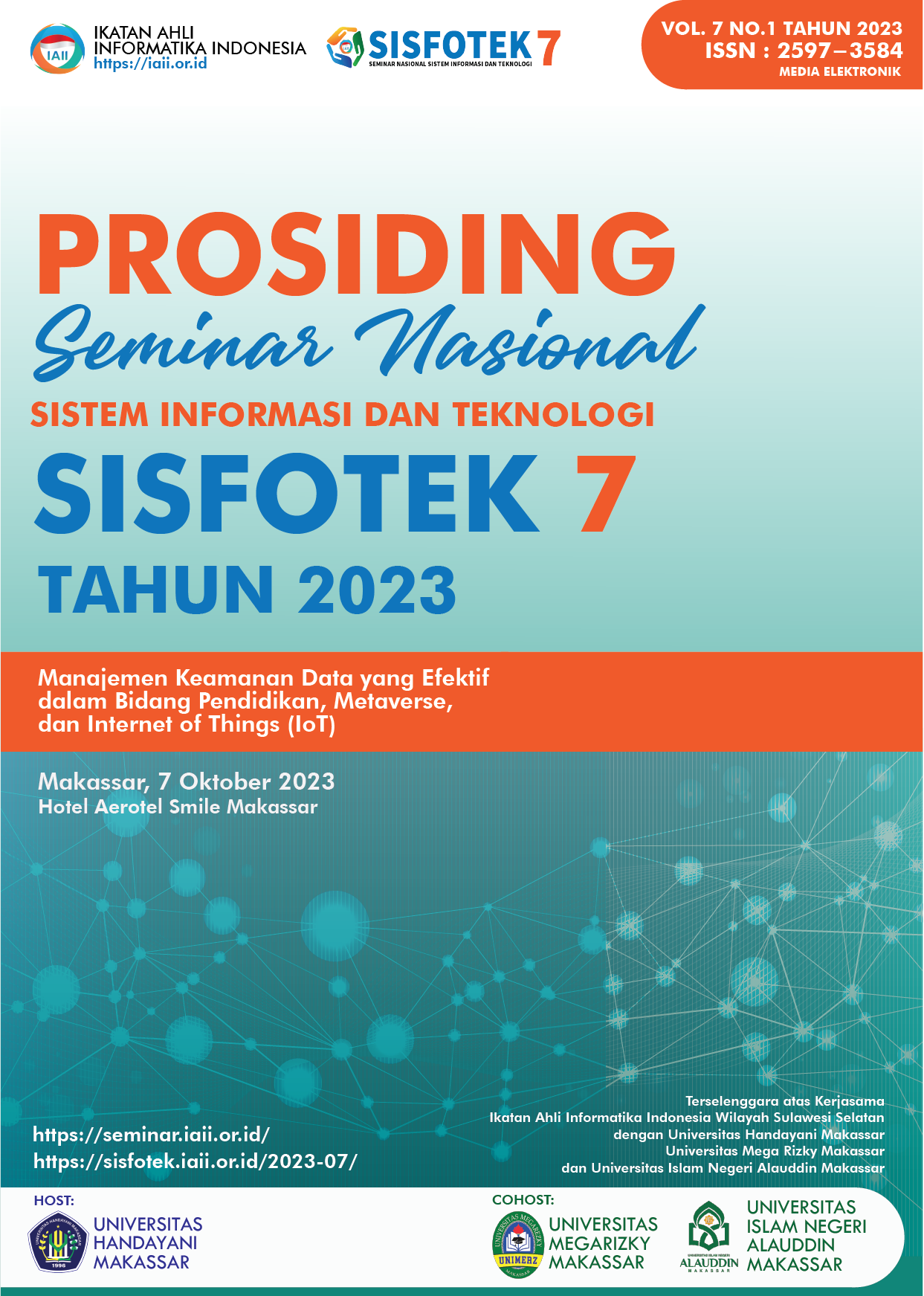 Downloads
How to Cite
Sri Wahyuni, M. Fadhil Muhaimin, & A. Muhammad Syafar. (2023). Perancangan Aplikasi Media Pembelajaran Seni Tari bagi Siswa Tunarungu berbasis Android. Prosiding SISFOTEK, 7(1), 58 - 65. Retrieved from https://seminar.iaii.or.id/index.php/SISFOTEK/article/view/416
Section
5. Teknologi & Komputer
License
Copyright (c) 2023 Seminar Nasional Sistem Informasi dan Teknologi (SISFOTEK)
This work is licensed under a Creative Commons Attribution 4.0 International License.
http://creativecommons.org/licenses/by/4.0