Implementasi UU Pemilu dalam Mempertahankan Keterwakilan Perempuan Paling Sedikit 30% pada Pencalonan DPR dan DPRD
Keywords:
general election, women's representation, legislative, politics, affirmative action
Abstract
Since the 2014 General Election, Indonesia has enacted rules on female representation with a minimum quota of 30 percent for legislative candidates and 30 percent women in the leadership of political parties as a form of affirmative action. These rules are claimed to have successfully encouraged an increase in the number of women's representation at the national level, although women's political participation in legislative bodies at the provincial and district levels generally remains low. Therefore, it is important to continue supporting the women's representation movement. We must ensure that women's rights are recognized and respected, that access to education, health, and economic opportunities increases, and that women have an equal role in decision-making at all levels. We must also continue to support and strengthen women's institutions and non-governmental organizations that advocate for gender equality, especially in achieving 30 percent female representation in parliamentary institutions. This research is descriptive in nature, focusing on uncovering a problem or situation as it is and providing an objective overview of the researched object. The research uses a normative doctrinal approach. Secondary data sources are used in this research, and data collection techniques include literature review or library research, which involves searching for and gathering relevant data and classifying it based on the juridical perspective found in literature and academic sources.
References
A. Hevriansyah, "Hak Politik Keterwakilan Perempuan dalam Sistem Proporsional Representatif pada Pemilu Legislatif," Awasia J. Pemilu dan Demokr., vol. 1, no. 1, p. h 67-85, 2021.
R. Priandi and K. Roisah, "Upaya Meningkatkan Partisipasi Politik Perempuan Dalam Pemilihan Umum Di Indonesia," J. Pembang. Huk. Indones., vol. 1, no. 1, p. 106, 2019, doi: 10.14710/jphi.v1i1.106-116.
D. Ramadhany and D. E. Rahmawati, "Modal Caleg Perempuan dan Politik Patriarkhi dalam Pemilihan Umum di Indonesia: Keterwakilan Perempuan pada Pemilu 2019 di Kabupaten Sleman," JISPO J. Ilmu Sos. dan Ilmu Polit., vol. 10, no. 1, pp. 39–62, 2020, doi: 10.15575/jispo.v10i1.7237.
I. Rodiyah, "Keterwakilan Perempuan dalam Dewan Perwakilan Rakyat Daerah," JKMP (Jurnal Kebijak. dan Manaj. Publik), vol. 1, no. 1, pp. 55–70, 2013, doi: 10.21070/jkmp.v1i1.427.
S. Nimrah dan Sakaria, K. Kunci, and dan Budaya Patriarki, "Perempuan Dan Budaya Patriarki Dalam Politik (Studi Kasus Kegagalan Caleg Perempuan Dalam Pemilu Legislative 2014 )," Polit. J. Magister Ilmu Polit. Univ. Hasanuddin, vol. 1, no. 2, pp. 2407–9138, 2015.
B. A. B. Ii, "bab II: perempuan dan politik," Al-Maiyyah, vol. 13, pp. 26–55, 2020.
A. M. Purba, "Tinjauan Yuridis Terhadap Prosedur Pemilu yang Bermutu dan Berintegritas," Publik Reform, vol. 8, no. 2, pp. 36–44, 2021, doi: 10.46576/jpr.v8i2.1660.
C. Fata, "Efektivitas Peraturan Pelaksanaan Bimbingan Perkawinan Calon Pengantin Perspektif Teori Sistem Hukum Lawrence M. Friedman," Ethesis UIN Maulana Malik Ibrahim Malang, 2022.
K. Fahmi, "Sistem Penanganan Tindak Pidana Pemilu," J. Konstitusi, vol. 12, no. 2, p. 264, 2016, doi: 10.31078/jk1224.
Henry Wijaya, "Menakar Derajat Kepsatian Hukum Dalam Pemilu Pada Undang-Undang Nomor 7 Tahun 2017," J. Ilm. Din. Sos., vol. 4, no. 1, pp. 82–104, 2020.
N. Luhman, "Teori Efektifitas," La Soc. la Soc., pp. 5–65, 2006.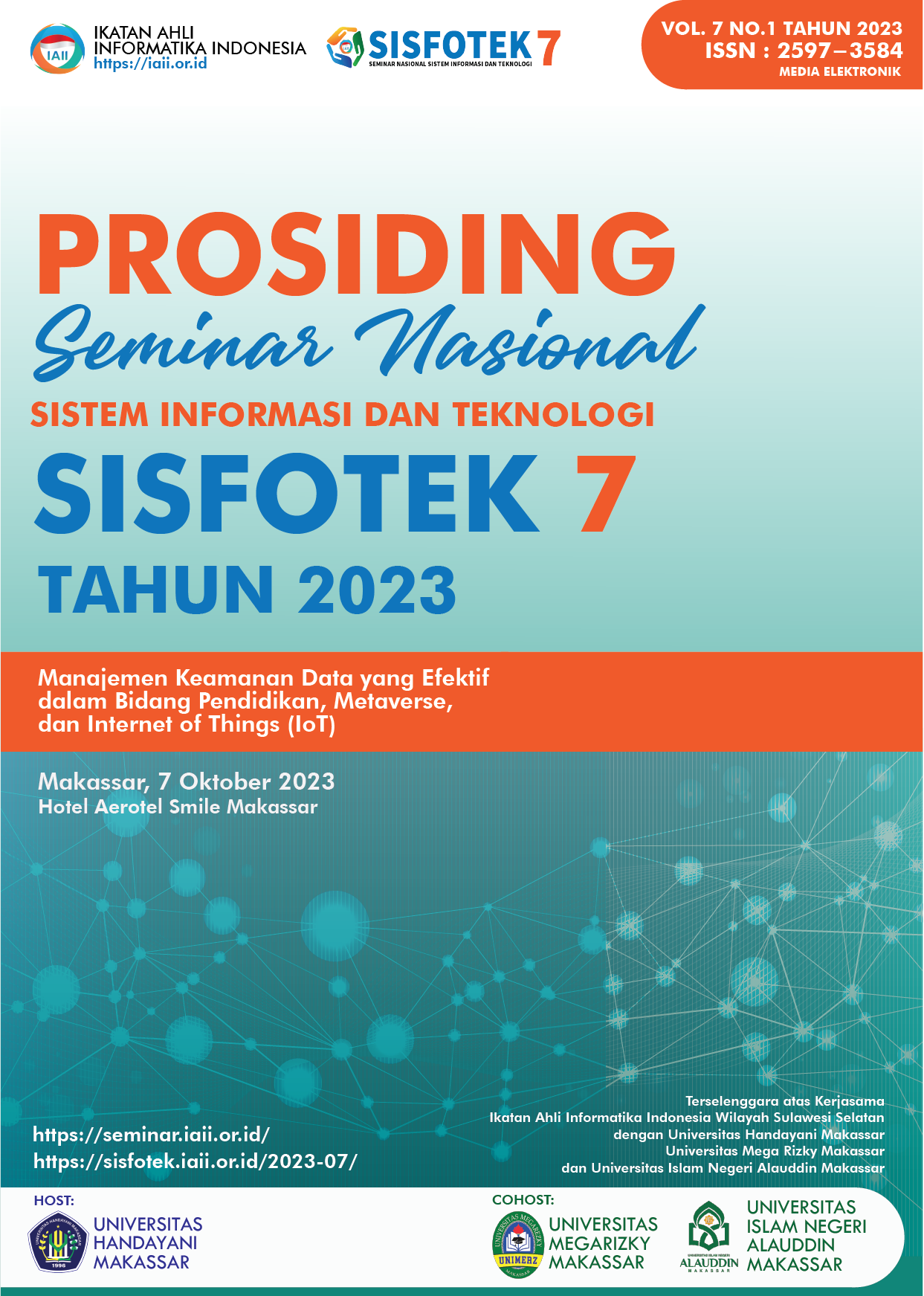 Downloads
How to Cite
Sufriaman, S., & Kursini Murham. (2023). Implementasi UU Pemilu dalam Mempertahankan Keterwakilan Perempuan Paling Sedikit 30% pada Pencalonan DPR dan DPRD. Prosiding SISFOTEK, 7(1), 352 - 357. Retrieved from https://seminar.iaii.or.id/index.php/SISFOTEK/article/view/427
Section
7. Pengabdian kepada Masyarakat
License
Copyright (c) 2023 Seminar Nasional Sistem Informasi dan Teknologi (SISFOTEK)
This work is licensed under a Creative Commons Attribution 4.0 International License.
http://creativecommons.org/licenses/by/4.0