Sistem Pakar Identifikasi Kerusakan Kulit Wajah untuk Proses Aesthetic and Anti Aging
Keywords:
Expert System, Face Skin, Aesthetic & Anti Aging
Abstract
Face skin is the most sensitive area compared with other parts of the skin. Face skin undergoes various change caused by external environmental influences such as the influence of sunlight, climate, pollution, the use of air conditioners, as well as the use of products or cosmetic that is not appropriate and changes from inside the body such as hormonal changes at puberty, menstruation, pregnancy and the use of birth control pills. The influence of external environment and hormonal changes result in face skin which directly experiences significant changes both in the form of acne and spots and wrinkles so that the skin becomes inflamed. Inflammation is a local reaction on the part of the skin that has an infection. Handling of inflamed skin can be done with several methods such as the use of cream that appropriate to the type of skin or facial treatment that is in accordance with the analysis of skin needs. The objective of this research is to build an expert system of using a suitable cream on damaged face skin. The apllication to developed is expected to help patients and therapists in determining the type of cream that will be used for each skin type and skin damage.
References
[1] Kendall&Kendall, 2010, " Analisa dan Perancangan Sistem", Edisi ke-5, PT Indeks
[2] Kusrini, 2006, " Sistem pakar Teori dan Aplikasi", Yogyakarta, Andi Offset .Yogyakarta
[3] Kusrini, 2008, "Apliasi Sistem Pakar", Yogyakarta, Andi Offset
[4] Kusumadewi, S. 2003, "Artifical Intelegence ( Teknik dan aplikasi), Yogyakarta, Graha Ilmu.
[5] Rahmawati, Dewi (2012), Hubungan Perawatan Kulit Wajah Dengan Timbulnya akne Vulgaris, Universitas Dipenogoro, Semarang.
[6] Turban, Efraim dkk (2005). Decision support system and intelegent system.Yogyakarta: Andi
[7] Yumas, Medan (2016), Formulasi Sediaan Krim Wajah Berbahan Aktif Ekstra Metanol Biji Kakao Non Fermentasi, Balai Desa Industri Hasil Perkebunan.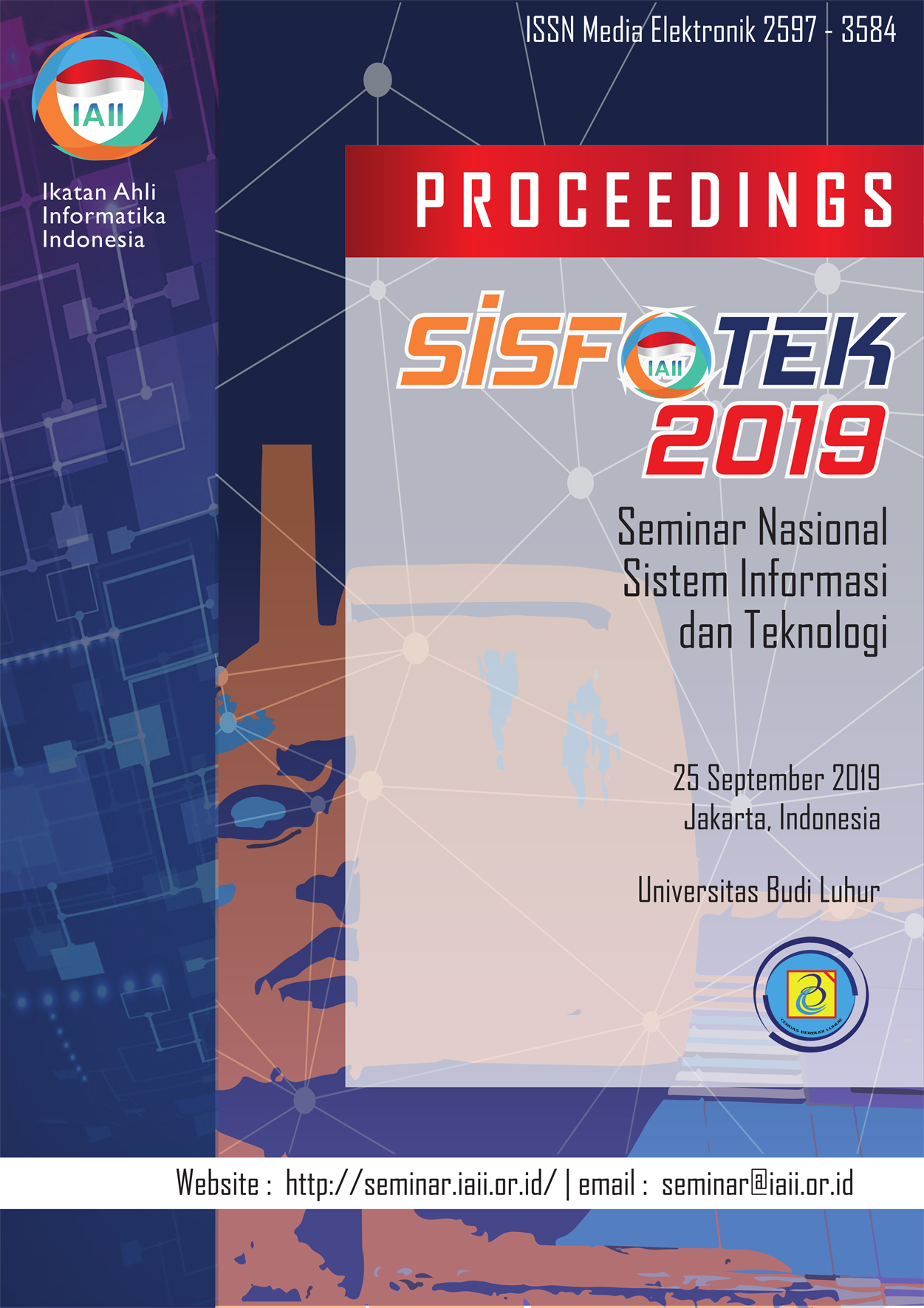 Downloads
How to Cite
Sugiarto, A., Wardah, N. N., & Wibowo, A. H. (2019). Sistem Pakar Identifikasi Kerusakan Kulit Wajah untuk Proses Aesthetic and Anti Aging. Prosiding SISFOTEK, 3(1), 37 - 43. Retrieved from http://seminar.iaii.or.id/index.php/SISFOTEK/article/view/101
Section
2. Rekayasa Sistem Informasi
License
http://creativecommons.org/licenses/by/4.0