Penerapan Algoritma Topsis untuk Perekrutan Karyawan Divisi HRD pada CV. Semito Mandiri
Keywords:
Decision Support System, Prospective Employee Selection, TOPSIS Algorithm, HRD, Naïve Bayes Classification
Abstract
The company implements strict employee recruitment selection for job applicants to suit the company's needs to get quality human resources. The process of selecting prospective employees is done by checking and selection manually by looking at the files sent by applicants. This is of course not only very troublesome but also inefficient and takes a long time, not to mention the possibility of human errors and subjective judgments so that the chosen candidates are not the best candidates. Utilizing a Decision Support System that uses the Technique for Order Preference by Similarity to Ideal Solution (TOPSIS) Algorithm can help the selection selection problem in the Human Resource Development (HRD) division. So the results of this study are the ranking process with TOPSIS get the average distance between manual results with TOPSIS of 3.5 with a standard deviation of 2.813 and the classification process with Naïve Bayes produces an accuracy of 77.78% and an error of 22.22%, with the error value the results of the classification still have shortcomings in predicting the eligibility of prospective employees.
References
[1] Muhammad Y.R., 2014. Sistem Pendukung Keputusan Penentuan Produksi Makanan Menggunakan Logika Fuzzy Dengan Metode Tsukamoto(Studi Kasus: PT. Indofood CBP Sukses Makmur Medan), Majalah Ilmiah INTI, Vol III, Nomor 1, Mei 2014, pp. 18-24, ISSN: 2339-210X.
[2] Sudirman Y., Mei 2015 .Algoritma TOPSIS (Technique for Order of Preference by Similarity to Ideal Solution, Tersedia di: https://www.academia.edu/34742794/Algoritma_TOPSIS_Technique_for_Order_of_Preference_by_Similarity_to_Ideal_Solution. [Accessed 18 Agustus 2019].
[3] Mujito, Basuki H.P., Nasrul S, 2019. Implementasi Algoritme Profile Matching Untuk Perekrutan Karyawan. JURNAL RESTI (Rekayasa Sistem dan Teknologi Informasi) Vol. 3 No. 2 (2019): Agustus 2019, pp. 190–195 ISSN : 2580-0760 (media online). Tersedia di: https://doi.org/10.29207/resti.v3i2.918. [Accessed 18 Agustus 2019].
[4] Yesica S., 2018. Seleksi Penerimaan Karyawan Baru Menggunakan Metode Topsis. Jurnal Mantik Penusa Vol. 2, No. 1 Juni 2018, pp.65-70, ISSN: 2088-3943
[5] Sriani, Raissa A.P., 2018. Analisa Sistem Pendukung Keputusan Menggunakan Metode Topsis Untuk Sistem Penerimaan Pegawai Pada Sma Al Washliyah Tanjung Morawa. Jurnal Ilmu Komputer dan Informatika, Volume: 02, Number : 01, April 2018, pp.40-46, ISSN 2598-634.
[6] Nyoman M.A., Lie J., 2016. Sistem Pendukung Keputusan Perekrutan Pegawai Menggunakan Perangkingan Madm Topsis Dan Klasifikasi Naive Bayes, Seminar Nasional Teknologi Informasi dan Komunikasi 2016 (SENTIKA 2016), pp.181-187, ISSN: 2089-9815.
[7] Elyza G.W., Ananto T.A., 2017. Sistem Pendukung Keputusan Penerimaan Pegawai dengan Metode TOPSIS, Jurnal Sains, Teknologi dan Industri, Vol. 14, No. 2, Juni 2017, pp.108 - 116, ISSN 1693-2390.
[8] Amat S., Mega O. S., 2016. Aplikasi Penerimaan Karyawan Baru Dengan Metode Topsis Pada Pt. Globalnine Indonesia, Jurnal Teknologi Terpadu Vol. 2, No. 1, Juli, 2016, pp.1-9, ISSN 2477-0043.
[9] Hylenarti H., 2019. Seleksi Penerimaan Karyawan Baru Menggunakan Metode TOPSIS, Jurnal Ilmu Pengetahuan Dan Teknologi Komputer, VOL. 4. NO. 2 FEBRUARI 2019, pp.143-148, ISSN: 2527-4864.
[10] Lis S., Pemodelan Sistem Penunjang Keputusan Rekrutmen Karyawan Dengan Metode Topsis (Technique For Order Preference By Similarity To Ideal Solution) Studi Kasus: PT. Bahtera Pesat Lintasbuana, Prosiding SINTAK 2017, pp. 79-86, ISBN: 978-602-8557-20-7.
[11] Nurjaya, Hendro W., 2017. Sistem Seleksi Penerimaan Karyawan Baru Menggunakan Metode Topsis, Seminar Nasional Teknologi Informasi, Bisnis, dan Desain 2017, pp.65-70, ISBN: 978-602-74635-1-6
[12] Satriawaty M., 2015. Sistem Pendukung Keputusan Penentuan Karyawan Kontrak Menjadi Karyawan Tetap Menggunakan Metode TOPSIS, Jurnal Ilmiah Teknologi Informasi Terapan Volume I, No 2, 30 April 2015, pp.36-42, ISSN : 2407 – 3911
[13] Florida S., 2017. Sistem Pendukung Keputusan Rekrutmen Karyawan Baru Menggunakan Metode Topsis (Studi Kasus: Pt. Pegadaian (Persero) Kanwil I Medan), Pelita Informatika Budi Darma, Volume : XVI, Nomor: 1, Januari 2017, pp.34-37, ISSN : 2301-9425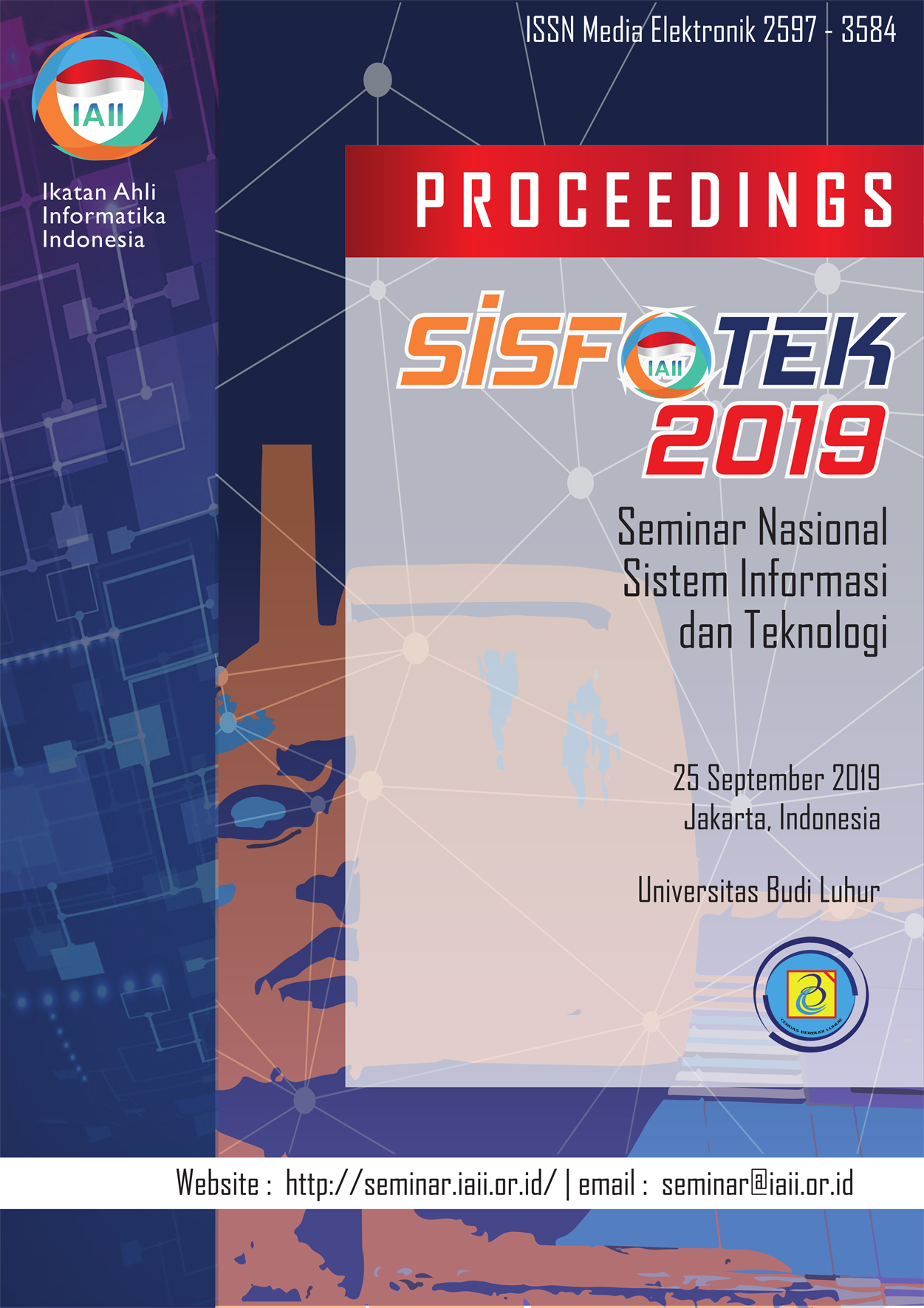 Downloads
How to Cite
Andriyansyah, A., Siswanto, S., & Mujito, M. (2019). Penerapan Algoritma Topsis untuk Perekrutan Karyawan Divisi HRD pada CV. Semito Mandiri. Prosiding SISFOTEK, 3(1), 44 - 52. Retrieved from http://seminar.iaii.or.id/index.php/SISFOTEK/article/view/102
Section
2. Rekayasa Sistem Informasi
License
http://creativecommons.org/licenses/by/4.0