Efektifitas Penerapan Customer Relationship Management (CRM) pada Toko Nil Maizar Sport Apparel
Mutiana Pratiwi

Universitas Putra Indonesia YPTK Padang

Ulya Ilhami Arsyah

Universitas Putra Indonesia YPTK Padang

Rima Liana Gema

Universitas Putra Indonesia YPTK Padang

Anita Ade Rahma

Universitas Putra Indonesia YPTK Padang

Febri Aldi

Universitas Putra Indonesia YPTK Padang
Abstract
With the increasingly fierce business competition in the business world, speed and accuracy in acting is the main thing. As a result there is competition between businesses that show a significant impact on businesses so that each of these businesses must be able to create their own market by creating a brand for the business they have. Besides good management in a company is also very necessary to facilitate the company's performance. One of the most supportive systems is the promotion system. Promotion is an activity carried out by companies in introducing their products to the market. This study conducted a survey at the Nilmaizar Sport Apparel Store which is a business selling place for sports equipment in the city of Padang, West Sumatra. The purpose of this study is to analyze and determine the level of effectiveness of the application of sales information systems at the Nilmaizar Sport Apparel Shop with Customer Relationship Management (CRM). The results of this study are the creation of an online promotion application, which has benefits as a form of actualizing the character of businesses and supporting marketing and increasing competitiveness.
References
[1] T. H. Nguyen, J. S. Sherif, and M. Newby, "Strategies for successful CRM implementation."
[2] B. Hardjono and L. P. San, "Customer Relationship Management Implementation and its Implication to Customer Loyalty in Hospitality Industry Implementasi Manajemen Hubungan Pelanggan dan Implikasinya terhadap Loyalitas Pelanggan pada Industri Rumah Sakit," J. Din. Manaj., vol. 8, no. 1, pp. 92–107, 2017.
[3] R. Akhmedov, "Implementation of CRM Strategies to Increase Customer Loyalty, Case of Kazakhstan Companies," Nile J. Bus. Econ., vol. 3, no. 6, p. 33, 2017.
[4] J. Wongsansukcharoen, J. Trimetsoontorn, and W. Fongsuwan, "Social CRM, RMO and business strategies affecting banking performance effectiveness in B2B context," J. Bus. Ind. Mark., vol. 30, no. 6, pp. 742–760, Jul. 2015.
[5] S.-I. Wu and C.-L. Lu, "The relationship between CRM, RM, and business performance: A study of the hotel industry in Taiwan," Int. J. Hosp. Manag., vol. 31, no. 1, pp. 276–285, Mar. 2012.
[6] A. A. Mohammed and B. Bin Rashid, "Customer Relationship Management (CRM) in Hotel Industry: A framework Proposal on the Relationship among CRM Dimensions, Marketing Capabilities and Hotel Performance," Int. Rev. Manag. Mark., vol. 2, no. 4, pp. 220–230, 2012.
[7] J. Puspa and D. Sugiana, "Strategi Customer Relationship Management ( CRM ) PT Angkasa Pura II PT Angkasa Pura II ( Persero ) Customer Relationship Management ( CRM ) Strategy," J. Kaji. Komun., vol. 6, no. 1, pp. 10–23, 2018.
[8] M. Sigala, "Implementing social customer relationship management: A process framework and implications in tourism and hospitality," Int. J. Contemp. Hosp. Manag., vol. 30, no. 7, pp. 2698–2726, 2018.
[9] E. Y. Bony Yosua Setyaleksana, Suharyono, "PENGARUH CUSTOMER RELATIONSHIP MANAGEMENT ( CRM ) TERHADAP KEPUASAN DAN LOYALITAS PELANGGAN ( Survei pada Pelanggan GraPARI Telkomsel di Kota Malang )," J. Adm. Bisnis (JAB)|, vol. 46, no. 1, pp. 45–51, 2017.
[10] V. Ahuja and Y. Medury, "Papers CRM in a Web 2.0 world: Using corporate blogs for campaign management," J. Direct, Data Digit. Mark. ng Pract. ce J. Direct, Data Digit. Mark. Pract., vol. 13, no. 1, pp. 11–24, 2011.
[11] M. Afrina and A. Ibrahim, "Rancang Bangun Electronic Costumer Relationship Management (E-Crm) Sebagai Sistem Informasi Dalam Peningkatan Layanan Perpustakaan Digital Fakultas Ilmu Komputer Unsri," J. Sist. Inf., vol. 5, no. 2, pp. 629–644, 2013.
[12] F. Andreani, "Customer Relationship Management (Crm) Dan Aplikasinya Dalam Industri Manufaktur Dan Jasa," J. Manaj. Pemasar., vol. 2, no. 2, pp. 59–65, 2007.
[13] N. Deif, A. Aly, and S. Farahat, "The Effect of Applying Customer Relationship Management in the Higher Educational Sector," J. 2019, vol. 6, p. 5436, 2019.
[14] D. Mistikaweni et al., "PENERAPAN ELECTRONIC CUSTOMER RELATIONSHIP ( E-CRM ) DALAM UPAYA MENINGKATKAN LOYALITAS PELANGGAN DAN," J u r n a l I D E A L I S, vol. 2, no. 2, pp. 72–77, 2019.
[15] H. Kartika, "Efektivitas Loyalty Program dalam Customer Relationship Management terhadap Kepuasan dan Loyalitas Pelanggan," J. ILMU Komun., vol. 6, no. 2, pp. 177–206, 2009.
[16] D. H. Utami, "EFEKTIVITAS PENGGUNAAN CUSTOMER RELATIONSHIP MAN- AGEMENT DALAM MENINGKATKAN CUSTOMER LOYALTY," J. Arthavidya, vol. 18, no. 2, 2016.
[17] R. K. Cecep Lupi Hepyan, Erwin Gunadhi, "REKAYASA PERANGKAT LUNAK APLIKASI PENJUALAN OBAT PADA APOTEK MULYA ABADI," J. Algoritm. Sekol. Tinggi Teknol. Garut Adapun, vol. 9, no. 1, pp. 1–11, 2012.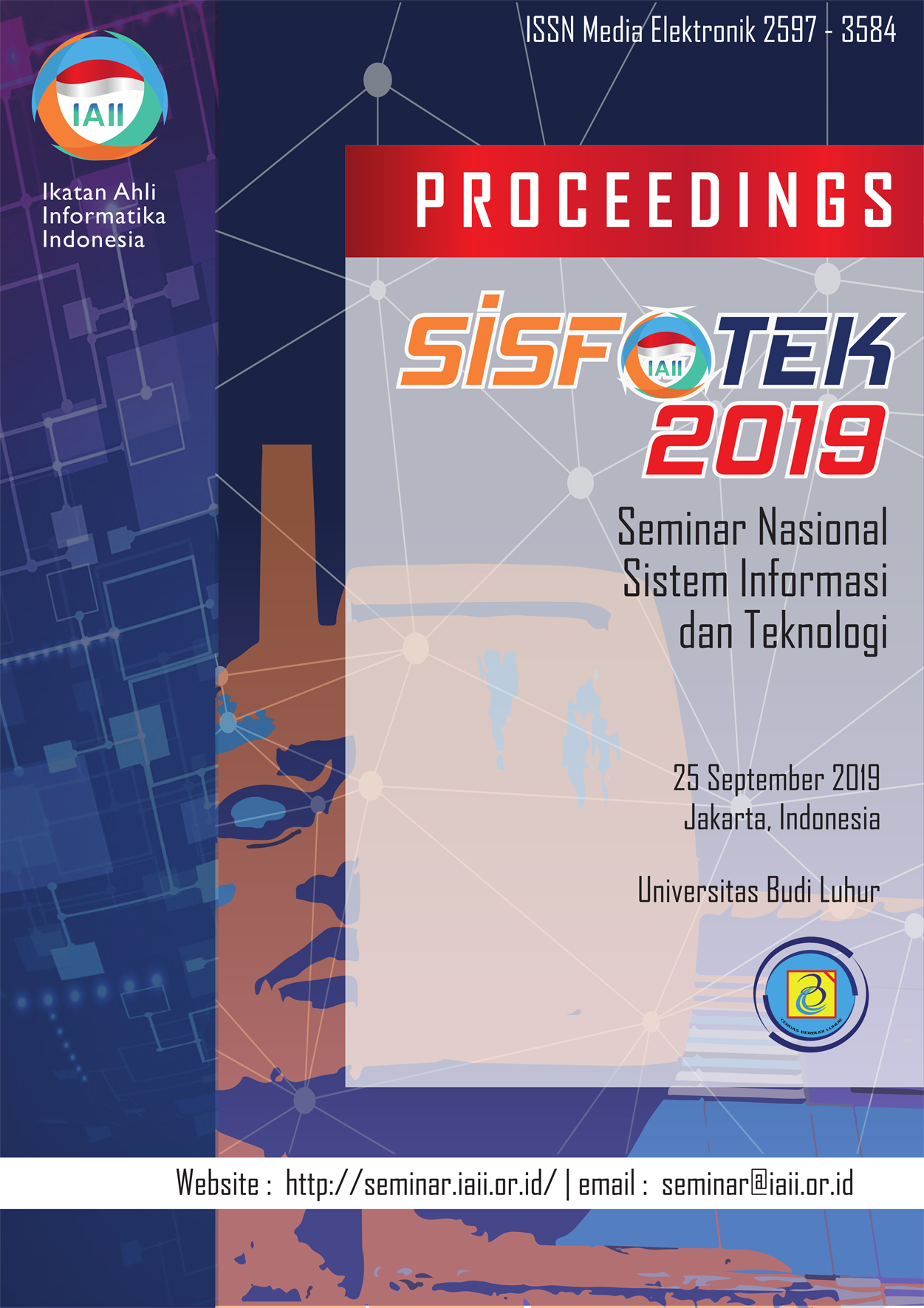 How to Cite
PRATIWI, Mutiana et al. Efektifitas Penerapan Customer Relationship Management (CRM) pada Toko Nil Maizar Sport Apparel.
Prosiding SISFOTEK
, [S.l.], v. 3, n. 1, p. 32 - 36, sep. 2019. ISSN 2597-3584. Available at: <
http://seminar.iaii.or.id/index.php/SISFOTEK/article/view/103
>. Date accessed: 20 oct. 2019.
Section
1. Sistem Informasi Manajemen