Implementasi Algoritma Profile Matching untuk Pencarian Karyawan Terbaik
Keywords:
Profile Matching Algorithm, Performance Aspect, Personality Aspect, Best Employees
Abstract
The company gives rewards or rewards to employees who get the title as the best employees in the form of money with a certain nominal. To support the performance or enthusiasm of the employees in the marketing department. It is expected that the reward can stimulate the enthusiasm of employees at work. However, when evaluating employees there are obstacles, including subjective judgments and calculation errors often occur in determining who the employee gets the best employee title. By utilizing a Decision Support System that uses the Profile Matching Algorithm. Profile Matching is a decision making mechanism by assuming that there is an ideal level of predictor variables that must be met by the subjects studied, rather than the minimum level that must be met or passed, Profile Matching can help problems in determining the best employees in the marketing department. In this study there are two aspects and within the aspects there are several criteria. The Performance Aspect consists of Target Achievement, Work Quality, Work Responsibilities and Services. The Personality Aspect consists of Attendance, Communication, Attitude, Team Work and Loyalty. So the result of this research is an application or decision support system that produces an output from each employee, so that the management of decision makers can see the value of each employee based on the ranking.
References
[1] Febrina, Sari, 2018, Metode Dalam Pengambilan Keputusan. Yogyakarta: Penerbit Deepublish. pp. 66-69. ISBN: 978-602-453- 982-5.
[2] Masitoh, Akip S.,2016. Penerapan Metode Profile Matching Dalam Pengembangan Aplikasi E-Commerce Pada Penjualan Barang Elektronik. Jurnal Sistem Informasi, Volume 3, pp. 19-23 ISSN: 2406-7768.
[3] Intan N.F., Rina F., 2016. Implementasi Metode Profile Matching Untuk Evaluasi Potensi Akademik Penjurusan Siswa MAN 2 Kota Kediri, Jurnal Infotel, Volume 2, No.2 November 2016, pp.156-163. ISSN: 2085-3688.
[4] Nency E. P.i, Firlan, Taufik S., 2016. Sistem Pendukung Keputusan Pemilihan Mahasiswa Berprestasi Menggunakan Metode Profile Matching Pada Stmik Indonesia Padang. Jurnal Teknologi Informasi & Pendidikan, Volume. NO. 1 April 2016, pp. 13-29. ISSN: 2086 – 4981.
[5] Zainul H., Aso S., Ririn E., 2017. Rancangan Sistem Penunjang Keputusan Pengangkatan Karyawan Tetap Dengan Metode Profile Matching di PT. Lotte Packaging. Jurnal Sisfotek Global, Vol. 7 No. 2, September 2017, pp.13-19. ISSN: 2088 – 1762.
[6] Budi S., 2018. Pemilihan Pegawai Berprestasi dengan Menggunakan Metode Profile Matching. Jurnal & Penelitian Teknik Informatika, Volume 3 Nomor 1, Oktober 2018, pp, 202-210. e-ISSN : 2541-2019.
[7] Agam S. J., 2015. Penerapan Metode Gap Dalam Menentukan Pemain Terbaik Di Tim Sepakbola. Seminar Nasional Teknologi Informasi dan Multimedia 2015, STMIK AMIKOM Yogyakarta, 6-8 Februari 2015, pp.37-42. ISSN: 2302–3805.
[8] Anggar A. S. W., Wing W. W., Ferry W. W, 2018. Penempatan Praktek Kerja Industri Siswa Dengan Metode Fuzzy-Profile Matching. Seminar Nasional Teknologi Informasi dan Multimedia 2018, UNIVERSITAS AMIKOM Yogyakarta, 10 Februari 2018,Volume 2, pp.139-144. ISSN: 2302–3805,
[9] Heru P., 2017. Penerapan Metode Profile Matching Dalam Sistem Pendukung Keputusan Penilaian Kinerja Karyawan Pada PT. Hyundai Mobil Indonesia Cabang Kalimalang. Jurnal Techno Nusa Mandiri Vol. XIV, No. 1 Maret 2017, pp.15-20. ISSN: 1978-2136.
[10] Hasrul A.H., Rahima Br. P., Andysah P. U., 2016. Productivity Assessment (Performance, Motivation, and Job Training) using Profile Matching. SSRG International Journal of Economics and Management Studies (SSRG-IJEMS) – volume3 issue6 Nov to Dec 2016, pp. 73-77. ISSN: 2393-9125, DOI: 10.14445/23939125/IJEMS-V3I6P114.
[11] Arif L. H., Tito P., .2013, Sistem Pendukung Keputusan Evaluasi Kinerja Karyawan Untuk Promosi Jabatan Struktural Pada Bimbingan Belajar Sciencemaster Menggunakan Metode Gap Kompetensi (Profile Matching). Jurnal Teknologi Technoscientia, Vol. 5 No. 2 Februari 2013, pp. 211-220. ISSN: 1979-8415.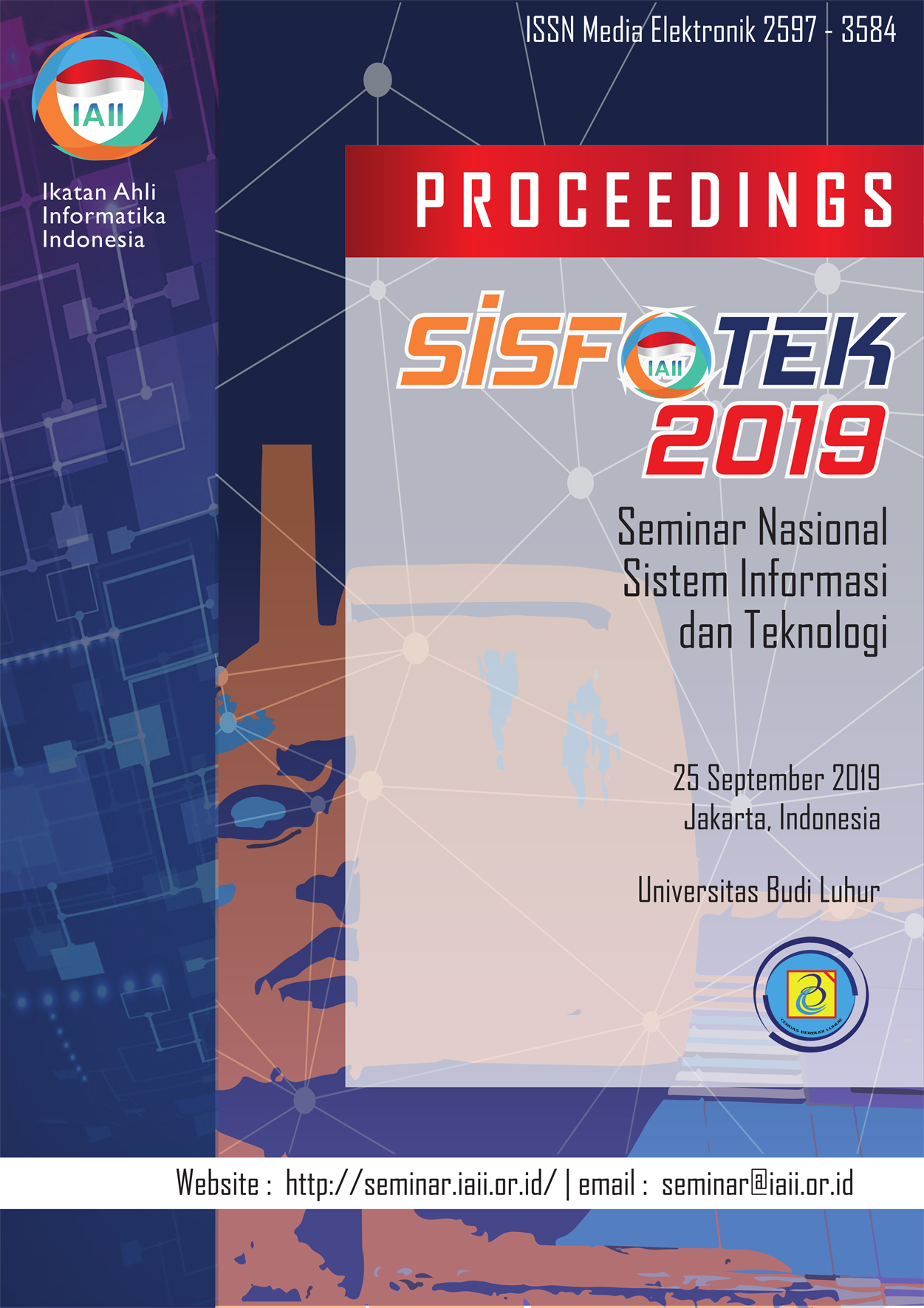 Downloads
How to Cite
Wijaya, T. S., & Siswanto, S. (2019). Implementasi Algoritma Profile Matching untuk Pencarian Karyawan Terbaik. Prosiding SISFOTEK, 3(1), 74 - 81. Retrieved from http://seminar.iaii.or.id/index.php/SISFOTEK/article/view/106
Section
2. Rekayasa Sistem Informasi
License
http://creativecommons.org/licenses/by/4.0