Sistem Penunjang Keputusan Menggunakan Algoritma Topsis Untuk Penerimaan Karyawan
Keywords:
Employee Reception, TOPSIS Algorithm, Decision Support System
Abstract
A good and quality workforce is obtained by selecting or selecting prospective workers. The process of selecting employees at PT. Qdc Technologies, still using conventional methods, this results in the processing of prospective employee data requiring a long time, frequent errors so that many prospective employees or applicants who do not fit the criteria or company needs can be accepted to work in the company. This research will build a recruitment selection system using the Technique for Order Performance Similarity to Ideal Solution (TOPSIS) method, the TOPSIS algorithm was chosen because it has several advantages, namely, the first concept is simple and easy to understand, the next is the efficient and efficient computation process. from the implementation and testing that has been done it is proven that by using a system that has been designed, it is proven that the data processing process of prospective employees becomes faster, and by using the TOPSIS algorithm it is proven to be able to minimize errors, so that only prospective employees or applicants who are in line with company needs can hired. After evaluating and calculating using the TOPSIS algorithm, the results obtained are Alternative Ridha Firyadi with the final value of 0.561 and the lowest value obtained by Laela Febriani with a value of 0.336. So that the alternative chosen to be an employee is Ridha Firyadi with a value of 0.561.
References
[1] Muhammad Y.R., 2014. Sistem Pendukung Keputusan nefitPenentuan Produksi Makanan Menggunakan Logika Fuzzy Dengan Metode Tsukamoto(Studi Kasus: PT. Indofood CBP Sukses Makmur Medan), Majalah Ilmiah INTI, Vol III, Nomor 1, Mei 2014, pp. 18-24, ISSN: 2339-210X.
[2] Sudirman Y., Mei 2015 .Algoritma TOPSIS (Technique for Order of Preference by Similarity to Ideal Solution, Tersedia di: https://www.academia.edu/34742794/Algoritma_TOPSIS_Technique_for_Order_of_Preference_by_Similarity_to_Ideal_Solution. [Accessed 18 Agustus 2019].
[3] Mujito, Basuki H.P., Nasrul S, 2019. Implementasi Algoritme Profile Matching Untuk Perekrutan Karyawan. JURNAL RESTI (Rekayasa Sistem dan Teknologi Informasi) Vol. 3 No. 2 (2019): Agustus 2019, pp. 190–195 ISSN : 2580-0760 (media online). Tersedia di: https://doi.org/10.29207/resti.v3i2.918. [Accessed 18 Agustus 2019].
[4] Yesica S., 2018. Seleksi Penerimaan Karyawan Baru Menggunakan Metode Topsis. Jurnal Mantik Penusa Vol. 2, No. 1 Juni 2018, pp.65-70, ISSN: 2088-3943
[5] Sriani, Raissa A.P., 2018. Analisa Sistem Pendukung Keputusan Menggunakan Metode Topsis Untuk Sistem Penerimaan Pegawai Pada Sma Al Washliyah Tanjung Morawa. Jurnal Ilmu Komputer dan Informatika, Volume: 02, Number : 01, April 2018, pp.40-46, ISSN 2598-634.
[6] Nyoman M.A., Lie J., 2016. Sistem Pendukung Keputusan Perekrutan Pegawai Menggunakan Perangkingan Madm Topsis Dan Klasifikasi Naive Bayes, Seminar Nasional Teknologi Informasi dan Komunikasi 2016 (SENTIKA 2016), pp.181-187, ISSN: 2089-9815.
[7] Elyza G.W., Ananto T.A., 2017. Sistem Pendukung Keputusan Penerimaan Pegawai dengan Metode TOPSIS, Jurnal Sains, Teknologi dan Industri, Vol. 14, No. 2, Juni 2017, pp.108 - 116, ISSN 1693-2390.
[8] Amat S., Mega O. S., 2016. Aplikasi Penerimaan Karyawan Baru Dengan Metode Topsis Pada Pt. Globalnine Indonesia, Jurnal Teknologi Terpadu Vol. 2, No. 1, Juli, 2016, pp.1-9, ISSN 2477-0043.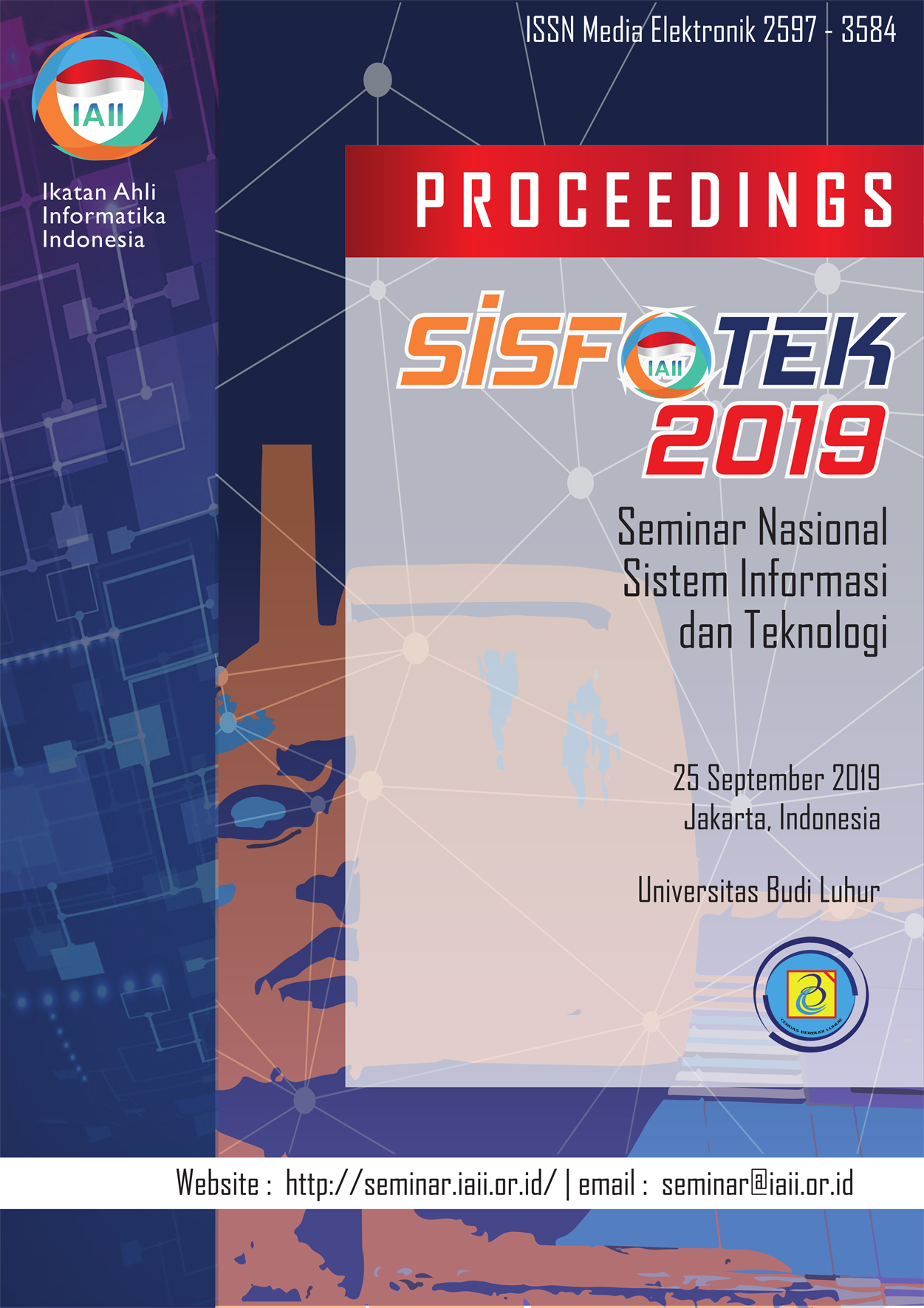 Downloads
How to Cite
Widjaja, A., & Mailinda, I. (2019). Sistem Penunjang Keputusan Menggunakan Algoritma Topsis Untuk Penerimaan Karyawan. Prosiding SISFOTEK, 3(1), 137 - 141. Retrieved from http://seminar.iaii.or.id/index.php/SISFOTEK/article/view/116
Section
2. Rekayasa Sistem Informasi
License
http://creativecommons.org/licenses/by/4.0