Menanggulangi Bahaya Narkoba Berbasis Teknologi Informasi pada Masyarakat 5.0
Keywords:
Drugs, Society 5.0, Information Technology, Psychologist
Abstract
To oppose the 5.0 public revolution, human resources are at the forefront as well as the public as drug users also need to be drilled soft skills. The purpose of this study is to make young people have the mindset, attitude, agreement against the purchase of drugs, both regarding the discussion or information technology activities. Issues that discuss partners in the Talang Payakumbuh Barat village are economic and social factors that trigger drug use, increase the leniency of drug use, add time that is not used effectively. The method used in overcoming this problem is Research and Development (RnD) version 4D (defining, designing, developing, and developing) by producing products containing web-based anti-drug applications and improving the methods of Consultation, Training, Design, Assistance and Evaluation. Conclusions of PKM consists of content provided to train young generation to communicate through IT such as design skills, programming consists of useful websites to meet the challenges of society 5.0 which is an effort to track the mindset of the easy generation to avoid drugs, provide media to find products produced by the community / youth So, youth who are eager to learn and provide initial assessments to find out the psychological problems of users can avoid using drugs.
References
[1] Yoga R,2019,Relevansi Pancasila Era Industry 4.0 Dan Society 5.0 Di Pendidikan Tinggi Vokasi,Journal of Digital Education, Communication, and Arts Article History ,2 (1),pp.11-20.
[2] Badri M.2013. Implementasi Undang-Undang No. 35Tahun 2009 Tentang Narkotika alamPelaksanaan Wajib Lapor Bagi PecanduNarkotika. Jurnal Ilmiah Universitas Batanghari Jambi , 13 (3): 7-12.
[3] Pusat penelitian data dan informasi badan narkotika nasional republik Indonesia,Survei nasional penyalahgunaan narkoba di 34 provinsi tahun 2017
[4] Sholihah Qomariyatus.2015.Efektivitas Program P4gn Terhadap Pencegahan Penyalahgunaan Napza.Jurnal Kesehatan Masyarakat. Vol.10 no.2 halaman 153- 159.ISSN 1858-1196.
[5] Azmiyati, SR, dkk. 2014. Gambaran penggunaan NAPZA pada anak jalanan di Kota Semarang. Jurnal Kesehatan Masyarakat (KEMAS), 9 (2): 137-143.
[6] Putri, N., & Manik, E. (2018). Sistem Informasi Berbasis Web Pada Badan Narkotika Nasional (Bnn) Kota Binjai. Jurnal Informatika Kaputama, 2(1).dst
[7] Agustini, K.L. (2018). Persaingan Industy 4.0 di ASEAN: Dimana Posisi Indonesia?, Yogyakarta: Forbil Institute.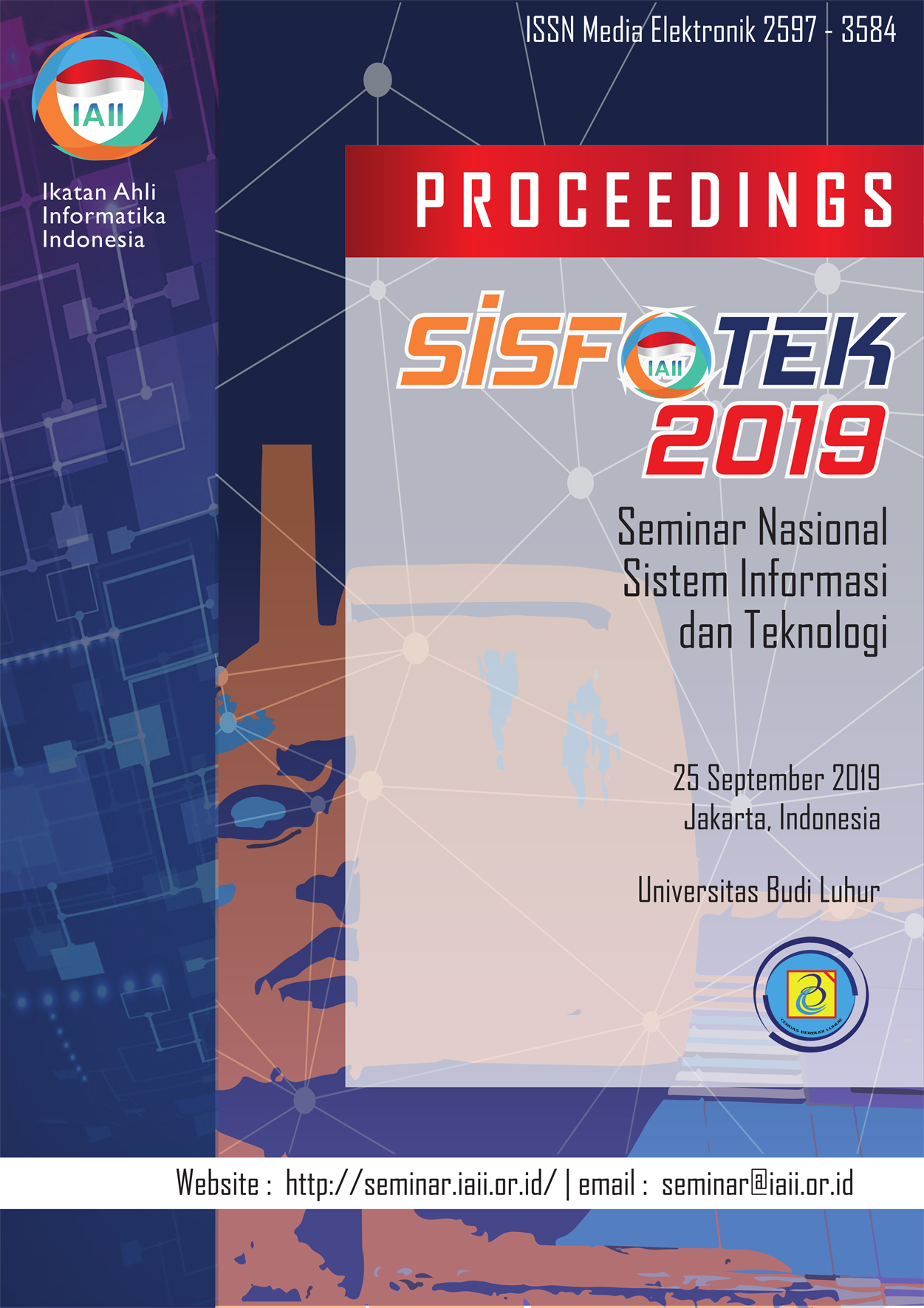 Downloads
How to Cite
Susanti, M., Maiyana, E., & Tria, Y. (2019). Menanggulangi Bahaya Narkoba Berbasis Teknologi Informasi pada Masyarakat 5.0. Prosiding SISFOTEK, 3(1), 207 - 211. Retrieved from http://seminar.iaii.or.id/index.php/SISFOTEK/article/view/127
Section
2. Rekayasa Sistem Informasi
License
http://creativecommons.org/licenses/by/4.0